Aryna Sabalenka says missing Wimbledon was 'tough' but she will celebrate her Australian Open win with pizza and sweets | Tennis News
Aryna Sabalenka said being forced to miss last year's Wimbledon was "tough" as she revealed her plans to celebrate Australian Open success with pizza, sweets and a little champagne.
Sabalenka bludgeoned her way to a maiden Grand Slam title with a 4-6 6-3 6-4 win over Russian-born Kazakh Elena Rybakina in a thrilling final between two of the most exciting power-hitters in the women's game.
With Russian and Belarusian players only allowed to compete as individual athletes without national affiliation due Moscow's invasion of Ukraine, fifth seed Sabalenka also becomes the first neutral athlete to win a major.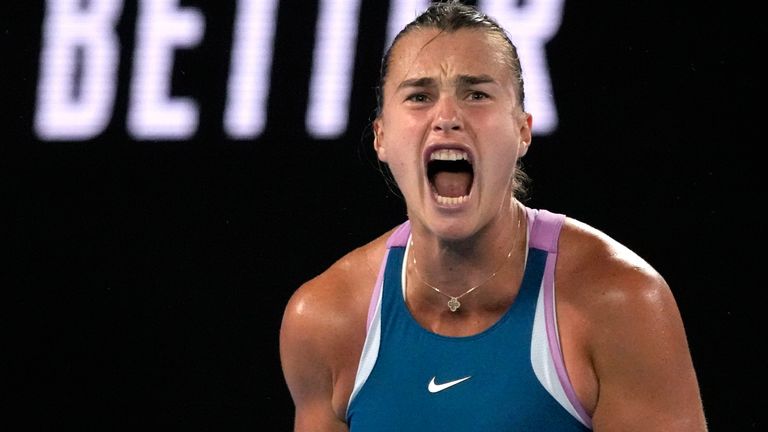 I will have some good pizza and a lot of sweets. Maybe a little bit of champagne.
Wimbledon had its ranking points taken away and the Lawn Tennis Association was slapped with huge fines from the women's WTA and men's ATP as a result of its decision to ban players from Russia and Belarus last summer.
Sabalenka said: "I mean, missing the Wimbledon was really tough for me. It was tough moment for me.
"It's not about Wimbledon right now. It's just about the hard work I've done. I think everyone still knows that I'm Belarusian player. That's it.
"It's tough to explain what I'm feeling right now. I'm just super happy and proud. I don't know how to explain. Just the best day of my life right now.
"I will have some good pizza and a lot of sweets. Maybe a little bit of champagne.
The 24-year-old from Minsk suffered a tough US Open semi-final defeat to world No 1 Iga Swiatek in September. It's an occasion Sabalenka feels she has learned a great deal from.
"I learned that I have to be a little bit calmer on court and I don't have to rush things," she said.
"I just have to play my game, be calm, and believe in myself, that I can actually get it. I think during these two weeks I really was super calm on court, and I really believed in myself a lot, that my game will give me a lot of opportunities in each game to win this title."
Wimbledon champion Rybakina said reaching a second Grand Slam final so quickly after her first had eased some of the pressure of expectations.
"Yeah, for sure. Even I would say I'm trying to not think about expectations and everything," Rybakina said.
"I think in the end it's just confidence to go forward, to keep on working. Now I have more confidence, even after this final. I just need to work hard, same as I did during pre-season and actually throughout the years, be healthy and for sure the results are going to come."