Carolina Panthers: Steve Wilks 'disappointed but not defeated' over head coach snub | NFL News
Steve Wilks had been backed by multiple Carolina Panthers players to remain head coach after going 6-6 while serving as interim coach following the dismissal of Matt Rhule during the regular season; Frank Reich has been hired as their new head coach instead
By AP
Last Updated: 27/01/23 6:09pm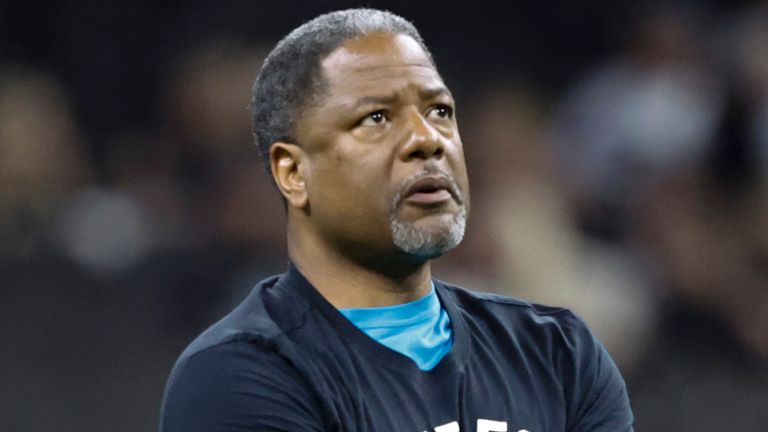 Former Carolina Panthers interim head coach Steve Wilks is "disappointed, but not defeated" that he did not land the team's full-time head coaching position.
The Panthers announced on Thursday that they have agreed to hire Frank Reich as their new head coach.
"The sun rose this morning and by the grace of God so did I," Wilks said in a tweet on Friday. "Many people aren't built for this but I know what it means to persevere and see it through."
Wilks thanked players, coaches, and staff for their dedication, saying he took pride in representing his hometown of Charlotte.
Wilks added, "I do wish Frank Reich the best".
Wilks' tweet came less than 24 hours after his attorney Douglas Wigdor criticised the Panthers for their decision not to hire Wilks, who went 6-6 as Carolina's interim coach in 2022 after replacing the fired Matt Rhule in Week Six.
The Panthers interviewed Wilks, who is Black, twice for the position before settling on Reich.
"We are shocked and disturbed that after the incredible job Coach Wilks did as the interim coach, including bringing the team back into playoff contention and garnering the support of the players and fans, that he was passed over for the head coach position by David Tepper," Wigdor said in an email.
"There is a legitimate race problem in the NFL, and we can assure you that we will have more to say in the coming days."
The Panthers said the team will have their first public remarks when Reich is introduced at a press conference on Tuesday.
Wilks made no mention in his tweet of whether the Panthers will be added to an ongoing lawsuit alleging racial hiring practices by the NFL and some teams. Nearly a year ago, Wilks joined Brian Flores' lawsuit in an effort to bring attention to the lack of Black head coaches in the NFL.
"When Coach Flores filed this action, I knew I owed it to myself, and to all Black NFL coaches and aspiring coaches, to stand with him," Wilks said in a statement through his attorney last February.
"This lawsuit has shed further important light on a problem that we all know exists, but that too few are willing to confront. Black coaches and candidates should have exactly the same ability to become employed, and remain employed, as white coaches and candidates."
Several Panthers players said after the regular season ended they wanted Wilks to return in 2023, including long-time linebacker Shaq Thompson who suggested players wanted to have a meeting with Tepper to give player input on the coaching situation and throw their support behind Wilks.
It is unclear if that meeting happened.
Wilks' future remains unclear, though NFC South rivals Atlanta Falcons have reportedly expressed interest in bringing Wilks in as their new defensive coordinator.
Sky Sports NFL is your dedicated channel for NFL coverage through the season – featuring a host of NFL Network programming. Don't forget to follow us on skysports.com/nfl, our Twitter account @SkySportsNFL & Sky Sports – on the go!