Enzo Fernandez: Chelsea's ongoing desire for Argentina star with 'hints of Luka Modric' | Football News
It is no surprise that the young player of the tournament at a World Cup would attract interest. But that Chelsea would be willing to part with more than 10 times what Benfica paid for Enzo Fernandez barely six months ago marks an extraordinary pursuit for the young midfielder.
The backdrop of Todd Boehly's seemingly-endless month of spending does add some context. But it still does not fully explain why the Blues would break their own all-time transfer record midway through a campaign – without anyone needing replacing – to sign a 22-year-old with half a season's experience in Europe.
Take the money out of the equation and Fernandez's signing looks an astute one and, looking forward to the summer and beyond, may provide a transition period ahead of Jorginho's likely departure.
He would likely be the Italian's natural successor in Chelsea's midfield after the Euro 2020 winner's up-and-down five years in west London, and could well prove an upgrade for Graham Potter's beleaguered side.
The Blues have a major goalscoring problem. A deep-lying midfielder may not appear the obvious solution, but Fernandez's contributions in the Primeira Liga, the Champions League and World Cup suggest otherwise. Chelsea have only scored 22 goals in the Premier League this season, just five more than bottom-side Southampton, and at least 10 fewer than anyone else in the top half.
The stats reflect the form – Chelsea have created fewer chances than relegation-threatened West Ham, and no-one who has watched them this season would say they have looked especially potent.
Fernandez's attributes make it plainly clear why Chelsea think he can help. Still only halfway through his first season with Benfica, he has earned the second-most assists in the Primeira Liga, and created 30 chances for his team-mates – some of them particularly eye-catching, and a stunning pinpoint set-up for Goncalo Ramos against Sporting earlier this month perhaps the pick of the bunch.
Benfica manager Roger Schmidt claims the club are powerless to keep Fernandez at the club if the player wants to leave and if clubs match the release clause in his contract

"He's a very exciting young player," European football expert Kevin Hatchard told Sky Sports News. "He's someone who plays in a deep midfield role with a lovely range of passing. He's got that mentality."
It is that kind of playmaking potential which had Manchester City and Real Madrid interested in signing him from boyhood side River Plate last summer before he settled on Portugal.
At Real, he may have been seen as a natural replacement for 37-year-old Luka Modric, a player he has been likened to already. Anyone in his mould would be the kind of addition Chelsea would relish.
That comparison was made by Fernandez's old youth coach Gabriel Rodriguez. "Enzo is a player with a fine touch and a really strong outlook on the whole pitch," he told Argentine newspaper Clarin.
Boehly and Chelsea's admiration of passing football played a part in bringing Potter to Stamford Bridge in the first place, and Fernandez's style would complement it further.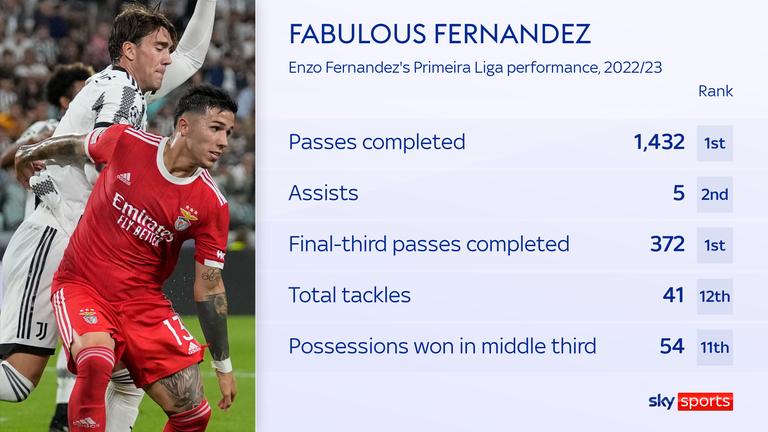 No-one in the Portuguese top flight has made more passes than the Argentine, but if he does prove to replace Jorginho at Stamford Bridge, he will also offer something in the final third – where he tops the charts for passes too.
Should Chelsea want to play with a midfield two, he has taken responsibility without the ball at Benfica too, slotting into an anchorman role regularly as required. He has been one of the league's top tacklers, and only 10 players across the division have won the ball back more in the middle third, even with his considerable output further up the pitch.
Primeira Liga imports have yielded some strong returns in recent years but if Potter and Boehly have taken Fernandez's domestic dominance with a pinch of salt, the level of his performances on the European and world stage have provided strong reassurance.
He started all six of Benfica's group games as they beat PSG and Juventus to top Champions League Group H, and was named best young player at the World Cup in December – following in Kylian Mbappe and Paul Pogba's footsteps – after starting five of Argentina's games en route to glory.
"His performances in the Champions League are a real sign of someone able to puff their chest out and play at a really high level," said Hatchard.
"We saw the same thing at the World Cup, it didn't faze him at all and he ended up winning the tournament with Argentina.
"So yes, there's a big chunk of potential you're paying for here, but also someone who's packed a lot into a relatively short career."
A nine-figure transfer fee would hang heavy over the head of any player, and has weighed on the Premier League's only other £100m transfer, Jack Grealish, in his 18 months at Manchester City so far.
But if Fernandez can shake that off and continue showing why Chelsea have been willing to part with such an eye-watering sum, they will have a real player on their hands.