Fernando Alonso: How Aston Martin driver reached 100 podiums as Formula 1's ultimate underdog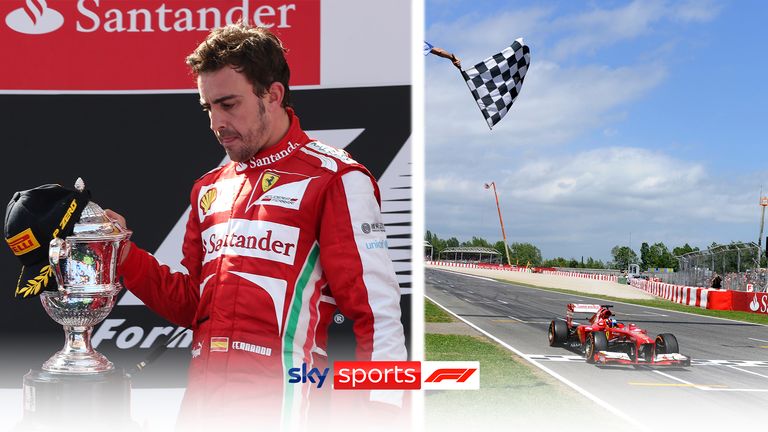 Following his brilliant start to the season at Aston Martin, look back at Fernando Alonso's last race win at the Spanish Grand Prix back in 2013

Following his brilliant start to the season at Aston Martin, look back at Fernando Alonso's last race win at the Spanish Grand Prix back in 2013
Fernando Alonso has become just the sixth driver to reach 100 Formula 1 podiums, but the Spaniard has almost undoubtedly taken the most unconventional route to the milestone.
After the best part of a decade in the wilderness of F1's midfield, Alonso's stunning start to the 2023 season suggests he is finally back in the battle at the front of the grid.
A self-proclaimed "anti-hero" from the "dark side", embracing his character role as the villain, Alonso brought up his landmark podium in fittingly controversial style at Sunday's Saudi Arabian Grand Prix, .
Having shown that Aston Martin mean business with a series of stunning overtakes on George Russell, Lewis Hamilton and Carlos Sainz to finish third at the season opener in Bahrain, Alonso appeared to be cruising to a far more straightforward podium in Jeddah. However, confusion over the rules saw Alonso celebrate on the podium before being demoted by a 10-second penalty, after which he was finally reinstated following an Aston Martin appeal.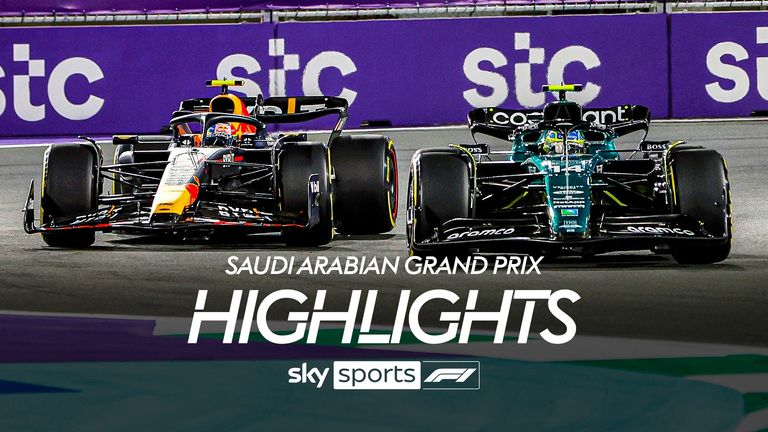 Highlights of the Saudi Arabian Grand Prix at Jeddah Corniche Circuit.
Along with Red Bull's domination, the 41-year-old's unexpected speed has been the story of the opening two rounds of the 2023 season. Alonso's performances have provided inspiration to just about every non-Red Bull driver on the grid, with Aston Martin's remarkable improvement after finishing seventh in last year's constructors' standings showing how quickly progress can be made.
Alonso won back-to-back world championships with Renault in 2005 and 2006, but a series of questionable moves around the paddock since then have limited his opportunities to compete for wins, let alone further titles – leaving him to assume a role of underdog while the likes of Sebastian Vettel, Hamilton and Verstappen have dominated.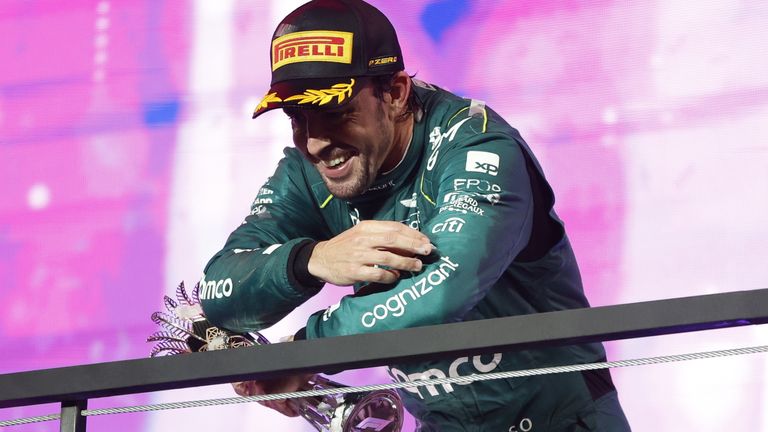 Sky F1's Ted Kravitz explains the procedure which saw Fernando Alonso reinstated to the podium after having been demoted initially.
Given the last of Alonso's 32 race wins came in 2013, the penultimate campaign of his five-year stint with Ferrari, most thought his hopes of adding to that tally were all but over, but now a fairy-tale ending to a decorated career appears possible.
We take a look back at the highs and lows of his career.
2001: Minardi – Bolting together the car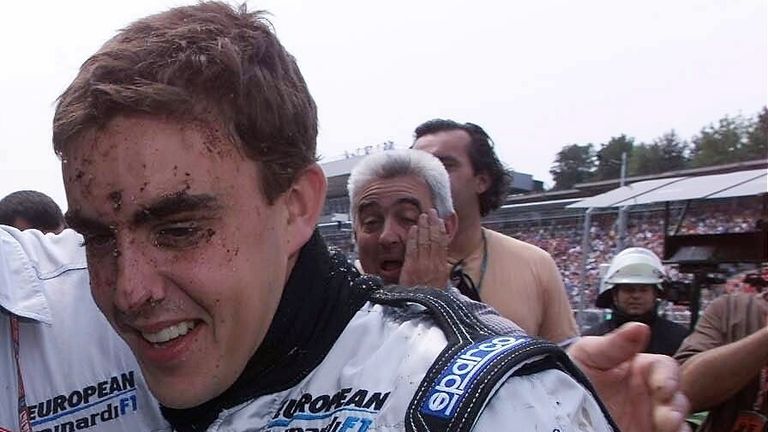 Alonso's career remarkably started before McLaren rookie Oscar Piastri was born, back in 2001 at Minardi.
The Italian-based team, which still exists now as AlphaTauri having been bought by Red Bull and brought under their umbrella as a junior outfit to the current constructors' champions, certainly could have done with that sort of investment when Alonso was around.
There was very little money available to spend on development, and Alonso apparently helped to bolt pieces of the car together to make sure it was ready in time for the first race in Australia, where he would finish 12th.
At a time when points were only available to the top six finishers, Minardi and Alonso went the entire season without scoring, with a 10th place finish at Hockenheim his best effort.
There were also eight retirements for the Spaniard, highlighting the deficiencies of the model he was attempting to compete with.
Alonso's first taste of Formula 1 was undoubtedly with a genuine backmarker, and came at a time when the lack of a budget cap meant little teams had next to no chance of competing with the big players.
Race wins – 0
Podiums – 0
2002-2006: Renault – Stopping the establishment
It was only a one-season stay – not for the last time in his career – for Alonso, as he departed Minardi to become test driver at Renault, whose team boss Flavio Briatore was also Alonso's manager, and had been the one to spot his talent as a go-karter.
At a time when drivers were generally not given their breakthroughs into F1 at the young ages we see today, the 22-year-old Alonso was generating plenty of attention for both his youth and the fact he was Spain's first driver in the sport.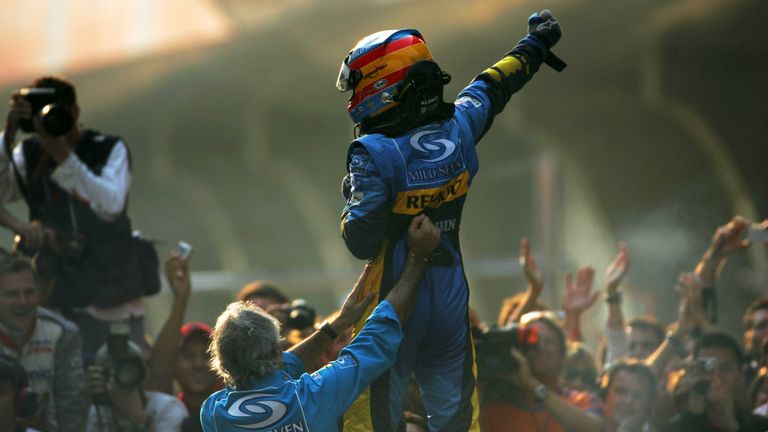 This meant that when he took a maiden pole position before going on to claim his first podium at just the second race of the season in Malaysia, the excitement increased. Next time he claimed a pole position, in August at the Hungaroring, he would convert it to a victory, making him at the time youngest driver to win a Grand Prix.
Not only was there a new star in the sport, but he was delivering for a team in Renault that weren't part of the establishment, and were looking to break up the domination of Ferrari and Michael Schumacher, which they would finally do in 2005.
Alonso took advantage of a poor Ferrari season to quite comfortably beat McLaren's Kimi Raikkonen to the championship, but the race that epitomised his first title-winning season was in Imola, where the Spaniard held back a charging Schumacher in a nail-biting climax where the Ferrari was the quicker car.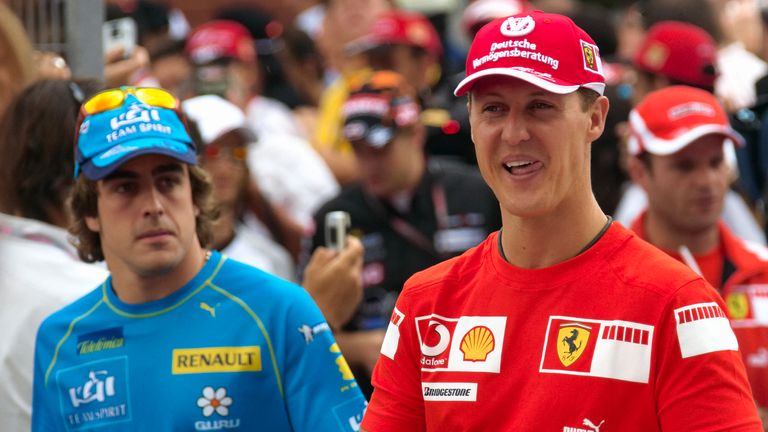 Under pressure from the seven-time world champion and driver widely considered to be the sport's greatest of all time, Alonso held strong, setting down a marker for the remainder of the season.
It's fair to say that 2006 was the more impressive of Alonso's back-to-back title-winning campaigns, as this time he went toe-to-toe with Schumacher, who had won five successive titles going into the 2005 season.
Schumacher had announced that he would retire at the end of the season, and came into the campaign with huge motivation to end his career in fairy-tale fashion.
Alonso looked to have put that dream to bed as he won six of the first nine races – and finished second in the other three – to establish a huge advantage in the standings, but Schumacher would fight back with five wins in the next seven races to set up a tense finale.
However, Alonso would keep his cool under huge pressure once more, winning the penultimate race of the season in Japan before finishing second in Brazil to seal the title.
Race wins – 15
Podiums – 37
2007: McLaren – 'Would've, could've, should've'
On paper, it wouldn't seem the most logical decision to leave a team with which you'd just won two successive titles, but that's exactly what Alonso did as he moved to McLaren to drive alongside a rookie named Lewis Hamilton.
The decision did turn out to be a mistake, but not in the way that anyone expected.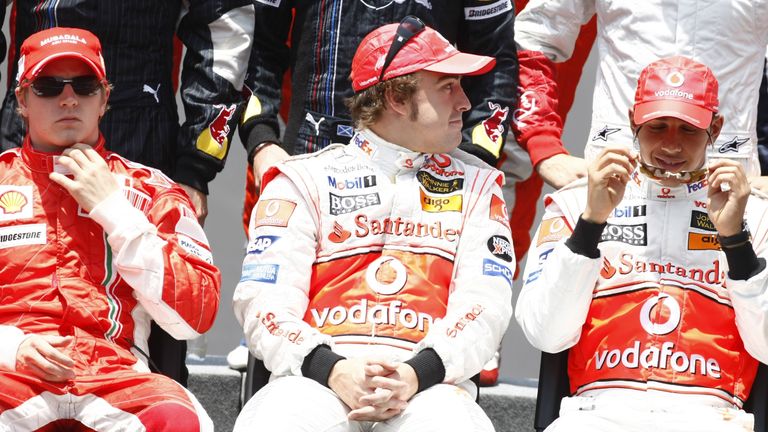 In one sense, the move to McLaren was on the money – the Woking-based team competed for the title with Ferrari while Renault were only the fourth-quickest team.
In every other sense, it was a disastrous chapter in Alonso's career that saw tensions flare between him and his team, not least with McLaren boss Ron Dennis and Hamilton.
Arguably, this was the first time in Alonso's career where he was the establishment and not the young outsider – that role fell to Hamilton, with whom he fought for the 2007 world championship.
The pair squabbled and lost each other points, before eventually finishing the season tied, just one point behind the title winner Kimi Raikkonen of Ferrari.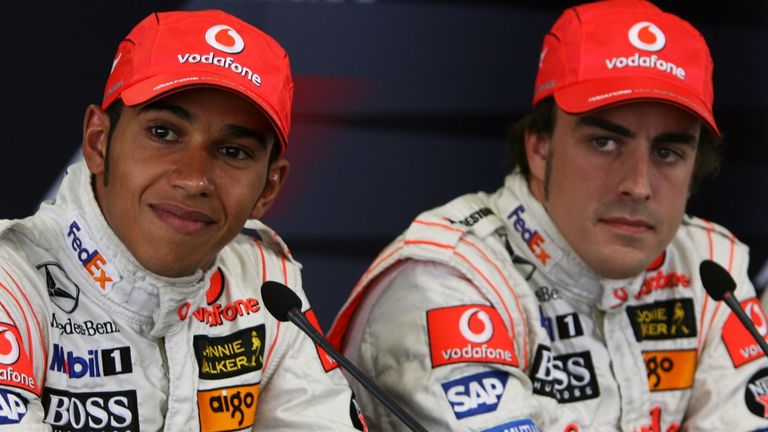 "I think that the fallout with Lewis in 2007, where they fell out so spectacularly, basically gifted Kimi that title and it took him away from McLaren," Sky Sports F1's Karun Chandhok said.
"Then Lewis won the championship in 2008, so that's two years there where Fernando should've, would've, could've."
Alonso would leave under a cloud after one year, returning to Renault and giving up the chance to compete for titles.
Race wins – 4
Podiums – 12
2008-2009: Renault – A placeholder
The second time around with Renault felt like a bit of a placeholder, with the French team fairly uncompetitive.
Back in his favoured position as the underdog, Alonso took two victories in 2008 against the odds, albeit with one of them coming under controversial circumstances at the Singapore Grand Prix, with his team-mate Nelson Piquet Jr crashing at a convenient time,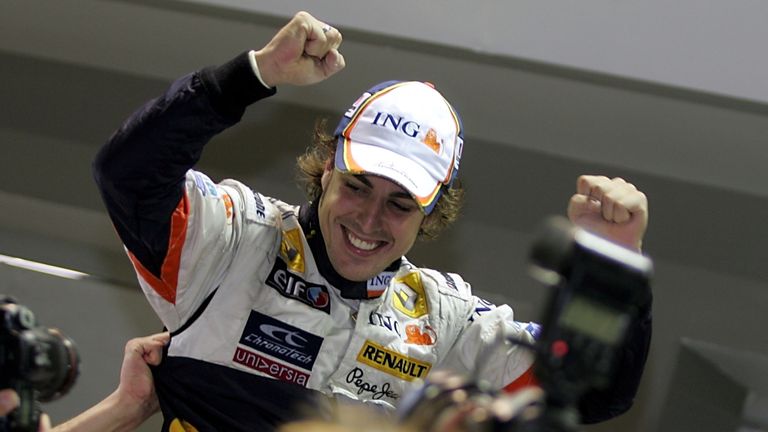 The 2009 season would see no wins for Alonso, and just the one podium in Singapore, before he moved onto a new team – this time, it was for a prancing horse.
Race wins – 2
Podiums – 4
2010-2014: Ferrari – 'Fernando would've won the championship in 2018'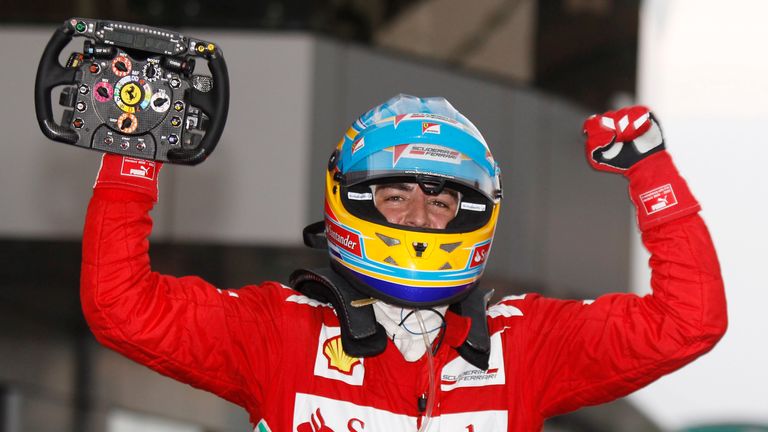 Ferrari, the team that all F1 drivers want to race for, was the team that Fernando Alonso remained with for the longest period of time.
Alonso battled with Red Bull and Sebastian Vettel for the title between 2010 and 2012, missing out on glory in the final races in both 2010 and 2012 despite some scintillating drives.
A famous statistic about Fernando Alonso is that If he had scored 11 more points across his F1 career, he could be a five-time world champion, missing out by fine margins in 2007, 2010 and 2012.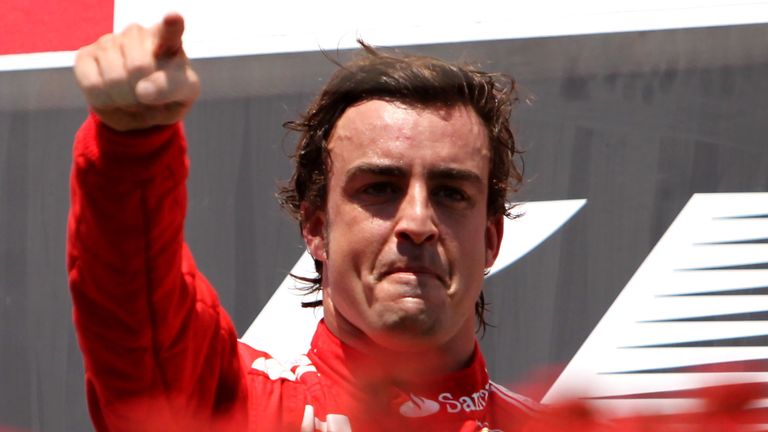 In essence, his time at Ferrari was one of 'what ifs' as he competed against the metronomic Vettel, with a Ferrari that was generally weaker than the Red Bull.
In 2014, at the beginning of the hybrid engine era, Ferrari's car was not up to scratch and Alonso began to look elsewhere and would move on a 2015, a decision that Chandhok believes was premature.
"Okay, at the time, Ferrari were pretty miserable in 2014 – but it came good."
Ferrari would win three races in 2015 with Sebastian Vettel, who replaced Alonso in the scarlet car before taking the fight to Mercedes in 2017 and 2018.
"I still believe Fernando would've won the championship in 2018 at Ferrari that year," Chandhok added.
Race wins – 11
Podiums – 44
2015-2018: McLaren – 'Looking like amateurs'
While Ferrari were returning to contention, Alonso had opted for a surprise reunion with McLaren, with Hamilton having moved on to Mercedes.
2015 was a reunion for McLaren in two respects – Honda, with which it had had fantastic success in the late 1980s and early 1990s, and Alonso, with whom they'd had a falling out.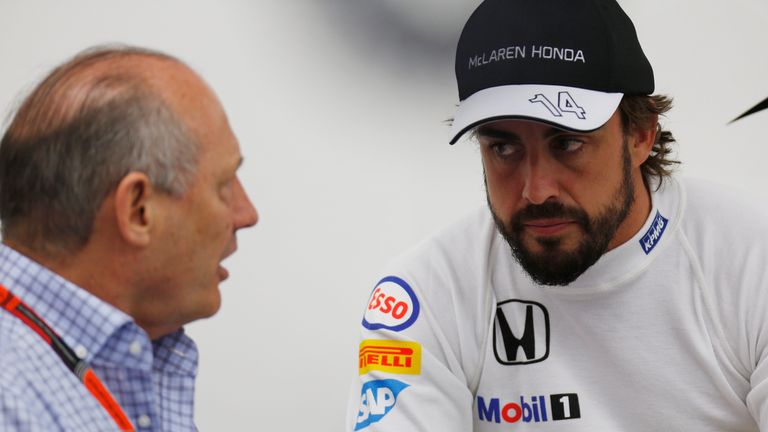 While it was a reunion and world champion driver line-up of Jenson Button and Fernando Alonso, which had lots of promise, it delivered a horror show of slow cars, engine failures and frustrated radio messages that led to a messy divorce with Honda and a move to Renault power in 2018.
The engine performance had clearly been a big problem for McLaren, with Alonso making no secret of where he thought the blame lay as he used his team radio messages to make public statements.
"Driving with this, looking like amateurs", "this is embarrassing" and "GP2 engines" all come to mind.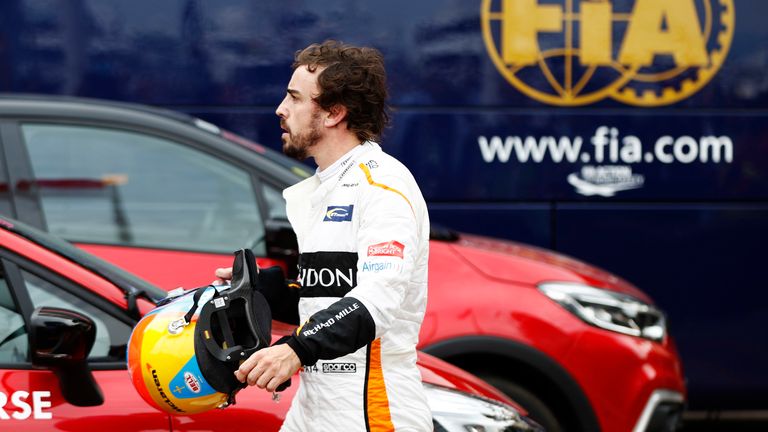 While Honda's engine was not up to standard, it became clear that underlying poor car performance was also a factor as McLaren still languished in the midfield in 2018.
Though being the underdog is his style, this was a step too far at this stage of his career for a frustrated, helpless Alonso, and so he left McLaren and retired from Formula 1.
Race wins – 0
Podiums – 0
2019-2020: 'Retirement' – A rookie again
As one of the greatest and most adaptable drivers in motorsport history, Fernando Alonso took the time away from Formula 1 to compete in other series, including the Indy 500, the Dakar Rally and Le Mans 24h.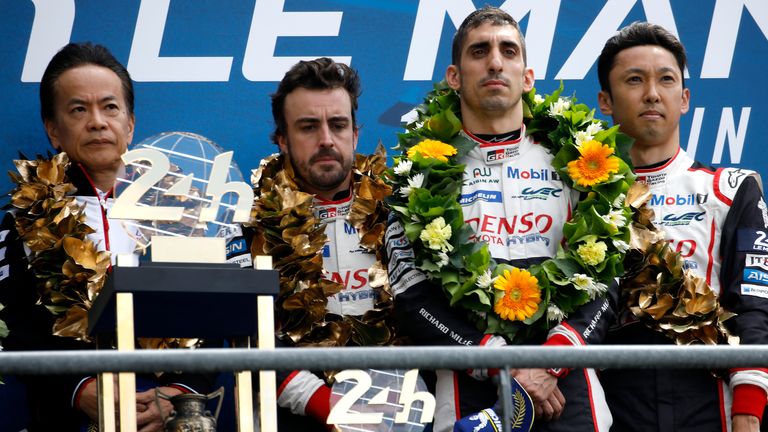 He was an outsider, a rookie again, and with Toyota, he won the World Endurance Championship.
Alonso still had what it took to compete at the top of motorsport, so when in 2020 Sebastian Vettel left Ferrari, creating a domino effect in the driver market, it was no shock to see Alonso interested in returning to Formula 1.
2021-2022: Alpine – A return to his 'family'
Having already raced for the team in its Renault guise on two occasions, Alpine was the natural team for Alonso to return to when he came out of retirement in 2021.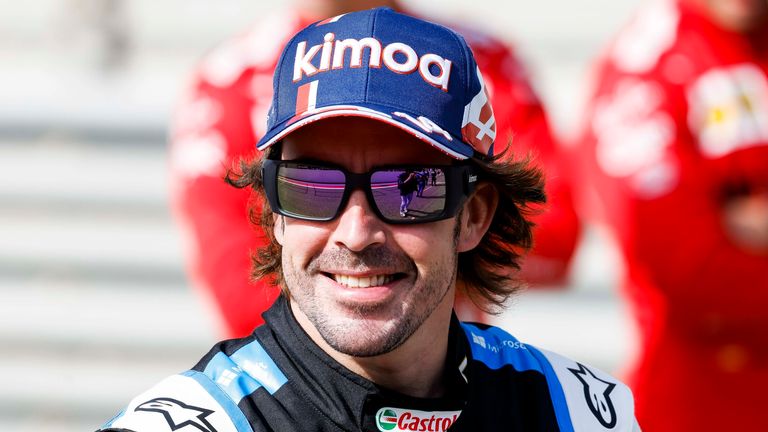 The team had been hovering at the front of the midfield, but were unable to push on from that position even with Alonso's expertise.
While he did return to the podium at the 2021 Qatar GP, Alonso couldn't compete for victory – and his career looked to be winding down in mediocre fashion.
But Vettel announcing his retirement midway through the 2022 season would trigger an explosion in the driver market, leaving Alonso with one more opportunity.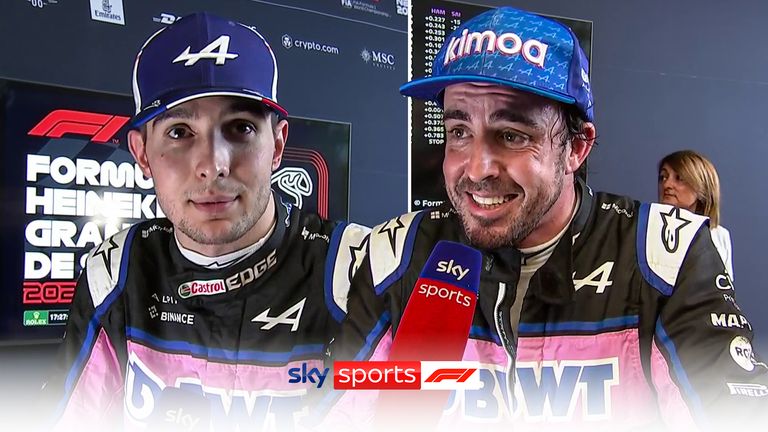 Esteban Ocon says it's unfortunate for the team that there was a clash between the Alpine drivers, while Fernando Alonso says 'it's one more race' as teammates.
Alpine weren't willing to give Alonso a two-year contract, so he went to a team that would. Alonso left describing Alpine "like family" but admitted that the lack of faith from the team was a reason he left.
"It seems that I have to be evaluated every year because of my date of birth," Alonso said, having just turned 41. "It was a bit strange to me and other teams think differently and they trust in my abilities."
It was clear the spirit of the young Spaniard trying to prove his worth at Minardi 19 years earlier was still very much present.
Race wins – 0
Podiums – 1
2023: Aston Martin – A place to relish being the underdog
Lawrence Stroll and Aston Martin had faith in Alonso, and gave him the two-year contract that he wanted.
Given their well-known desires to things on their own terms, many had concerns about Alonso and his new boss Lawrence Stroll's relationship.
However, two races and two podiums in, it appears as though this could be Alonso's type of team – they're an enigma and an unexpected force to be reckoned with that are disturbing the establishment.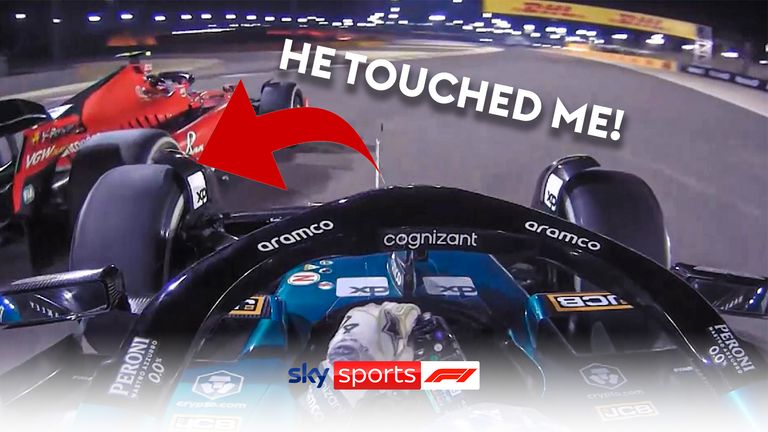 Fernando Alonso clips Carlos Sainz's wheel as the Aston Martin driver pushes past the Ferrari for a podium spot in the Bahrain Grand Prix.
Aston Martin are beating Mercedes, the team who supply them with an engine and other hugely significant parts of their car, while the Spaniard has also overcome the might of Ferrari.
While they are well-funded now, Aston Martin carry an underdog mentality with staff still around from their their previous guises as Jordan, Force India and Racing Point, who competed as less wealthy outfits that could occasional steal a race beneath the noses of giants.
As Sky Sports F1's Simon Lazenby put it: "Fernando is always effective, whatever he does he will drag the best out of that car.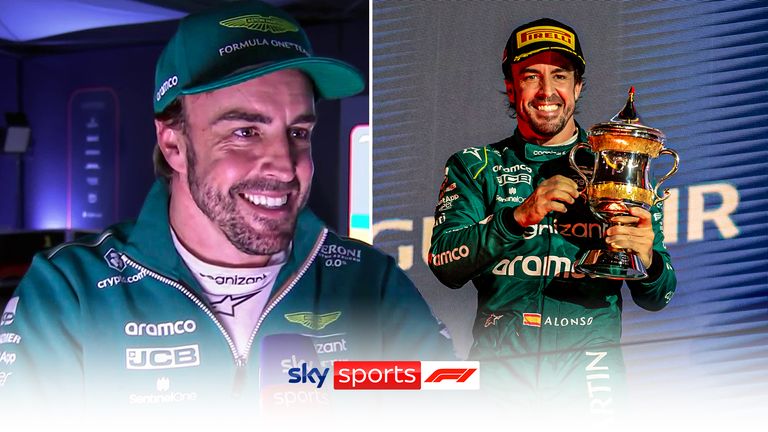 Fernando Alonso was ecstatic after finishing on the podium in his first race with Aston Martin.
"I think if you put everyone in equal machinery, I can't see him being far off Lewis or far off Max Verstappen.
"But Fernando has been operating at that level for 20 years. Fernando relishes being the underdog."
In a season where Red Bull's pace looks scary for the opposition, Alonso has just the car and team to play the role he loves best in the high-speed theatre of Formula 1.
If you didn't know who he was, now you do. After brining up a 100th podium, Alonso's next challenge is to find an elusive 33rd race victory. Can he do it in 2023? Find out live on Sky Sports F1.
Race wins – 0
Podiums – 2