Steve Hansen's Rugby World Cup warning for Ireland: 'If it was NZ, they'd probably be called chokers' | Rugby Union News
Ireland were crowned Six Nations Grand Slam champions on Saturday but have never progressed past the quarter-final stage of a Rugby World Cup; Steve Hansen won a World Cup with New Zealand in 2015: "If [Ireland] get through to the semi-finals, then they are in new territory"
Last Updated: 20/03/23 1:27pm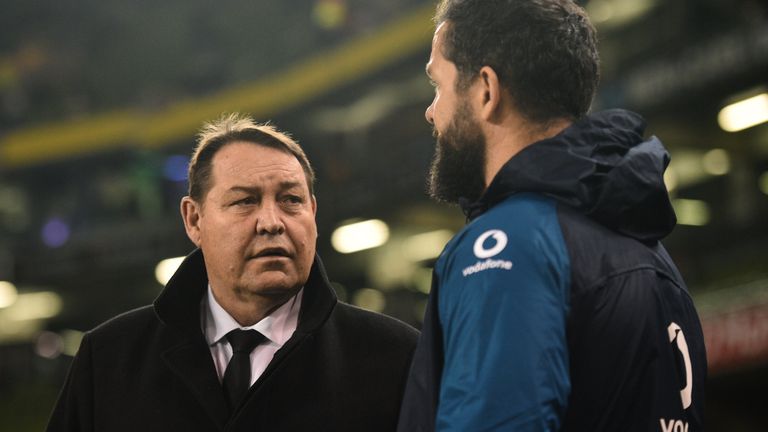 Steve Hansen believes Ireland will face "a lot of pressure" in France later this year when they attempt to put a poor Rugby World Cup record behind them.
The world's No 1 team and newly-crowned Six Nations Grand Slam champions will be among the major contenders for global supremacy.
But Ireland have never gone past the quarter-final stage at any previous World Cup tournaments.
And while former New Zealand boss Hansen, who masterminded the All Blacks' 2015 world title triumph, accepts that Ireland are "definitely a contender," he also believes there is a hurdle to be overcome.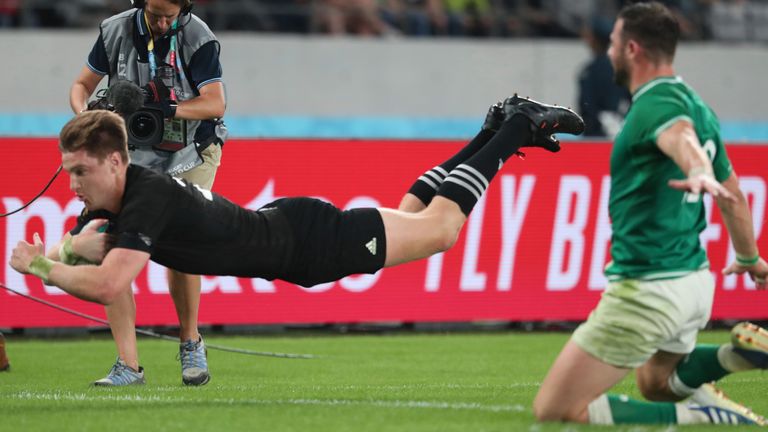 "They are going well, ranked No 1 in the world, and they have had a great year so far," said Hansen, who will coach a World XV against the Barbarians at Twickenham in May.
"Every time a team is No 1 in the world, you have got to consider them to be a World Cup contender, but it is a tough tournament to win.
"So they have seemed to struggle a little bit at World Cups. If it was the All Blacks, they would probably be called 'chokers'.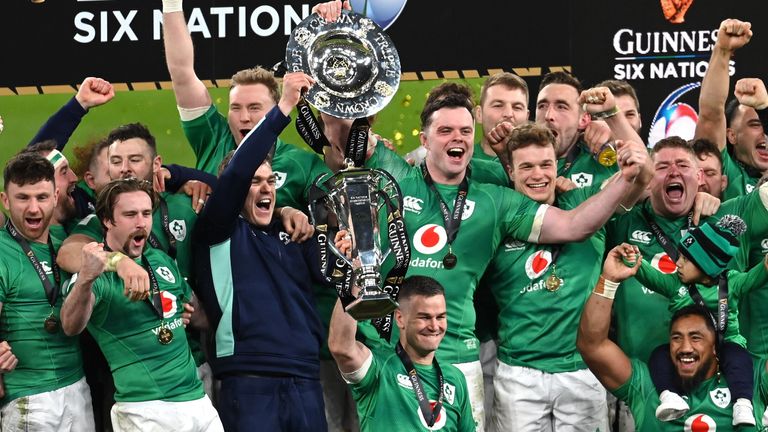 Sky Sports News' James Cole analyses Ireland's historic Six Nations Grand Slam victory and the key questions facing England ahead of the World Cup
"But they have come a long way, they believe in themselves, they are a very good side, so they are definitely a contender.
"But they will have to overcome the pressure of not having gone past the quarter-finals before, and there will be a lot of pressure involved in that.
"If they get through to the semi-finals, then they are in new territory.
"That is something they will have to deal with that they've never dealt with before, and it is always hard to deal with something you haven't dealt with before."
Live Super Rugby
March 24, 2023, 8:30am
Live on
During the past 12 months, Ireland won an away Test series against New Zealand, then enjoyed unbeaten Autumn Nations Series and Six Nations campaigns, when their scalps included South Africa, Australia, France and England.
They remain top of the world rankings, above France, New Zealand and South Africa, and are fancied by many to excel on the World Cup stage during September and October.
Their World Cup pool also features the Springboks and Scotland, with two teams progressing to the last eight.
Farrell: Ireland in good shape but 'nowhere near' where we want to be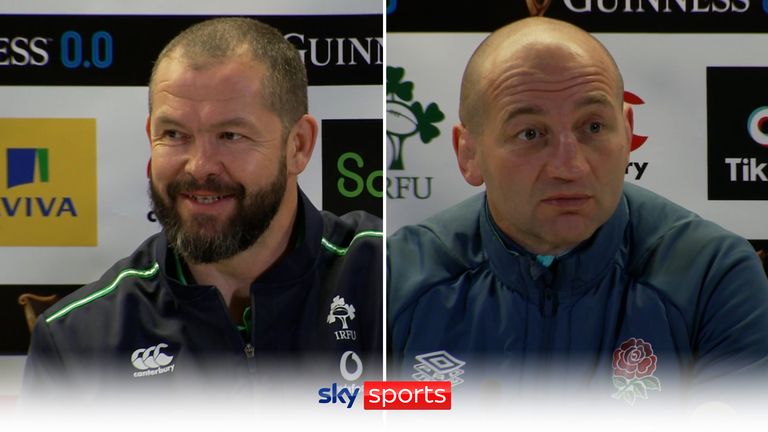 Ireland head coach Andy Farrell was delighted to clinch the Grand Slam on home turf while England's Steve Borthwick admitted his side fell short
Andy Farrell insists Ireland's game is "nowhere near" where he would like it to be as he seeks to keep driving standards on the back of their Grand Slam success.
Ireland were never more than six points behind during the entire Six Nations and combined grit and guile to produce their signature free-flowing rugby amid substantial injury adversity.
Head coach Farrell was pleased with the control his squad displayed during the competition but is striving for improvement moving towards the World Cup in France.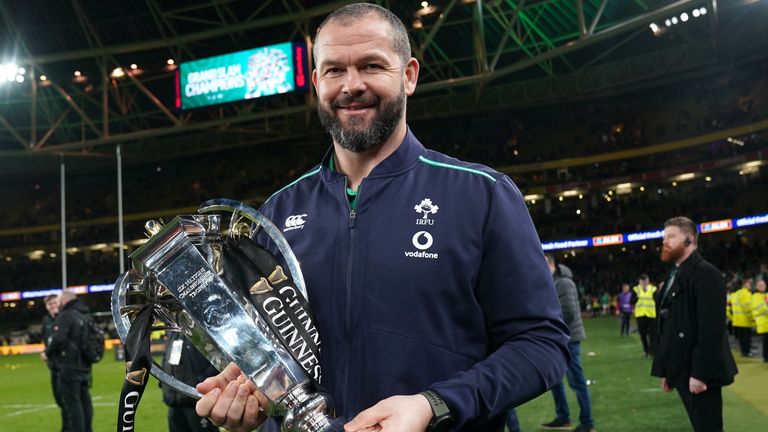 "What's very pleasing is that we're not a side who just kicks the leather off the ball and just goes for territory the whole time," he said.
"We're a side that likes to play some rugby, and territory and possession is pretty important for us and we still find a way how to generate good field position and dominate large parts of games.
"And it's nice, isn't it, to have that blend and to put that out on the field and believe in it?
"So our game's in good shape but it's nowhere near where we want it to be, so that's a great spot to be in."
'England exposed to the importance of the Farrells'
Sky Sports News' James Cole takes a look back on the 2023 Six Nations, assessing the state of play with each side ahead of the World Cup in France later this year…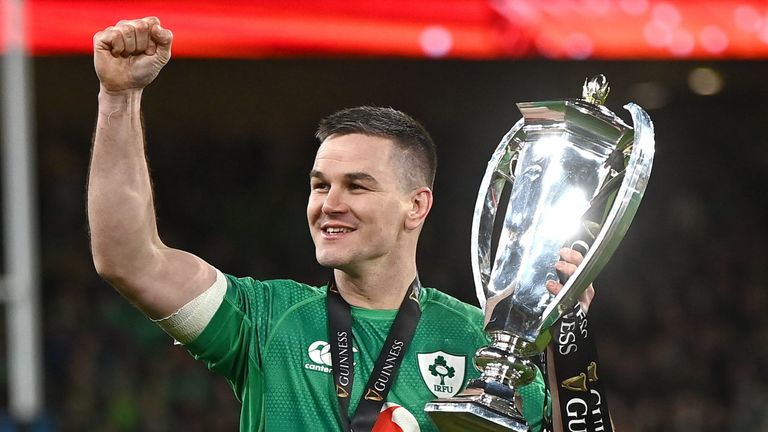 Ireland were, quite simply, head and shoulders above the rest in this year's Six Nations.
The grand slam was a fitting end to an excellent campaign – and, indeed, an excellent 12 months. They've now won 10 Tests in a row, which including an historic series win in New Zealand.
Jonny Sexton seems to be getting better with age and may think twice about his decision to retire after the World Cup.
Their back three have all taken their games to another level – James Lowe, Mack Hansen and Hugo Keenan are now a lethal combination. They've also got huge strength in depth in their squad to call upon.
And as for head coach Andy Farrell, he has created an environment in which his players can express themselves and thrive.
Hansen said as much this weekend, suggesting the motivational skills of Farrell are unrivalled.
The RFU must be wondering why on earth they let Farrell go in 2016.