F1: Red Bull and Max Verstappen's 'phenomenal' 2023 Formula 1 season must not be understated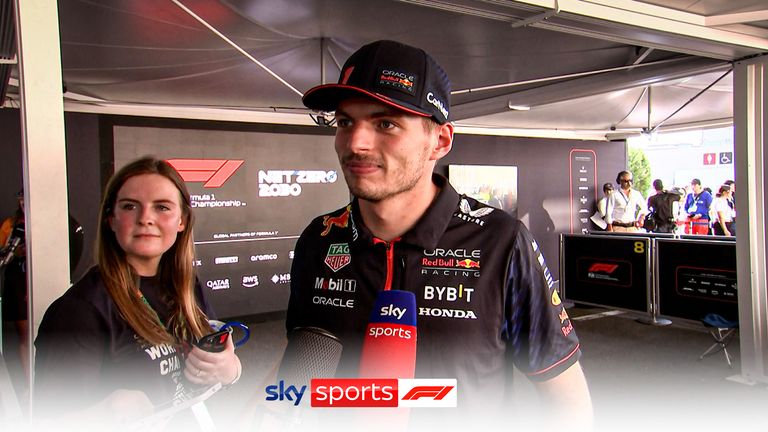 Max Verstappen reflects on an unbelievable season after winning the Japanese Grand Prix gave Red Bull the 2023 Constructors' Championship

Max Verstappen reflects on an unbelievable season after winning the Japanese Grand Prix gave Red Bull the 2023 Constructors' Championship
Red Bull may not have gone unbeaten this year but their sixth Formula 1 constructors' triumph will go down as one of the most impressive performances by a team.
The combination of Max Verstappen in this year's RB19 has been scintillating and unstoppable at times, leading to a record-breaking 10 consecutive wins.
Verstappen is already one of the all-time F1 greats according to Sky Sports F1's Nico Rosberg and when he secures his third consecutive world title, the Dutchman will be only the fifth driver to win a hat-trick of championships – Juan Manuel Fangio, Michael Schumacher, Sebastian Vettel and Lewis Hamilton being the others.
'Something to be proud of'
Red Bull have been operating at an incredibly high level, not just this year, but for several seasons now. Thousands of small factors need to come together on a race weekend in order to maximise results and that's what Red Bull do so well.
Even when they didn't have the best car over the last decade, Red Bull were often there to pick up the pieces. Think Daniel Ricciardo's three wins in 2014, the only non-Mercedes driver to stand on the top step of the podium that year, or Verstappen managing to pick up a victory every season since 2016, just one year after his F1 debut.
It's a testament to the culture, communication and adaptation behind the hundreds of brains in the Milton Keynes factory which has culminated in a special 2023.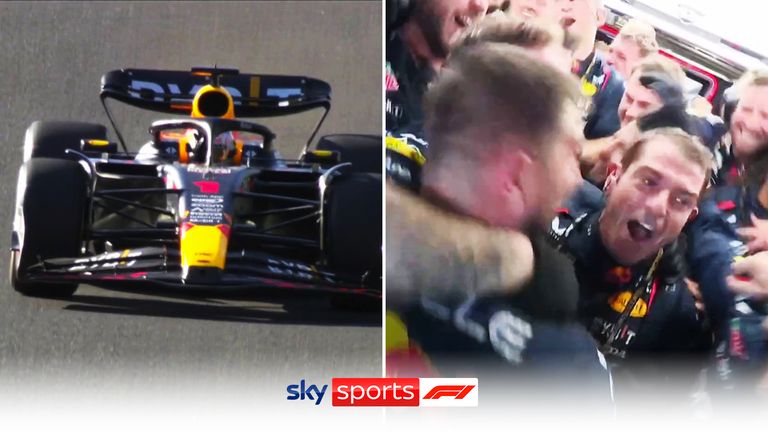 Max Verstappen dominates the Japanese Grand Prix to secure Red Bull the 2023 constructors' championship
"We've had some great seasons but I think what we've achieved up to Singapore… I mean, 14 straight wins across all the different venues that we've been at, and the challenges and conditions and everything that we've faced this year has been an outstanding performance," said team principal Christian Horner.
"Operationally, reliability-wise, strategically, development-wise, I think the team has been operating at a phenomenally high level. And I think that, everybody within the team is incredibly proud of what we've achieved.
"To have achieved 14 straight wins this season 15 in total, if you include Abu Dhabi last year, up to last weekend, we'd only been beaten in one race in the last 12 months, Max taking 10 in a row, beating Seb's (Sebastian Vettel) record from 2013.
"First and second in the Drivers' Championship, six 1-2 finishes so far… It has been a hell of a season for us. And something that everybody in the team is hugely proud of."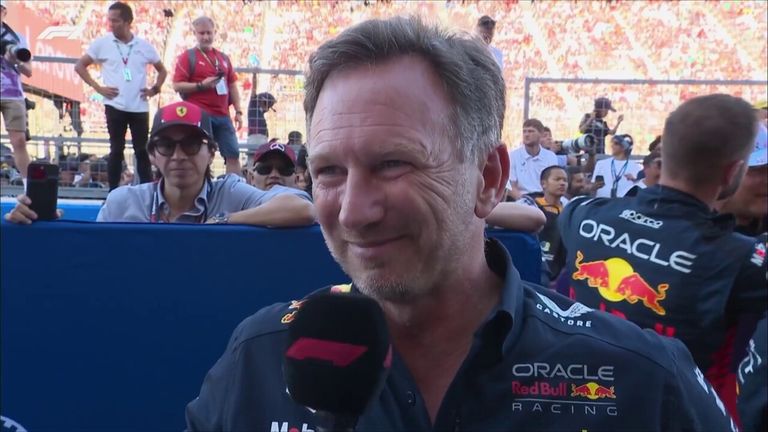 Red Bull team principal Christian Horner reflects on another record breaking day as Max Verstappen wins the Japanese Grand Prix to give Red Bull the 2023 Constructors' Championship
Verstappen added: "It's just an incredible season for everyone involved within the team and yeah, just very proud to be a part of it but also very proud to be working with all of these amazing people here at the track but also especially back at the factory as well.
"These people you might not see at the track but they are also doing a lot of hard work to make sure that our cars are always in the best shape, get developed throughout the year, and also be best prepared for the year after."
Why have Red Bull been so quick?
This year's Red Bull will go down as one of the most dominant cars in F1 history due to its superiority over the rest of the field, particularly during a race distance.
Singapore will be seen as an anomaly where the preparation, conditions, track layout and setup direction all contributed to a shocking Qualifying for Verstappen and Sergio Perez.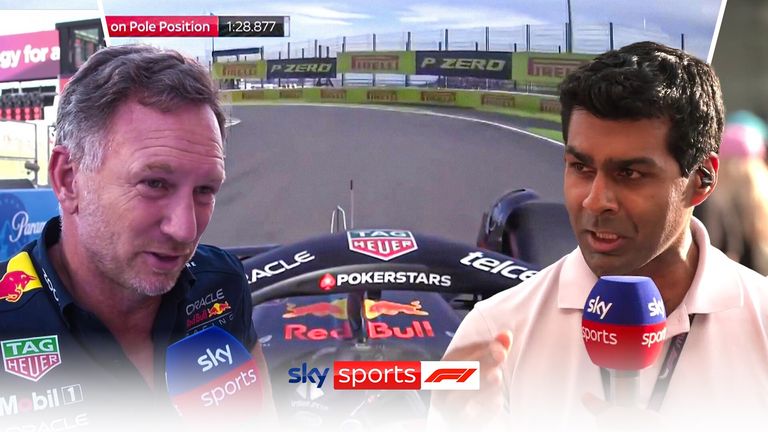 Karun Chandhok called it 'one of the greatest qualifying laps in F1 history'. Take a look at Max Verstappen's incredible pole lap at the Suzuka Circuit
Every tiny element on the car has been designed to make the RB19 very aerodynamic efficient – slippery in a straight line and pushes the car down in the medium and high-speed corners.
Then, the mechanical grip is excellent and Verstappen in particular has been able to get the nose turned in as he likes in the longer radius corners and stand on the throttle with confidence.
Chief engineer Paul Monaghan has been with Red Bull since the end of the team's maiden F1 season in 2005 and admits this year's machine is an all-rounder.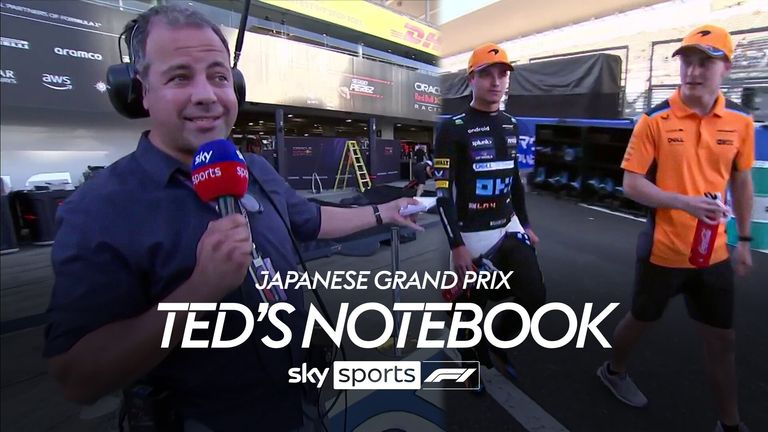 Ted Kravitz is in the paddock to review all the biggest stories from the 2023 Japanese Grand Prix
Asked what is the car's greatest strength, Monaghan said: "I would say everything with it. If you look, we're blessed with a very strong engine, two very good drivers.
"There's no complacency. It's not as if we're resting on our laurels or anything like that. Ultimately, we're blessed with a very competent car, different circuits, different downforce levels, different speed ranges – Monaco to Spa.
"Its weaknesses are not such that we can go to one track thinking we might get a win and other tracks we're going to struggle. We don't fear them as such."
Horner: It's always a question of looking forward
Love him or hate him, Horner has done a superb job as the figurehead of Red Bull and taking charge of the team throughout all the emotions on and off the track in F1.
He was the youngest team principal on the grid in 2005 and has overseen Red Bull notching up milestone after milestone, leading to their 100th win earlier this year the Canadian Grand Prix.
His decision-making and influence has no doubt kept key technical members at the team, people such as technical officer Pierre Wache, aerodynamics designers Craig Skinner and Enrico Balbo, head of performance engineering Ben Waterhouse, plus Adrian Newey.
Speaking on the Sky Sports F1 Podcast, Dutch racing driver Giedo van der Garde believes Max Verstappen's father, Jos Verstappen, has significantly impacted the Red Bull driver's career
"When I first came in, it was clear that the Dietrich (Mateschitz) had come into Formula 1 because he wanted to compete and had bought what was the Jaguar Formula 1 team that had been a perennial seventh place finisher," said Horner.
"It was about then constructing a team and I don't think any of us could have ever envisaged what lay ahead of us. Within 19 seasons to have achieved what we have has been a phenomenal journey so far.
"But it's never a question about looking back. It's always a question of looking forward. I know nobody looks at Wikipedia these days – is a huge statistic that everybody will be immensely proud of.
"And I think for us, it then becomes about next year, the year after, and of course the next chapter for Red Bull, which is the relationship with Ford in 2026 with producing our own powertrain which going from zero with a start-up company effectively, and building a facility and that is the next challenge. But it's been quite a journey, and hopefully a few more chapters to go."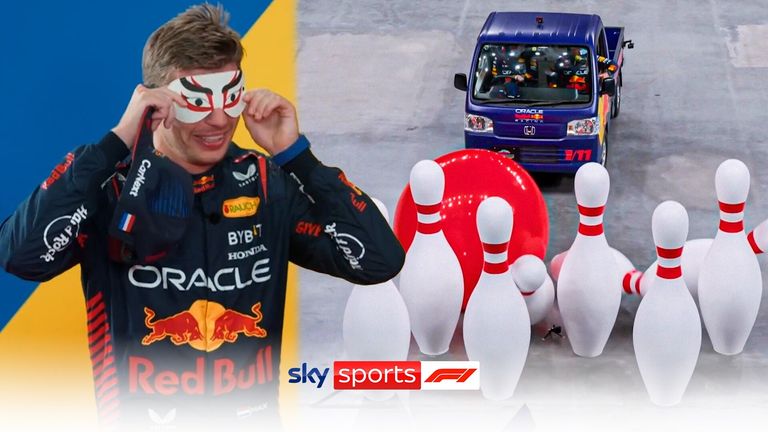 Red Bull drivers Max Verstappen and Sergio Perez take on Alpha Tauri drivers Yuki Tsunoda and Liam Lawson in the Japanese racing challenge
The Max Verstappen factor
Huge credit must go to Red Bull but there is no doubt the team also have an exceptional talent in Verstappen at the peak of his form.
His pole position lap at Suzuka was proof of that as he threw the car into the high-speed corners and was on rails through the first sector.
Sky Sports F1's Karun Chandhok was in awe of Verstappen's performance on a track where the drivers can make a big difference with their bravery and skill in the corners, knowing a small mistake could see them in the wall.
"I'm still breathless watching that. I think that was one of the great qualifying laps in F1 history," he said.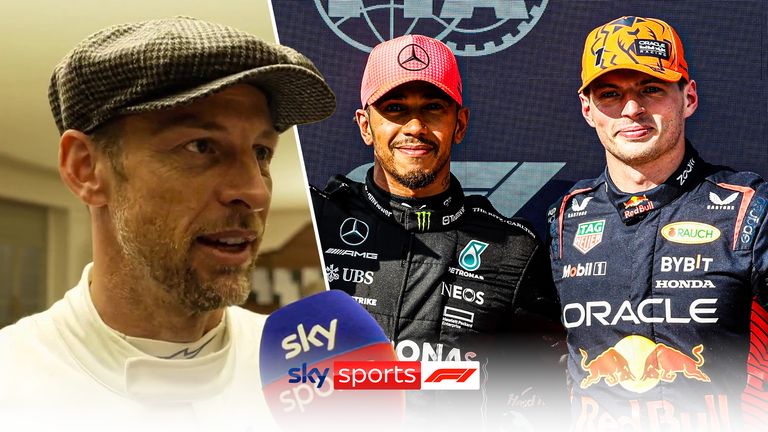 Jenson Button gives his thoughts on Lewis Hamilton's latest comments on Max Verstappen's driving partners, as well as looking at the future for Lando Norris
"There's not much left on the table. The detail with which he drove – pinching little bits on the entry into Spoon Curve, 130R not using all the width. He thought about every metre and for me that's a driver who's ahead of the car.
"Christian was saying that's one of the special laps and he's right. If they didn't have Max in the car, they would be second on the grid."
Verstappen is making Red Bull's dominance look stronger than it probably is. His ability to find the limits and keep a high minimum speed with a "pointy" car that's on the nose is just pure talent.
Like Ayrton Senna in a McLaren, Michael Schumacher in a Ferrari or Lewis Hamilton at his best with Mercedes, Verstappen has been driving at this level for a few years now.
Speaking on the Sky Sports F1 Podcast, Dutch racing driver Giedo van der Garde believes Max Verstappen's father, Jos Verstappen, has significantly impacted the Red Bull driver's career
"I think he just gets sharper and sharper. The raw speed and ability has been there from day one and that hunger and passion that he drives with, but now he couples that with experience and the way he reads the race, the way he manages tyres, the way he reads the situation is phenomenal," said Horner.
"He pushes the team, we push him and we both go to new levels and I think the team operationally this year has hit new standards as well, because whether it'd be strategically, whether it be pitstops, whether it'd be reliability etc, etc, I think all of those boxes we've managed to tick.
"I think success only spurs all aspects of the business to do better. And of course, when you've got a driver like Max Verstappen, that just adds that added motivation, that nobody wants to let the team down."
Will Max Verstappen wrap up his third world championship at the first attempt at the Qatar GP? Watch every session of the Sprint weekend live on Sky Sports F1 from October 6-8. Stream F1 on Sky Sports with NOW. Cancel anytime