Eddie Jones sacked: The hopes and heartaches of ex-England head coach's seven-year tenure | Rugby Union News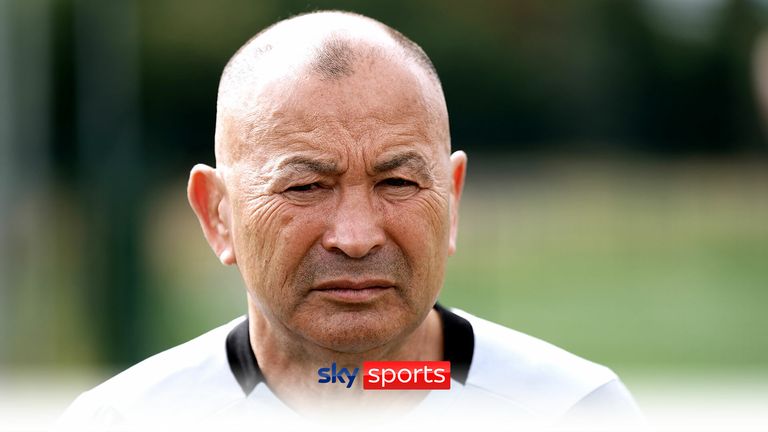 Eddie Jones' England career spanned seven years and was filled with highs and lows

Eddie Jones' England career spanned seven years and was filled with highs and lows
When Eddie Jones took over as head coach of England in 2015, he did so under the weight of lofty expectations.
Over the past seven years he led his team to triumphs but also had his fair share of tribulations. As he departs, we take a look back at the moments which have defined Jones' England tenancy….
Rising from the ashes: From World Cup disaster to world record runs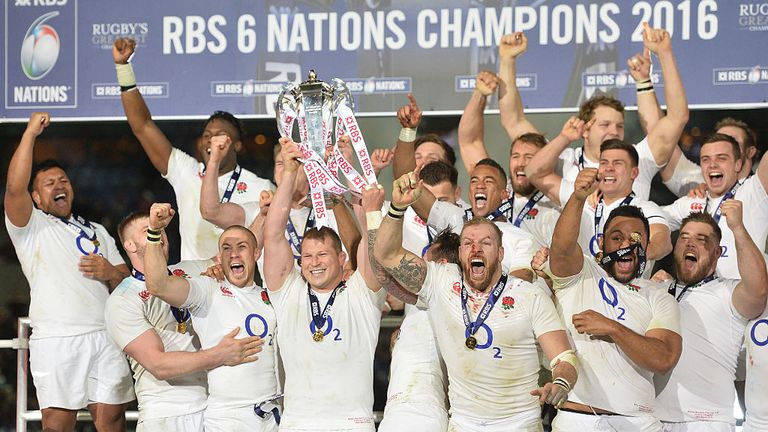 When Jones was appointed on November 20, 2015, he inherited a team that were working their way back from the disaster of a home World Cup pool-stage exit, with fans despairing at their side's dismal campaign under Stuart Lancaster.
However, Jones' arrival as the first overseas-born England head coach in rugby union marked a turning point that not even the most optimistic of England supporters expected, with a first Grand Slam in 13 years on the horizon.
Four late penalties from Owen Farrell sealed a 31-21 victory over France in Paris and continued an incredible run that saw England go unbeaten for 18 Tests between October 10, 2015 and March 11, 2017.
Not only were England winning, but they were playing exciting rugby, scoring 27 tries and racking up a total of 265 points in Jones' first nine matches in charge.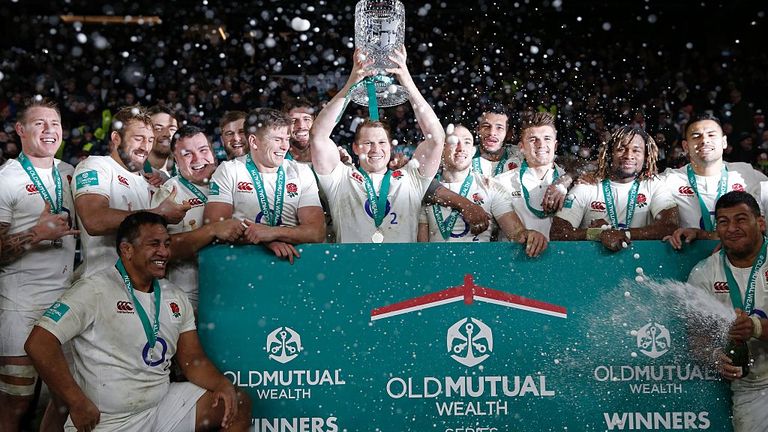 The same year saw a tour to Jones' native Australia in which England secured their first Test series win down under, tries from captain Dylan Hartley and Farrell helping them to a 23-7 win and a 2-0 lead in the series which moved them up to second in the World Rugby rankings before they completed a clean sweep in the third Test.
England were once again winners, and no one was sure who would stop them.
2017: The sign of things to come
With a first year in charge to remember under his belt, Jones entered 2017 as the man with the rugby brain that everyone wanted to tap into, and England as the team everyone wanted to beat.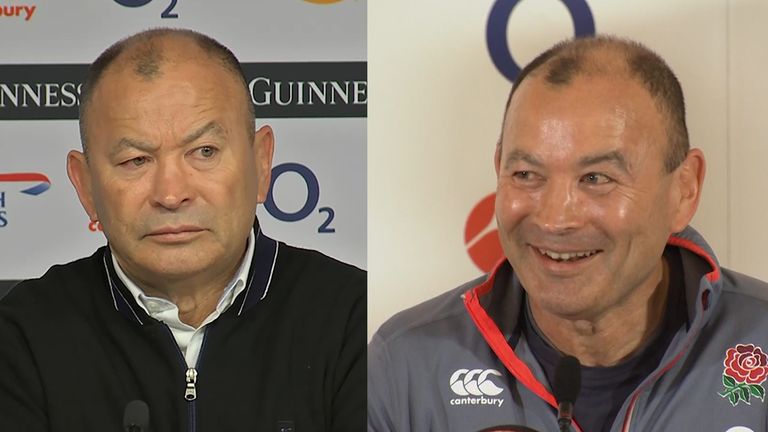 A collection of Eddie Jones' most memorable interviews while head coach of the England rugby team
Another Six Nations victory was secured, but a 13-9 loss to Ireland en route to the title win brought England's world-record run to an end, shattering the illusion that England were unstoppable.
Performances before that lacked the sort of conviction and gusto the previous year had brought too – one-score wins over France and Wales far from comprehensive.
With Ireland showing Jones' side had a chink in their armour, it would not be long before other teams started to capitalise.
The reality check of 2018: A year to forget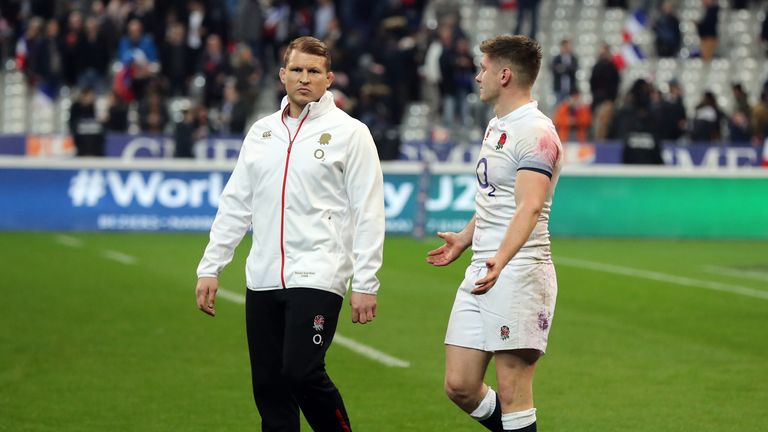 Once you reach the top the only way is down and, in 2018, England went into freefall.
A dismal fifth-place finish in the Six Nations after losses to Scotland, France and Ireland, a 2-1 series loss in South Africa and a captaincy clash between Farrell and Hartley started the first real chattering of questions over Jones' future.
In a familiar tale, many thought Jones' squad needed a shake up, that England's attack was weak and only change would do.
Jones survived his first scare and just 18 months later, England fans saw why.
What could have been: The 2019 World Cup final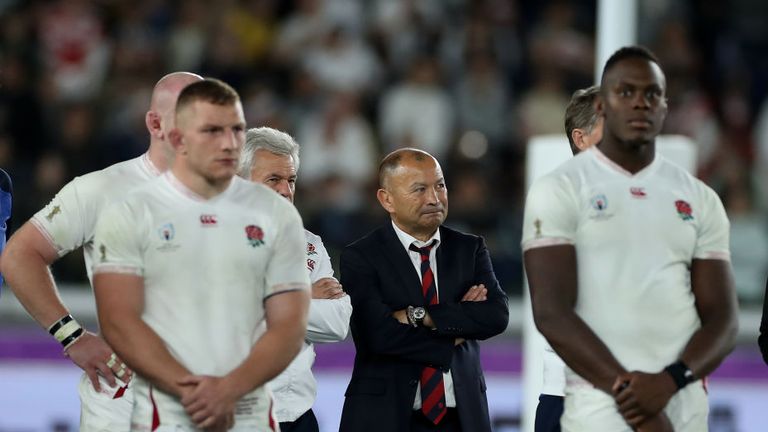 In what has become somewhat a common tale for Jones' England side, the low of 2018 was followed by what was nearly the highest of highs in 2019 as England reached the World Cup final.
England had an air of confidence not seen since 2016 and they marched through the group stage before destroying the All Blacks 19-7 in a semi-final to remember.
New Zealand had not been beaten at the World Cup for 12 years and if England could do that, surely they could beat the Springboks?
There was belief that, after 16 years, England may just claim World Cup glory once more, but in the most agonising of defeats, it was not to be.
South Africa put on a ruthless display in their 32-12 win as England stumbled and were left one step away from being on top of the world.
"They were too good for us at the breakdown today," Jones said.
"That's the great thing about rugby, one day you're the best team in the world and the next, a team knocks you off."
What is going wrong at the Six Nations?
In the years that followed England's World Cup defeat, the Six Nations became a tournament in which Jones' side found themselves floundering.
2021 saw them finish fifth after defeats to Scotland, Wales and Ireland, while in 2022 they lost to Scotland, Ireland and France, putting them well off contention for the title.
Defeat to Scotland at Twickenham in 2021 was England's first loss to the Scots there for 38 years dating back to 1983, while they lost to Ireland in both years by a combined margin of 31 points, conceding 32 on both occasions.
Reviews once again took place, but Jones survived and headed on a tour of Australia which marked another high point in his rollercoaster tenancy.
The Smith show: England beat Australia in 2022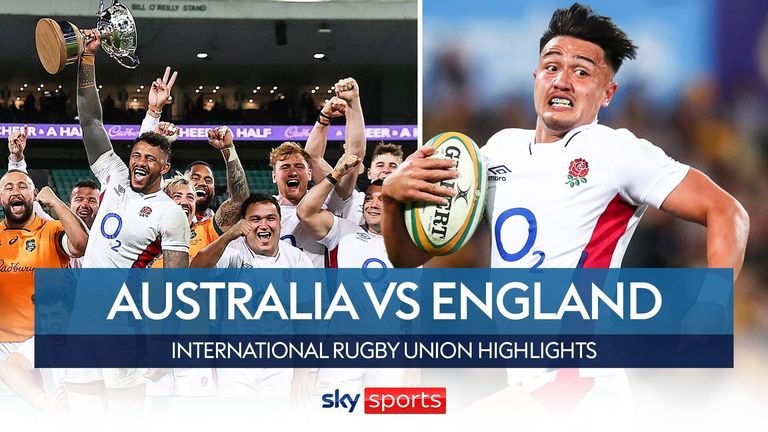 Highlights of the third and final Test between Australia and England, in Sydney
Although 2022 had its fair share of low points, a series win in Australia inspired by young star Marcus Smith brought a well-needed moment of celebration for England and Jones.
In the series-deciding third Test in Sydney, Smith showed his pace to race 55 metres downfield and help put his side 21-10 ahead, with England then holding firm after Folau Fainga'a's converted try to claim a 21-17 victory and the series win.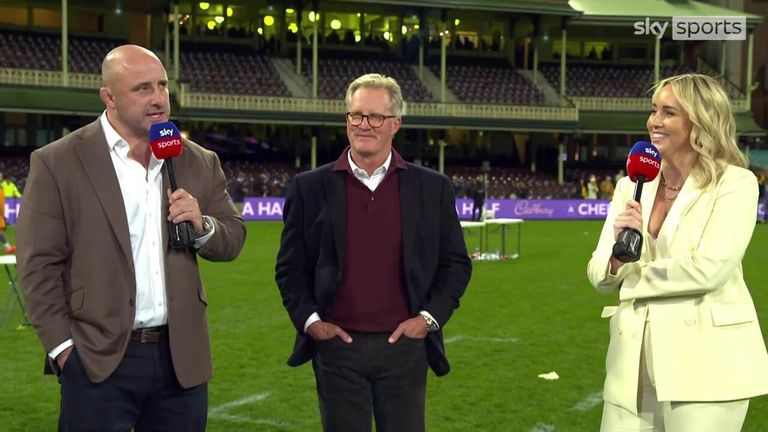 David Flatman and Michael Lynagh look back at England's Test-series win over Australia and discuss what they learnt
"It's a really positive step. We've always felt that the team is going in the right direction and sometimes the results don't reflect that," Jones said.
"At the end of the game, we had six players [on the field] with under 10 caps, so this is a young and inexperienced squad and to have an experience like this is fantastic.
"They're enjoying it, they understand how hard you have to fight to win a Test match, particularly away from home."
The final straw: Autumn Nations Series
Despite Jones getting his young guns firing down under, the autumn would reveal England had some major problems to still contend with and, with a World Cup around the corner in 2023, concerns over England's form escalated.
England's 2022 campaign under Eddie Jones
| | |
| --- | --- |
| Scotland 20-17 England | Italy 0-33 England |
| England 23-19 Wales | England 15-32 Ireland |
| France 25-13 England | England 21-52 Barbarians |
| Australia 30-28 England | Australia 17-25 England |
| Australia 17-21 England | England 29-30 Argentina |
| England 52-13 Japan | England 25-25 New Zealand |
| England 13-27 South Africa | |
A loss to South Africa in the final autumn Test nailed 2022 as England's worst calendar year since 2008 with a record of six losses, a draw, and five wins.
Prior to that heavy defeat by the Springboks, Argentina picked up a first victory at Twickenham for 16 years, before the All Blacks sat 25-6 ahead going into the final 10 minutes, only to implode as part of a 25-25 draw.
A review came from the RFU but, unlike before, no statement about confidence in Jones was issued before confirmation came that his time with England had reached its end.
Jones' journey with England at the 2019 World Cup was probably his finest hour, but seeing if he could repeat that at the 2023 World Cup was not a chance the RFU was willing to take just nine months out from the tournament starting.
Only on October 28, 2023 will we find out if the decision was right.