Benoit Badiashile to Chelsea: 'Complete defender' has physicality and passing ability to shine in Premier League | Football News
The first thing that people notice about Benoit Badiashile, Chelsea's new £35m defender, is his size. But for those who worked with him at Monaco, it is his ability with the ball at his feet and his ice-cold temperament that have left a lasting impression.
Now 21, Badiashile represents a long-term investment for Chelsea. It appears to be a shrewd one because the move comes at the right time. Already a France international, he has accumulated significant experience at Monaco. He is ready for this next step.
Nelson Caldeira remembers the first of them. Back then, Badiashile was a teenager from the academy desperate to follow in the footsteps of his elder brother and reach the Monaco first team. Loic was the third-choice goalkeeper. Benoit, at 6'4″, was bigger.
It was Loic who had the opportunity to share in some of the best moments in Monaco's history. Under Leonardo Jardim, with Caldeira as assistant manager, the club won the French title in 2017 and reached the semi-finals of the Champions League.
"Everybody knew Benoit because he was Loic's brother," Caldeira tells Sky Sports. "Loic was a talented goalkeeper. Afterwards, we realised that Benoit also had tremendous talent. In fact, he was the most talented player of that Monaco generation."
Coming from Caldeira, that is high praise indeed. The Portuguese has worked with some of the very best. "In the generation before, we had Kylian Mbappe, who was amazing," he adds. "But in that generation, it was obvious that Benoit had the most potential."
It was his blend of skills. "Not only is he very tall, which is important for the role, but it is the quality of his left foot. That technical ability, from a passing point of view, was there at 17. When we had the chance to start working with him for the first team, we did it."
That came later, with Badiashile making huge progress during Jardim and Caldeira's second spell at the club. But it was in their absence, under Thierry Henry, that the defender made his debut. Joao Tralhao was Henry's assistant for those tumultuous three months.
"When we arrived at Monaco, he was just 17, so young," Tralhao tells Sky Sports. "But when Thierry saw him, he was so impressed because it did not seem like he was only 17 in terms of his maturity, in terms of his game knowledge. He was a really good player.
"Of course, we knew that he had potential before we had met him properly. But when we had those first conversations with him, started coaching him directly, it was really easy for Thierry to make the decision to play him – and he played in the Champions League."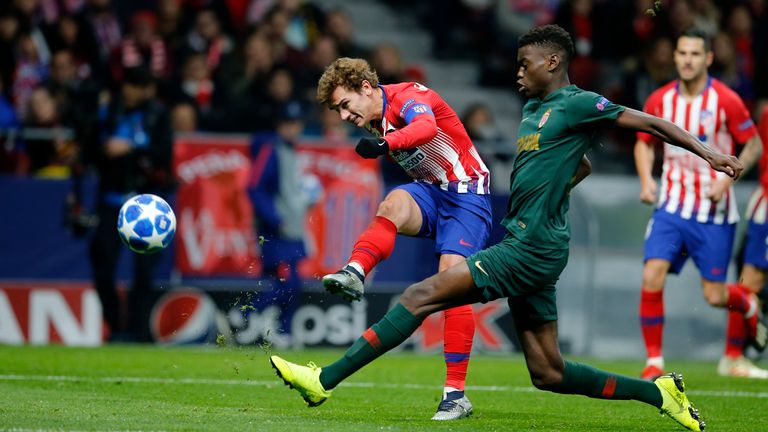 Badiashile made that European debut away to Atletico Madrid in November 2018. His professional debut had come just two weeks earlier – in a 4-0 defeat to Paris Saint-Germain. Neymar and Kylian Mbappe played. Edinson Cavani scored a hat-trick.
"It was really tough for him but one of the things that impressed us the most, and Thierry spoke about this, and our sporting director Michael Emenalo knew him very well too, was that he was not fazed. He was a very focused boy, very focused on his tasks.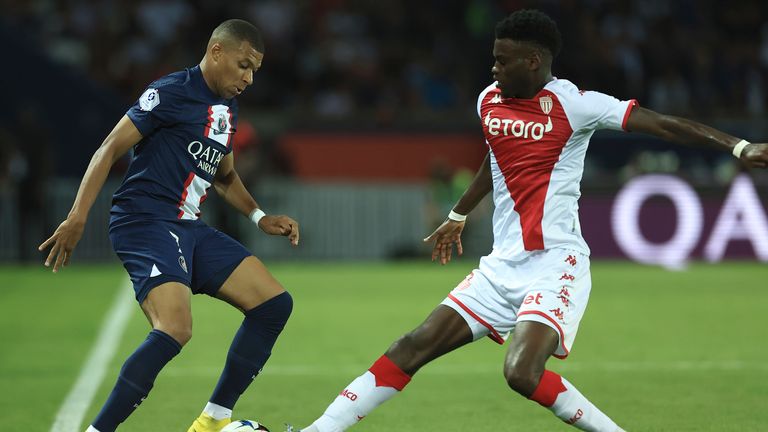 "In terms of personality, he is very cold. He does not shake if he is playing against Mbappe or Neymar, if the stadium is empty or full. He is a very balanced boy. His character is outstanding. He focuses on what he must do to perform. It is one of his best qualities.
"He has that maturity and that emotional control. That impressed Thierry a lot and he had no hesitation to play him. Some questioned that. He was 17 and centre-back is a position that requires some experience. Now we can say Thierry was right to bet on him."
Not that Henry went easy on the youngster. Social media was abuzz when footage emerged from a press conference in which Badiashile neglected to tuck his chair under the seat upon his departure. It blocked his coach's path. Henry's silent rebuke went viral.
"That video caused a storm in the media," laughs Tralhao. "It was one episode but we wanted to create some rules for the team. Thierry was always strict on discipline and Badiashile knew that the coach was right. He was very humble. And he never did it again!"
Henry departed soon after. What was an opportunity for Badiashile was a difficult time for Monaco. That first season brought eight defeats in 21 appearances prior to his 18th birthday. It was a thorough examination but it was also the catalyst for growth.
When Jardim and his staff were reappointed, Caldeira returned to find a player transformed. "We saw a different Benoit," he recalls. "He had progressed and from then on he started most of the matches for us. In the next six months, he progressed a lot more."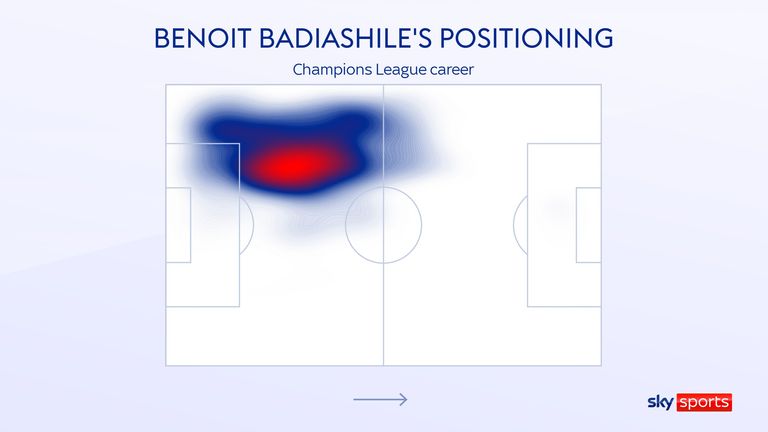 Badiashile was the youngest defender in Europe to start a Champions League game that season so the learning curve was steep. "I recall the main problem that we had to solve between me and Benoit was the man-to-man marking at set plays," says Caldeira.
"It is not an easy skill for any defender because it demands high concentration not to lose the contact and to maintain that sense of the ball's trajectory. We worked a lot on that particular moment of the game because it can be a decisive moment.
"It was not easy for us to expect Benoit to keep working and remain focused straight after an intense training session but he always had the right attitude to it. He always listened and he always learned, taking in the information. He wanted to improve his skills.
"He also worked hard to improve his man-marking in the duels. He had the physical attributes but was not comfortable with the confrontation. Kamil Glik was the opposite. He was so aggressive and an important role model. Benoit progressed tremendously."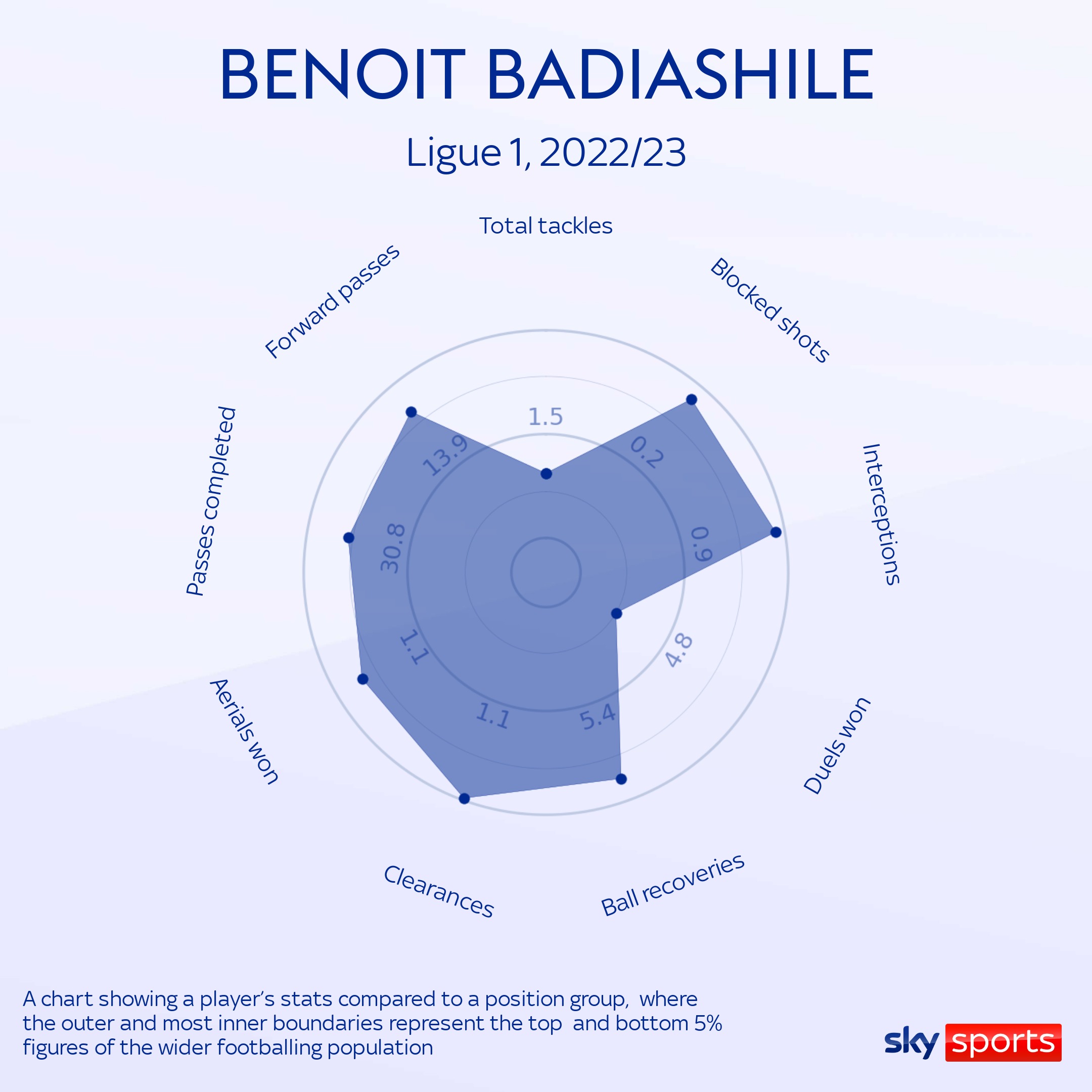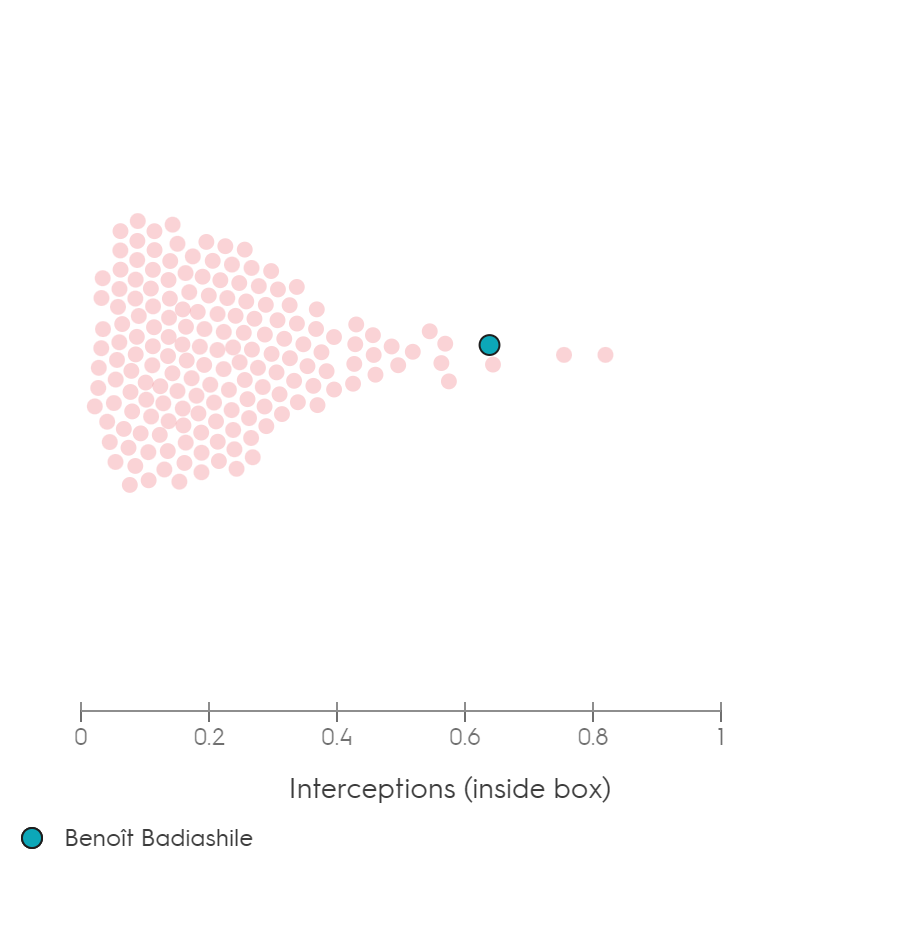 It was worth persisting because Badiashile has qualities that other do not. There is a change of tone when discussing his distribution. Even experienced coaches know that he is different. Those long diagonal passes are eye-catching. But it is more than that.
"It is not only the diagonal because that is not so rare," says Caldeira.
"It is the ability to play between lines, in small gaps, finding the space for the passes. It is not easy to find a left foot with that kind of ability. He could progress with the ball, find the timing with the pass, assume the responsibility to build the play at such a young age.
"He could do it with good intensity too. Many players play the pass so strongly it is not easy to control it. With Benoit, the ball leaves his foot with the right speed and direction. That is very unusual. And his decision-making ability was already good at 17. He was different."
Tralhao makes a similar observation. "Left-footed defenders with that ability are not easy to find," he agrees.
"He can build the game easily with that left foot. He has no problem building under pressure because he makes very good decisions with the ball at his feet, linking the play for his team. We used to call them creation passes. Those passes break the lines easily."
His former coaches have followed his progress since and they are even more confident in his ability now. Caldeira last worked with Badiashile in 2020 but is a regular visitor to Monaco. "They are one of my favourite teams so I still follow his matches," he says.
"I have seen his continuous improvement both technical and tactical. Even from a physical point of view, I think he has improved in recent years. He has played a lot with Guillermo Maripan and Axel Disasi, important role models, and he can develop even more.
"We played 3-5-2 as our main system at Monaco and, at that time, Benoit was more comfortable in a defensive line of three because the spaces between each player were smaller so it was easier for a young player to understand when and where to move.
"Since then, he has shown an increased proficiency in a two-man defence or a three-man defence. It is no problem for him. He is also quick to cover space in behind so a high-press strategy is no risk with Benoit. He can do well in a big team that controls games.
"Chelsea will be fantastic for him because he has the opportunity to play with Thiago Silva and he will improve even more in this environment. The stress on a Premier League defender is higher, but that will be the stimulus for more progression.
"I am sure he will succeed. He has the experience. He is prepared."
French football expert Jonathan Johnson discusses defender Benoit Badiashile

The fee will bring expectations, even if it should be remembered that Badiashile is two years younger than Trevor Chalobah. But there is confidence that this is a player – and a person – ready to meet them. In the opinion of Tralhao, he could hardly be more ready.
"I think he was prepared for this two years ago. Playing in such a demanding league, probably the best in the world, you need quality and experience. He has that and he will be one of the most important players at Chelsea in the coming years.
"He is going to one of the world's biggest clubs and a defender there needs certain qualities. But Badiashile is excellent. He is very strong in the air and in the duels. He can read the game because he is intelligent. He is a very good defender on the floor and in the air.
"I do not have any doubts that he will succeed in the Premier League.
"He is the complete defender."