Has Nathan Jones bitten off more than he can chew at Southampton after fourth successive defeat? | Football News
It could scarcely have been a worse start for Nathan Jones. Does the 'new manager bounce' rule not apply on the south coast? It is safe to say that mandate has glossed over St Mary's and been washed abruptly into the nearby English Channel.
Southampton have again lost six consecutive Premier League games – they last repeated that unwanted feat back in February 2021 – and are without a clean sheet in 11 home games.
Jones hasn't overseen that entire period, but his tenure has begun with a succession of doom and gloom. The continuation of a downward trend at Saints. His honeymoon period may well be the shortest in top-flight history, but for Frank de Boer's ill-fated spell at Crystal Palace in 2017 when he departed after four league matches.
Prior to arriving at St Mary's on Wednesday, Nottingham Forest hadn't won a single point on the road. They hadn't scored a single away goal. And yet one goal was all it took to down a limp Saints side, devoid of any structure or confidence, casting them further adrift at the foot of the table.
FREE TO WATCH: Highlights from the Premier League match between Southampton and Nottingham Forest.

It was a sobering night. Not least because a significant number of home fans were passionately singing "You don't know what you're doing" by the full-time whistle. Choruses of boos could be heard intermittently throughout.
The jibe was not aimed at the referee. It was targeted directly at the man in the home dugout. A scathing review of Jones' opening five games as Southampton manager. The Forest faithful promptly stuck the knife in with a customary rendition of "sacked in the morning".
"I take sole responsibility for the results we're getting, and I'll take sole responsibility when things turnaround," Jones boldly declared after Saints' latest setback. It's difficult to see how that suggested reversal is going to manifest, though, given his side failed to even have a shot on target against fellow strugglers Forest. It was a morbidly dour affair.
Perhaps the only glimmer of faint hope lies in the fact that Jones is the second manager to lose each of his first four Premier League games in charge of Southampton, after Nigel Adkins in 2012-13. Saints finished 14th that year, but the upturn only arrived after Adkins was replaced by Mauricio Pochettino in mid-January.
Pochettino's Southampton went on to beat Manchester City, Liverpool and Chelsea on the way to a comfortable finish – five points clear of the drop. Any Saints fan would bite your hand off for a repeat. But such wishful thinking would ignore the obvious – Jones isn't equipped with the tools or experience needed to paper over the cracks in Southampton's sinking ship. Nor does he have the time to find them.
St Mary's is unified over one thing, at least, and that is Southampton's fortunes are only going to get worse before they get better. The calendar year, as Jones has alluded to, has been an unmitigated disaster. Underlined by Wednesday's 1-0 loss to Forest, which reticently marked the 12-month anniversary of Sport Republic's Southampton takeover.
Rasmus Ankersen and Henrik Kraft, who are jointly operationally responsible for Sport Republic's involvement, have a lot to answer for. An era which began with so much hope and optimism – moving away from Chinese businessman's Gao Jisheng's passive reign of ownership – has dwindled into yet more despondence and despair. Southampton rank 90th, out of the 92 Football League clubs, for points-per-game (0.86) across 2022.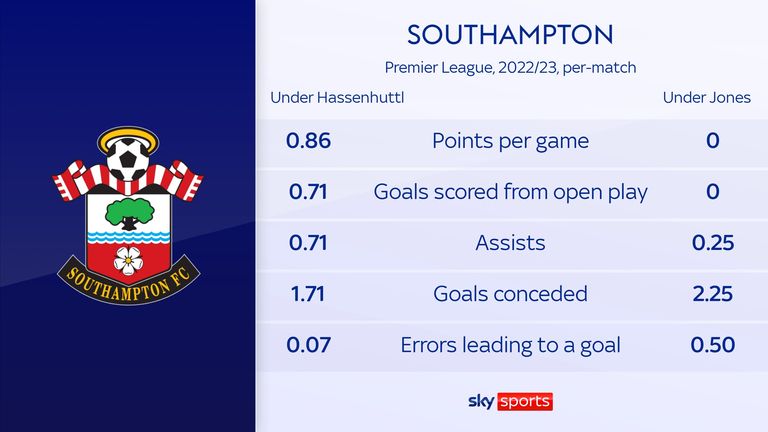 Indeed, a series of questionable decisions have blighted the south coast club. Starting with an over-reliance on recruiting youth. Yes, previous manager Hasenhuttl was backed in the summer, before losing his job four months into the season, but the strategy relied on quantity over quality. Saints brought in 10 new signings, for a sum of just over £80m, with an average age of 22. An experimental gamble which is yet to pay dividends.
Perhaps they would have been better served going after three key targets, including a much-needed striker, with proven track records and some degree of experience, for the same outlay, whilst also making some pragmatic tweaks to the current crop. Nathan Tella, on loan at Burnley, has scored more league goals (eight) than any Saints player this season, albeit in the Championship – for example.
Then there's the curious case of star man James Ward-Prowse, often Saints' knight in shining armour, who has been hamstrung by the loss of a consistent team spine, and the lack of a defined central role.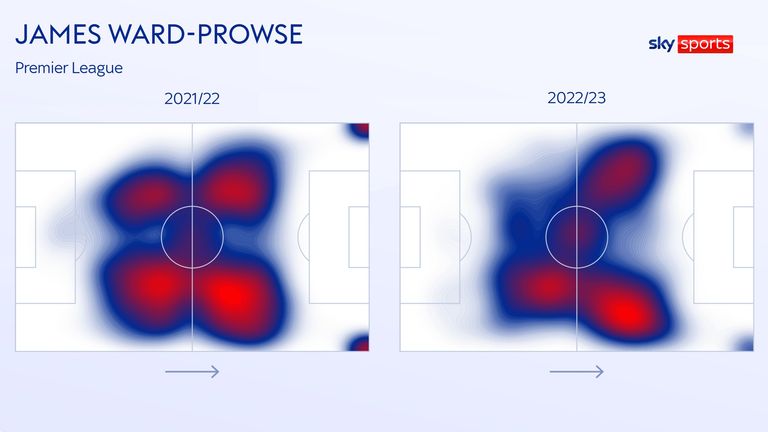 "This was not a knee-jerk reaction. It was a long-term thing," Kraft told The Athletic, in reference to Jones' appointment, in the wake of Aston Villa naming Unai Emery and Wolves Julen Lopetegui as their respective new managers.
What appeared to be less of a measured, reasoned masterplan, however, was Jones' tactical application against under-fire Forest – who had just as much pressure riding on the outcome as he did. This was a six-pointer and Steve Cooper came away with all the spoils.
Saints went direct. Forest retreated in a robust shape and mopped up the seconds. It was easy pickings. A far cry from the, at times, fast-paced high-octane football that initially endeared fans to the previous regime.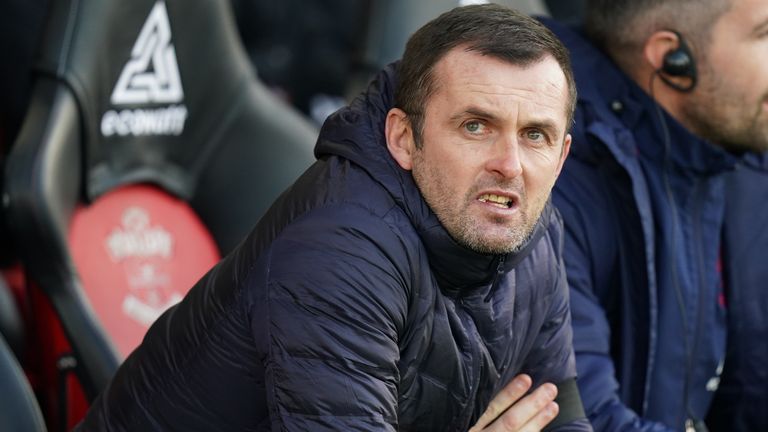 Jones himself looked bereft on the touchline, the weight of the world on his shoulders, while his players looked lost. No clear plan, no clear identity. As if the only hope was to burden Ward-Prowse with a moment of solo magic, or a pinpoint delivery which would land fortuitously on the head of Che Adams. Neither materialised. "We had enough corners to get outcomes," Jones recalled post-match, clutching at obsolete straws.
The former Luton Town boss has used a total of nine formations in the three post-World Cup league fixtures – each as confusing as the last.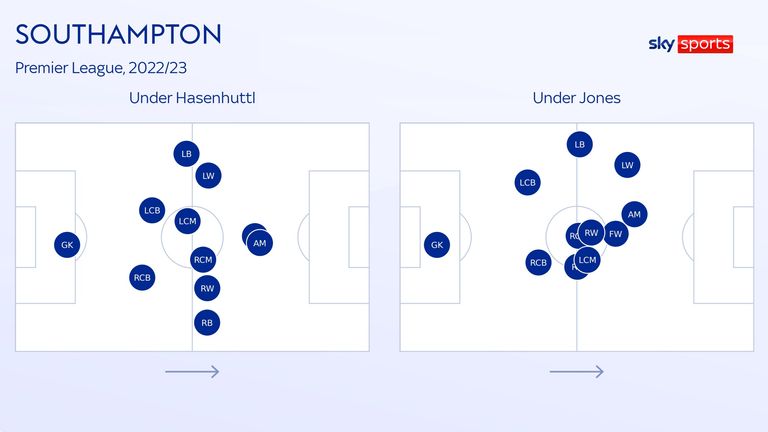 So, what happens now? If Jones is deemed to be out of his depth by the Southampton hierarchy, more hiring and firing is surely going to prove costly. If they want to stick by their man, he needs reinforcements in January – also costly. Certainly, Jones would not be the first person in a senior position to march through Staplewood's revolving exit door – enforced or otherwise.
Joe Shields, who joined in the summer to head Southampton's recruitment operation, left for Chelsea three months later. Director of Football Operations, Matt Crocker, has also chosen to "pursue a new challenge". Not forgetting they sacked three long-serving first-team coaching staff before the campaign even commenced. It's a mess.
In the short-term, something must be done to arrest Saints' damaging slump. Abandoning the blueprint in favour of proven talent may well be the only legitimate play yet to be explored. The pursuit of 30-year-old Mislav Orsic, therefore, almost feels like an admission of misjudgement. That is, the club's tunnel vision of acquiring young talent with potential sell-on value in the future, has failed to account for the present. It's now a rescue mission.
Impassioned fans have had their say. It's time for action. Only then can Southampton hope to morph from relegation fodder into anything close to a Premier League worthy entity.