History beckons for England as they play India in inaugural ICC Women's Under-19 T20 World Cup final | Cricket News
England are one win away from becoming the first ICC Women's Under-19 T20 World Cup champions – a dream that looked over halfway through their semi-final.
Grace Scrivens' side were dismissed for just 99 by Australia in Potchefstroom with the captain and Alexa Stonehouse the only two players to pass 20. Only four of the team made double figures.
Yet England retained their belief. It grew after Ellie Anderson picked up a wicket in the first over of the chase and then grew some more when Stonehouse struck in the second to make it 4-2.
Highlights from England's exhilarating win over Australia in a low-scoring Under-19 T20 World Cup semi-final

What followed was Australia inching towards their target and England chipping away with regular wickets, three of them taken by leg-spinner Hannah Baker.
Australia looked on course at 48-3, before England roared back to make it 59-7. In the end, perhaps fittingly, it was England skipper Scrivens who struck the decisive blow.
She has delivered many with the bat in this tournament while amassing 289 runs, including three half-centuries, but this one was with the ball as Australia were dismissed for 96 and England won by three runs.

Sunday 29th January 11:45am

Scrivens pinned Australia No 11 Maggie Clark lbw to take her tally of wickets for the competition to eight and, more importantly, her team into Sunday's final against India – a game you can watch live on Sky Sports Mix or via a free steam on skysports.com and the Sky Sports App.
'England fearless with a never-say-die attitude'
"It would mean everything. It is something we are aiming for and if we play our best cricket we will be in a very good place" said Scrivens, when asked about the prospect of lifting the trophy.
"We are ecstatic. It was an unbelievable team performance [in the semi-final]. We didn't get the runs we wanted on the board but to defend it was unbelievable.
"We all had to believe and we bought into that really well. The way we defended that total and stuck together will give us confidence into the next game. The whole team has that never-say-die attitude, we are always trying to stay in the battle.
Sky Sports Cricket's Michael Atherton was full of praise for England after their nerve-jangling semi-final victory

"We have spoken about trying to park the emotions from the semi-final and move on to the next game. Being clear in what we need to do.
"The England men's team have the mindset of being positive and taking the game on and I think we have tried to take up that mindset.
"If we continue doing that, it will stand us in good stead. We want to carry on the fearless cricket and not let the semi-final collapse affect that in any way.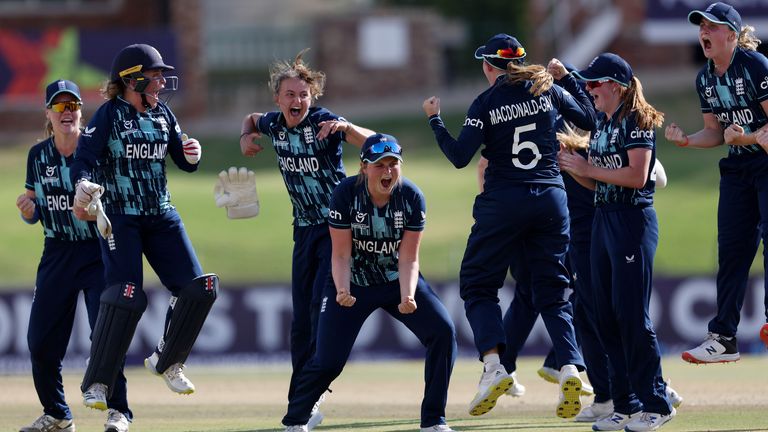 It was such an amazing game, so it was about soaking up the moment as you don't get the chance to play in semi-finals like that very often.
"It is a privilege to lead England at the World Cup. The girls are unbelievable and so to lead them is special. It is an amazing thing to do."
England are the only unbeaten team left in the tournament with India – who trounced New Zealand by eight wickets in their semi-final – suffering a Super Six defeat to Australia.
Sehrawat starring for India
India have arguably the most famous player in the tournament in skipper Shafali Verma, with the opener having featured 74 times for the India senior team across the formats and likely to command a sizeable fee at the auction for the first women's IPL.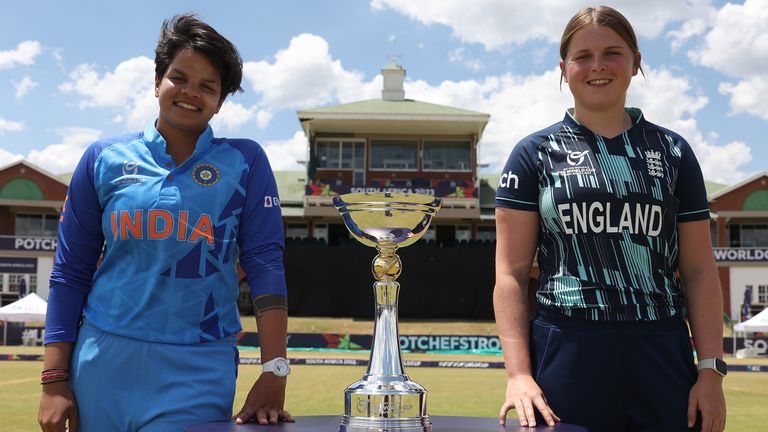 Verma, who turned 19 on Saturday, has been quiet since kicking off the tournament with totals of 45 and 78, with a top-score of 15 across her next four innings.
It was her opening partner – the leading run-scorer in the tournament, Shweta Sehrawat – who fired against New Zealand with a 45-ball 61 not out. Sehrawat now has 292 runs in the event, just three more than England skipper Scrivens.
Scrivens has been England's fulcrum at the World Cup, as captain, top-order batter and key off-spinner, but she has been backed up with the bat by Liberty Heap, Niamh Holland and Seren Smale and with the ball by seamer Anderson, spinner Baker and slow left-armer Sophia Smale.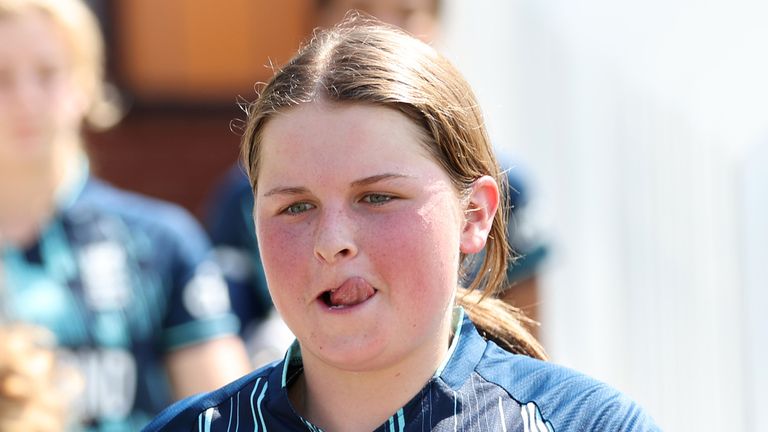 For Scrivens, the Smales and more, being the next youngsters to represent the full England Women team is the ultimate goal – but their focus now is on being the first England Women youngsters to win the Under-19 World Cup.
England won the first women's 50-over World Cup and the first women's T20 World Cup. Their Under-19s are one good performance from completing the set.
Watch the ICC Women's Under-19 T20 World Cup final between England and India live on Sky Sports Mix and via a free steam on skysports.com and the Sky Sports app from 11.45am on Sunday.