Mark Cavendish: Raider held knife to Olympic cyclist's throat, court told during robbery trial | Cycling News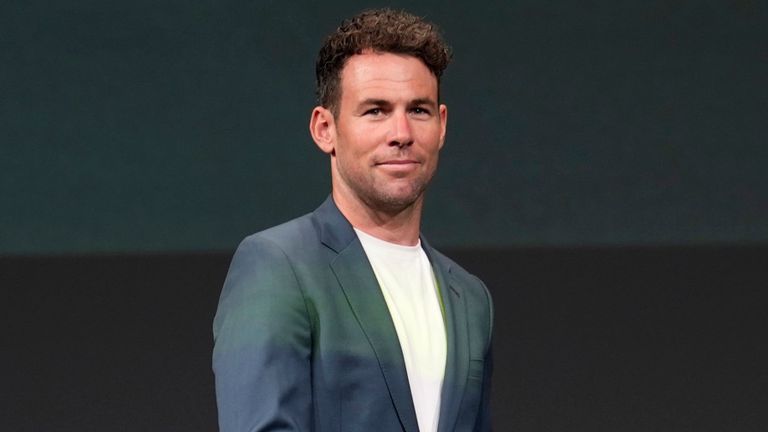 A balaclava-wearing intruder held a large black knife to the throat of Olympic
cyclist Mark Cavendish and threatened to stab him, the athlete's wife told a
robbery trial.
The raiders broke into Cavendish's home as he was asleep upstairs with his wife Peta on November 27, 2021, Chelmsford Crown Court heard.
Prosecutors say they stole items including two Richard Mille watches valued at £400,000 and £300,000.
Romario Henry, 31, of Bell Green, Lewisham, south-east London and 28-year-old Oludewa Okorosobo, of Flaxman Road, Camberwell, south London, both deny two counts of robbery.
They are accused of robbing Cavendish of a watch, phone and safe, and to robbing the athlete's wife of a watch, phone and suitcase.
Peta Cavendish, giving evidence in court, said she "heard a noise that woke me" in the night and went downstairs to investigate, adding she was "naked" at the time.
"As I got a few steps down the stairs I could hear men speaking but it was still dark," said Mrs Cavendish, who wore a black jumper and blazer, with her dark hair in a ponytail.
She said she could see "men's figures in balaclavas, and they were running towards the bottom of the stairs".
"I know there were between three and five, I know there were more than a couple but I wouldn't have been able to say exactly how many [people there were]," Mrs Cavendish said.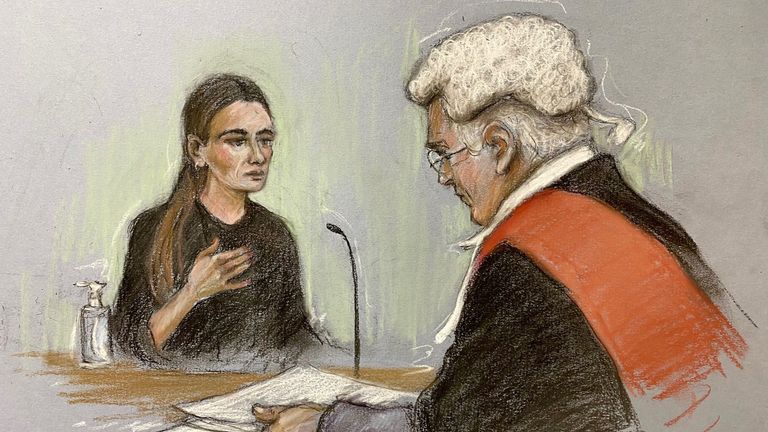 Asked by prosecutor Edward Renvoize how she felt when she saw the men in balaclavas, she told jurors: "It was just everyone's worst nightmare."
She said she ran up the stairs "as quickly as I could and I shouted something like 'get back' or 'get in' to Mark".
She said one of the intruders "dragged" Cavendish "from his feet and started punching him".
"One of the men then had him in a headlock," she said.
"One of them held a large black knife to his throat and they said 'where's the watches' and 'do you want me to stab you?'."
She agreed with Mr Renvoize it appeared to be a Rambo-style knife.
"They were very specific about a watch," she said.
"I tried to explain that actually we were broken into a couple of years previously, everything has been taken."
Mrs Cavendish said her husband showed the intruders where the safe was.
"It had a battery-operated PIN, there was nothing in it, it wasn't being used so the battery had gone dead," she said.
"It was becoming more frantic as they weren't getting what they wanted.
"They kept saying 'there must be cash, there must be jewellery."
She said her husband had been "out of hospital for four days maybe" at the time following a cycling crash which left him with three broken ribs and a tear to his left lung.
She said she took her phone, which had fallen from a bedside counter into an open drawer, but was spotted by one of the intruders.
"The man on the landing that I wasn't aware of shouted 'she's got her phone, she's got her phone'," she said.
"One of the individuals said 'give me the phone, did you call the police'."
She said she threw her phone to the end of the bed.
She said the intruders took a £400,000 Richard Mille watch "Mark raced in", that had a blue strap, and had been on a windowsill.
"At first it wasn't picked up but they did take it," she said.
She said they also took her £300,000 Richard Mille watch that had been on her bedside table.
She said they turned the bedroom "upside down" and when they left, Cavendish pressed a panic alarm to alert a private security firm and the police.
She said when she went downstairs she saw that a patio door was smashed, and that Cavendish cut his feet on the smashed glass.
She said the intruders did not take her engagement ring or wedding ring or a necklace, though the intruders had said "show me your wrists, as if maybe I was wearing a watch".
Mrs Cavendish said the intruders wore "darkish clothing, tracksuits probably and gloves".
"Definitely one of them that had the knife, one that took my phone was definitely black," she said.
"Definitely one of them was definitely white.
"I think the other was white.
"I think the person on the landing was black."
She agreed with Shahid Rashid, for Okorosobo, that the situation was "hectic" and "frantic".
Ali Sesay, 28, of Holding Street, Rainham, Kent, admitted two counts of robbery at an earlier hearing, and the trial was previously told his DNA was found on the phone of Peta Cavendish, which was taken and found outside the property.
Two further men, Jo Jobson and George Goddard, have been named as suspects in the case but have not been apprehended by police.