NFL playoffs: Hannah Wilkes' Conference Championship preview ahead of 49ers at Eagles and Bengals at Chiefs | NFL News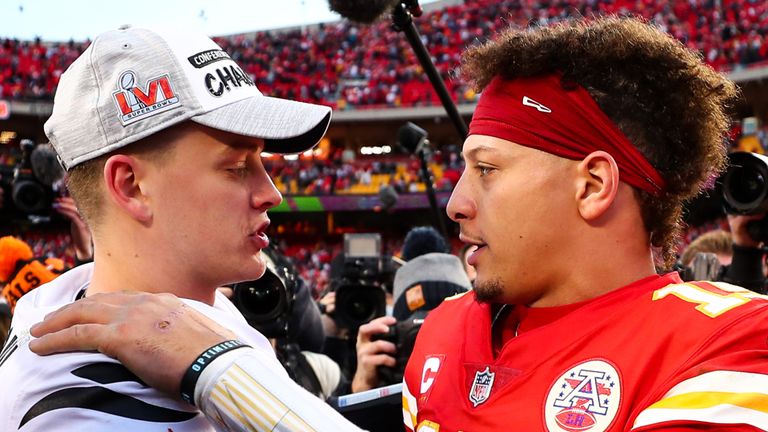 Sky Sports' Hannah Wilkes previews the Conference Championships of the NFL playoffs, with the league's four best teams battling it out for the right to reach Super Bowl LVII in Arizona on February 12.
And then there were four.
What a lineup we have on our hands for Conference Championship weekend, featuring, without doubt, the best four teams in football down the stretch of the season.
Picking the Super Bowl matchup from these two games – San Francisco 49ers @ Philadelphia Eagles and Cincinnati Bengals @ Kansas City Chiefs – is almost impossible. (Patrick Mahomes' ankle, we're looking at you…)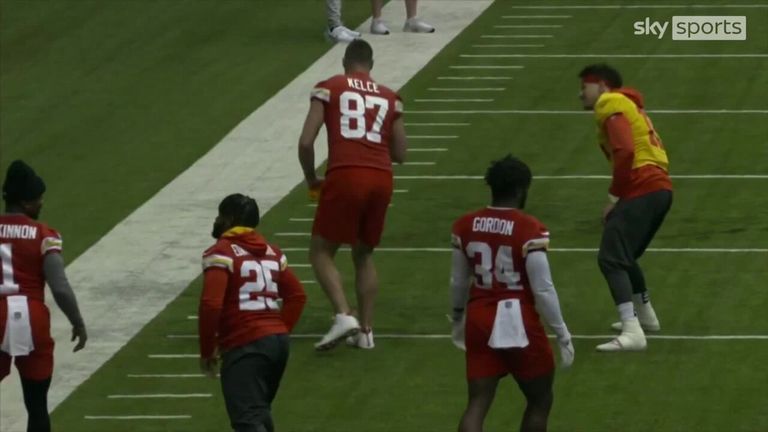 Kansas City Chiefs QB Patrick Mahomes appeared to be testing out the ankle he injured in the divisional round as his team prepares for the AFC Championship game
Entertainment is pretty much guaranteed on Sunday night and, whichever sides are duking it out at Super Bowl LVII in Arizona come February 12, we're in for a treat!
Don't be blue, Big Blue
We always knew it would be a HUMUNGOUS challenge for the New York Giants to cause an upset against the Eagles in the divisional round but, while Giants fans can rightly be disappointed, there are so many reasons to be positive in New York going forward.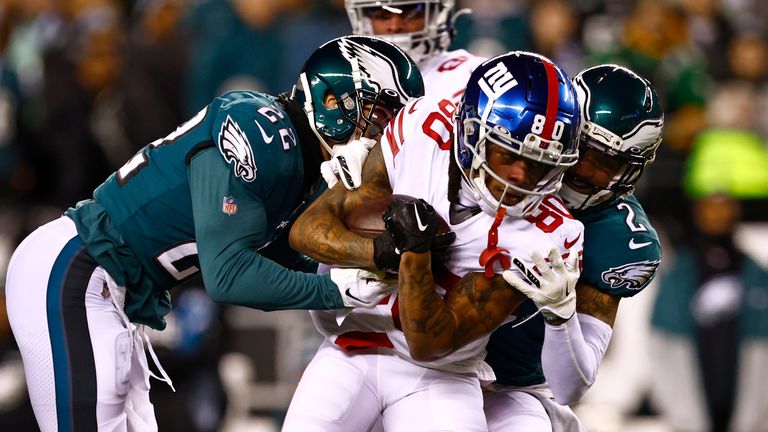 Highlights of the New York Giants' trip to the Philadelphia Eagles in the divisional round of the NFL playoffs
The Giants, realistically, were never supposed to be here. They have overachieved tremendously in Brian Daboll's first year with the team and Coach of the Year buzz is reaching fever pitch around him.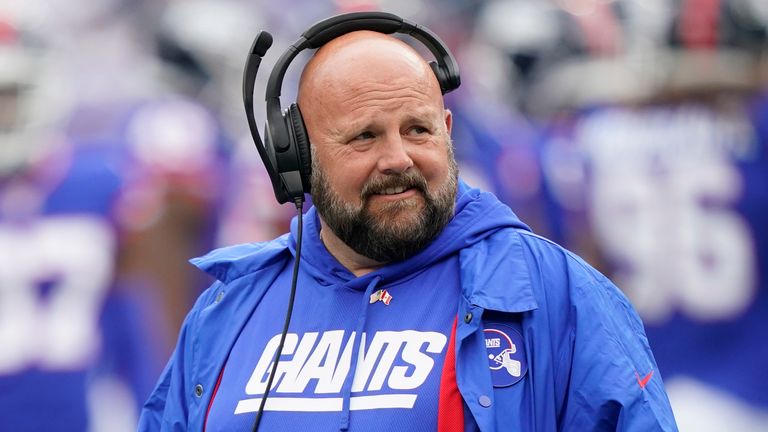 With a ton of cap space heading into 2023, draft picks that suggest they'll be well in the market for some quality wide receiver help, and just the small necessity of sorting out star running back Saquon Barkley's contract, the Giants are well placed for a big offseason and a solid crack at the 2023 season.
I'll leave the Daniel Jones at QB debate to someone else…
Nothing to separate 49ers and Eagles
Jalen Hurts versus Brock Purdy. Two quarterbacks on their rookie contracts. Two quarterbacks both under the age of 25 (a first in Conference Championship history, by the way).
Miles Sanders vs Christian McCaffrey. AJ Brown vs Deebo Samuel. And can we talk about these two defenses?!
Live NFL
January 29, 2023, 7:00pm
Live on
There is literally nothing to separate these two teams, and Sunday's meeting – live on Sky Sports NFL from 8pm – features some mouth-watering matchups all over the field.
The 49ers have won 12 on the bounce. They're unbeaten with third-string rookie QB Purdy as their starter, a guy who's story would be deemed too wild to be believable if you pitched it for a film script.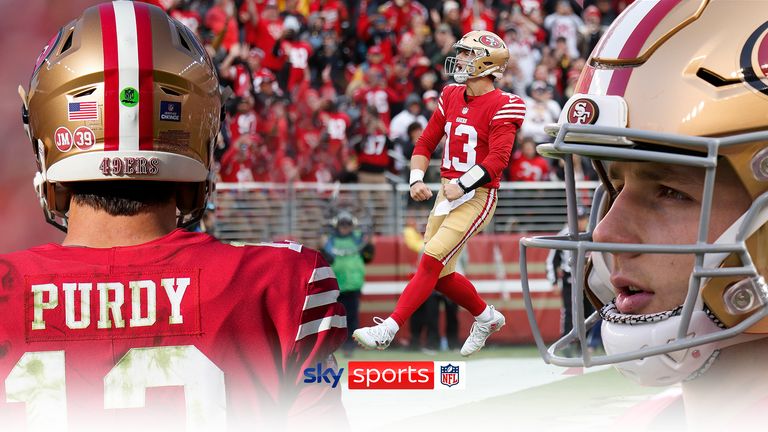 Watch the best plays from San Francisco 49ers rookie QB Brock Purdy. After taking over from Jimmy Garoppolo, he's led the team on a seven-game win streak
The Eagles have won a grand total of 15 games this season, suffering just three defeats. They've been supremely solid from Week One, on both sides of the ball. And, crucially, Hurts appears to be healthy again after a couple of weeks out to injury late in the regular season, and that is dangerous for any opponent.
The key to this one could be as simple as Hurts versus that No 1 ranked San Francisco defense. He's never played a No 1 defense before in the NFL (a quirky little foible of scheduling and stats if ever I saw one), but his athletic ability and elusiveness in the pocket should cause the Niners front some trouble. Maybe.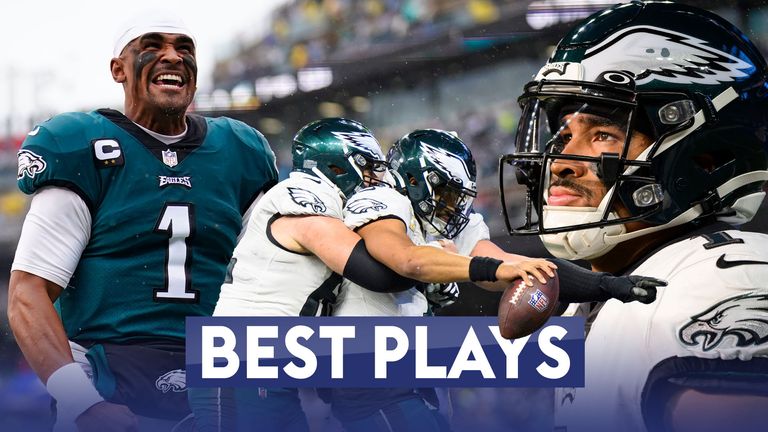 Check out the best plays of the 2022 NFL season so far from MVP hopeful, Jalen Hurts
A scrambling quarterback is perhaps the one thing pass rusher supremo Nick Bosa et al have struggled with this term, but there is no limit to the scheming and coaching ability of Niners head coach Kyle Shanahan and his crew.
In case I'm not being clear, I cannot split or call this one. It's a great game to be a neutral.
Can the Bengals beat the Chiefs in KC again?
Now, this is a game we have seen before. Remember? That epic comeback from the Bengals in the second half in Kansas City last year? Evan McPherson kicking his way into footballing folklore? Of course you do. The question is, can Cincinnati do it again?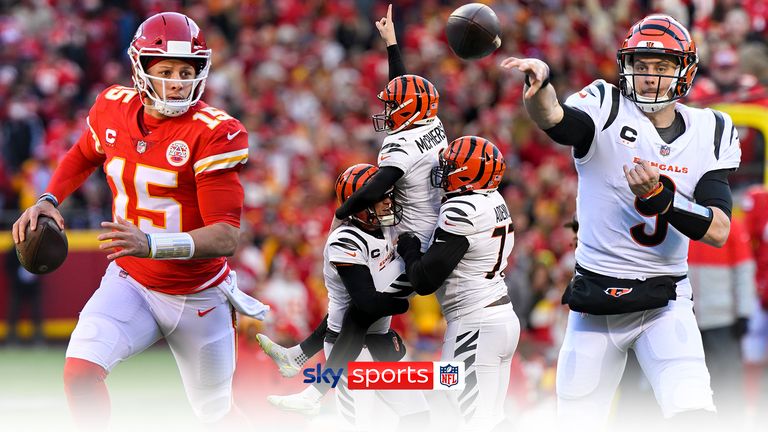 A look at last season's thrilling AFC title clash between the Cincinnati Bengals and the Kansas City Chiefs, which was settled in overtime. Can we expect similar this Sunday?
Frankly, they shouldn't have to. Looking at how this team have evolved over the past 12 months, it's almost unthinkable that the Bengals should find themselves 21-3 down with a minute to go in the first half, like last year. Plus, Joe Burrow is now 3-0 for his career against Mahomes following a further regular season win in 2022 – and that's when Mahomes has been fully healthy.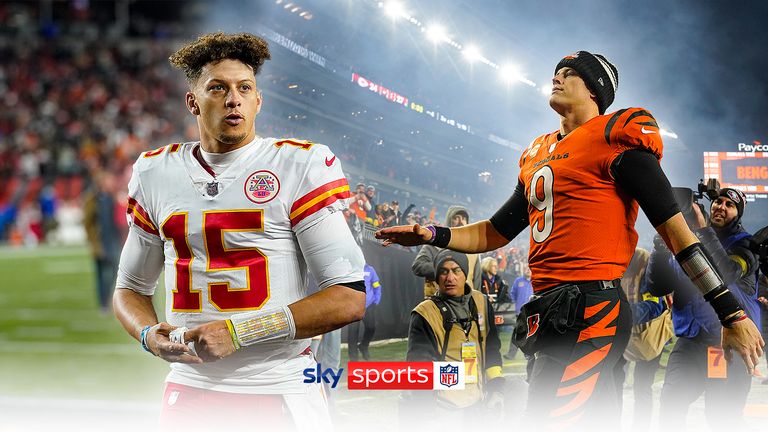 Joe Burrow has defeated Patrick Mahomes in all three games they've played against each other, with every occasion having been decided by a game-deciding field goal
Allegedly, Mahomes' ankle is fine. And even if it's not, the Kansas City star QB on one leg is still more talented than 70 per cent of starting quarterbacks around the league.
His connection with tight end Travis Kelce is otherworldly and, beyond that, the Chiefs' committee-style wide receiver group will keep the Bengals defense busy. The Cincinnati D did a seriously solid job last week in making the Bills' explosive offense look, frankly, pedestrian, but Chiefs head coach Andy Reid and his offensive scheming makes this a whole different ball game.
Live NFL
January 29, 2023, 11:30pm
Live on
There are questions with the offensive line for the Bengals, who are without three of five starters. But, based on what we saw last season and last weekend, I'd argue Burrow hardly even needs an O-line. He's just that good.
Yes, I'm going round in circles here as to who has the edge. Essentially, both of these defenses are relatively evenly matched. Not necessarily elite, but solid, so we should be in for an offensive showdown. Like last year.
Let me know if I'm repeating myself, but it's a great game to be a neutral!
Watch Conference Championship Sunday, live on Sky Sports NFL from 7pm, with San Francisco 49ers at Philadelphia Eagles followed by Cincinnati Bengals at Kansas City Chiefs