San Francisco 49ers @ Philadelphia Eagles: Super Bowl spot on the line for two NFL giants in NFC Conference Championship game | NFL News
The Philadelphia Eagles and San Francisco 49ers are NFL giants of the game, in every sense.
Of Sunday's two Conference Championship clashes, Cincinnati Bengals at Kansas City Chiefs may well feature the league's best quarterback duo, in Joe Burrow (Bengals) and Patrick Mahomes (Chiefs) – without meaning to diminish the achievements of MVP candidate Jalen Hurts (Eagles) and rookie sensation Brock Purdy (49ers) – but the Eagles and 49ers can certainly boast to having the best rosters in the entire NFL.
Ahead of the meeting of these two juggernauts on Sunday night – live on Sky Sports NFL from 8pm – here we look at where the NFC title game could be decided as the Eagles and Niners battle it out for a spot at Super Bowl LVII in Arizona on February 12…
Live NFL
January 29, 2023, 7:00pm
Live on
Two of the NFL's strongest squads
Having already made mention of the supreme strength in depth that both of these squads can boast, perhaps the clearest indication of this is via the number of Pro Bowl and All-Pro selections within their ranks.
The 49ers have six of their starters named to this year's Pro Bowl, while a further seven have been selected as 'alternates', ready to step up in case of an injury or if other players have Super Bowl commitments.
The Eagles, meanwhile, lead the NFL with their eight Pro Bowl selections, and with a staggering nine further alternates. Add them together and effectively 17 of their team's 22 starters (11 on offense, 11 on defense) are considered of 'all-star' status within the league.
In terms of All-Pro players – one player per position picked by a national panel of 50 NFL writers and broadcasters – the 49ers had four first-team selections and two second-team picks, while the Eagles had three in each.
Nick Bosa* (defensive end), Talanoa Hufanga* (safety), Kyle Juszczyk (full back), George Kittle (tight end), Fred Warner* (linebacker) and Trent Williams* (offensive tackle) *also named first-team All-Pro
AJ Brown (wide receiver), Landon Dickerson (offensive guard), Jalen Hurts (quarterback), Lane Johnson* (offensive tackle), Jason Kelce* (center), Haason Reddick* (outside linebacker), Miles Sanders (running back) and Darius Slay (cornerback) *also named first-team All-Pro
Key battle in the trenches
In terms of those All-Pro picks, three of the 49ers' first-teamers come from the league-leading, No 1 ranked defense, while two of the Eagles' three reside on their offensive line.
Strength is very much about to meet strength on Sunday night.
"The NFC Championship game is about big guys who kick ass up front," former NFL quarterback Chris Simms said on Pro Football Talk this week. "It's old school, like it was back in the late 1980s or early 90s.
"My barometer… if a fight broke out between all 32 NFL teams, the Eagles and 49ers would be in the final four or five. I can promise you that.
"When you look at them both, you go, 'how many big people do they have?!'"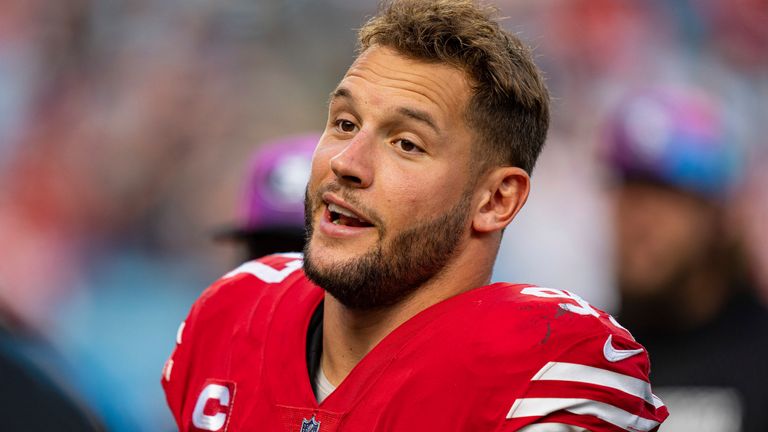 Sunday's game is likely to be settled in the trenches. Will Nick Bosa – favourite for Defensive Player of the Year after his league-leading 18.5 sacks this season – and that relentless Niners defensive front find a way past Lane Johnson, Jason Kelce and co on the Eagles' stacked O-line?
Unstoppable force meets immovable object.
Which QB will step up on the biggest stage?
While Hurts and Purdy have each enjoyed unprecedented success this season, there is a reason why they can't yet be uttered in the same breath as the two opposing quarterbacks in the AFC Conference Championship game.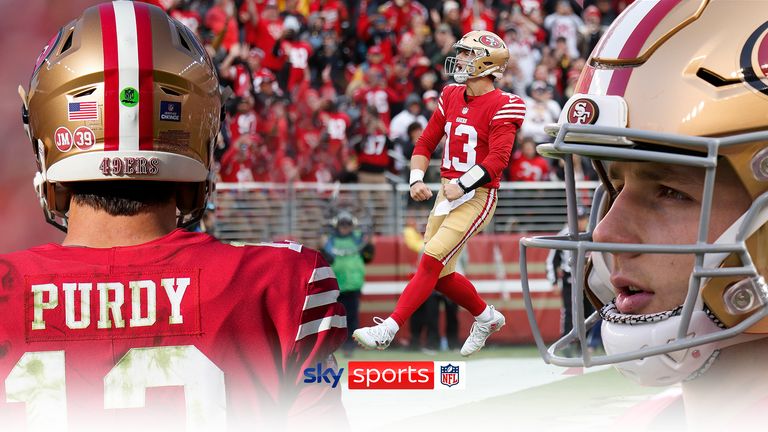 Watch the best plays from San Francisco 49ers rookie QB Brock Purdy. After taking over from Jimmy Garoppolo, he's led the team on a seven-game win streak as starter.
Mahomes already has a Super Bowl win under his belt, is heading into his fifth-straight AFC title game and is the favourite to win league MVP (for a second time). Burrow, meanwhile, went to the Super Bowl last season, after getting the better of Mahomes at this very stage, and is looking to start his own ring collection this campaign.
For Hurts and Purdy, this will be their Conference Championship debuts. They will be the first opposing QBs to both be under the age of 25 in title game history (Purdy 23, Hurts 24). Their combined age of 47 years and 208 days on game day will be almost two full years younger than the current record-holding duo of Hall of Famer Dan Marino (23) and Mark Malone (26) from when the Miami Dolphins beat the Pittsburgh Steelers in the 1984 AFC Championship.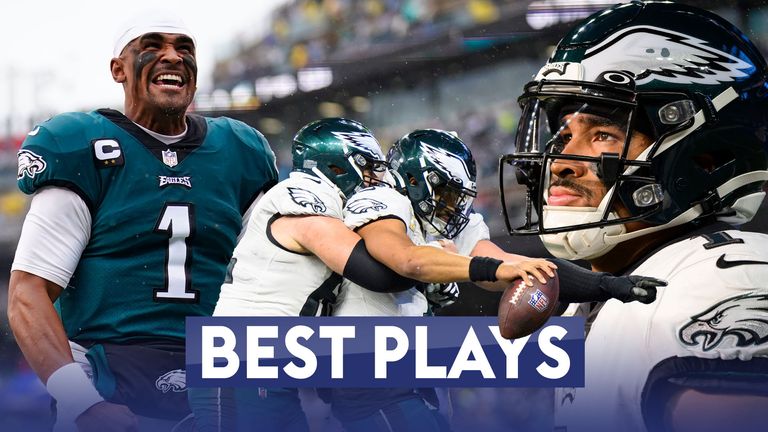 Check out the best plays of the 2022 NFL season so far from Philadelphia Eagles quarterback, and MVP hopeful, Jalen Hurts.
Neither quarterback has given any indication that they can't handle the spotlight. Hurts has run Mahomes close for MVP honours this year, having put up 3,701 yards through the air in the regular season, along with 22 touchdown passes and a further 760 yards on the ground and 13 rushing scores. Meanwhile, the unflappable Purdy continues to take everything in his stride, the seventh-round rookie quarterback riding a 7-0 streak as a starter and the league's highest passer rating (116.0) into this game.
They've met once before too, in college, an epic 42-41 win for Hurts' Oklahoma State over Purdy's Iowa State, with the pair combining for a total of 678 passing yards and 11 touchdowns in precisely the sort of barnstormer that we can only dream of being replicated this weekend.
Which of these young stars can handle the pressure, the expectations the best on Sunday and book their spot in the Super Bowl?
What can the coaches scheme up?
Eagles head coach Nick Sirianni need not look very far for some bulletin board material heading into Sunday's Conference Championship game, with the second-year Eagles supremo having been overlooked for Coach of the Year honours, snubbed from the three-man shortlist despite leading the team to a 14-3 record in the regular season.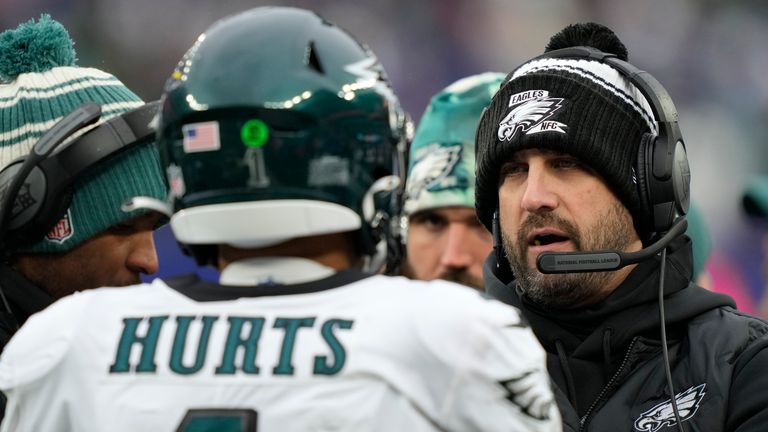 Sirianni certainly seemed to suggest the omission far from bothered him, saying, "Oh, man," and pretending to slap the table in anger when addressing reporters on the issue earlier in the week. "That's something I can't control," he added. "We obviously have much bigger things ahead and [in] our sights than individual awards."
In a rather bizarre reveal on Wednesday morning, the official NFL Twitter account had initially included Sirianni's name and image in a graphic to announce a five-man shortlist, but it was then latterly confirmed there were only three real finalists, one of which is Sirianni's opposite number on Sunday night.
Kyle Shanahan – along with Brian Daboll of the New York Giants and Doug Pederson of the Jacksonville Jaguars – has been recognised due to San Francisco's remarkable 12-game win streak that ran through the end of the regular season and into the playoffs – despite being down to his third-string quarterback.
Honours or not, there is no doubt that both Sirianni and Shanahan are among the game's best leaders and brightest minds. But which one will have the edge over the other come Sunday?
Plenty of offensive firepower on show
Both Sirianni and Shanahan's backgrounds in the game have seen them coaching offense.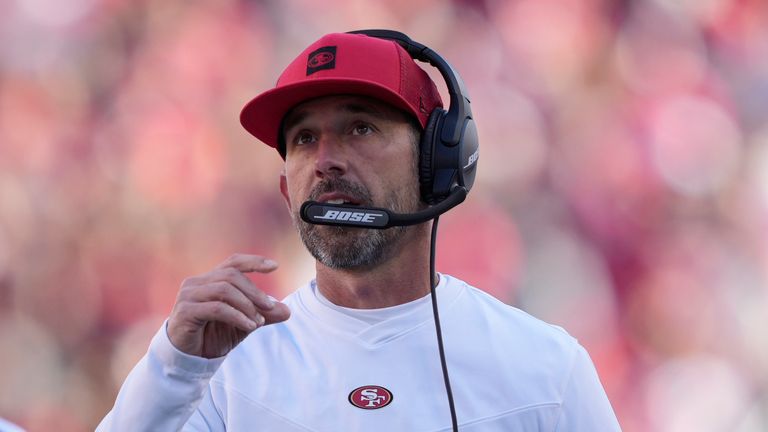 Sirianni held various offensive roles with the Chiefs and Chargers, before serving as offensive coordinator for the Indianapolis Colts under Frank Reich from 2018-2020. Shanahan, the son of two-time Super Bowl-winning head coach with the Denver Broncos, Mike Shanahan, held down OC positions with the Houston Texans, in Washington under his father, and with both the Cleveland Browns and Atlanta Falcons before leading the Niners.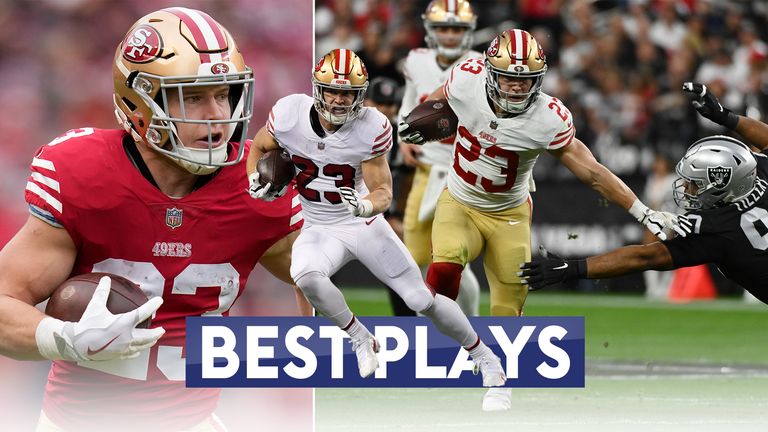 Check out the best plays from San Francisco 49ers running back Christian McCaffrey from the 2022 season.
Shanahan is considered one of the game's leading minds in terms of offensive scheming, and the tools he has available to him in San Francisco are staggering. Running back Christian McCaffrey – a mid-season steal via trade with the Carolina Panthers – as well as dual-threat receiver Deebo Samuel and tight end George Kittle, the heartbeat of the team, are unquestionable superstars at their respective positions. It also doesn't hurt to have Trent Williams blocking for you at left tackle.
The Eagles are no mugs on offense either. They've flown under the radar somewhat, with some onlookers having jumped off the bandwagon after a shoulder injury to Hurts late in the season saw Philly lose back-to-back games in his absence. But this is a top three unit both in total offense (389.1 yards per game) and scoring (28.1 points per game) this season, and one which is coming off a 38-7 shellacking of the New York Giants in the divisional round.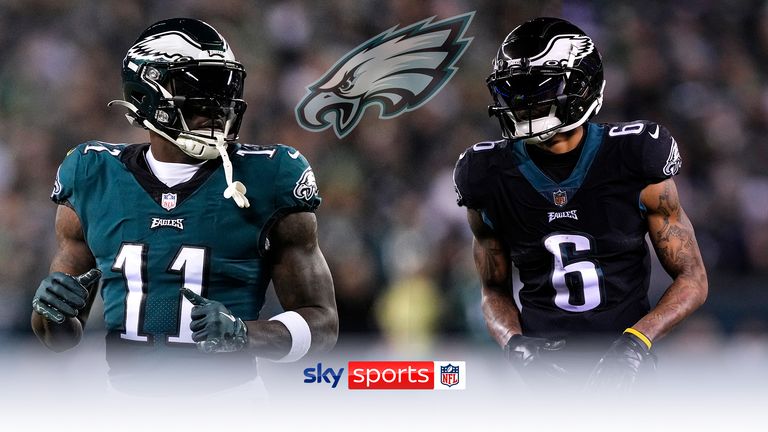 Philadelphia Eagles duo AJ Brown and DeVonta Smith have been making sensational catches throughout the season. Here's a look at some of their best plays so far.
The Eagles boast a top-five ground game, spearheaded by Miles Sanders, who registered career highs in attempts (259), yards (1,269) and touchdowns (11) in 2022. Plus, receivers AJ Brown (88.0) and DeVonta Smith (70.4) are one of only two team-mate duos to both average over 70 receiving yards per game this season, with Tyreek Hill and Jaylen Waddle being the others with the Dolphins. In fact, the Eagles were the only team to have three average over 50 YPG when you add tight end Dallas Goedert (58.5) into the mix.
Sunday's NFC Championship game is set to be explosive!
The NFL playoffs continue this weekend with Championship Sunday. Watch both games live on Sky Sports NFL on Sunday night, with San Francisco 49ers @ Philadelphia Eagles kicking off from 8pm