Roger Goodell: NFL commissioner speaks during Super Bowl week on international growth, diversity efforts and player health and safety | NFL News
NFL commissioner Roger Goodell: "Every time we play our game, whether that's in the UK or in Germany, it's just extraordinary to see the reaction of the fans… We want to make the NFL a global sport – and we will continue on this path"
Last Updated: 09/02/23 1:57pm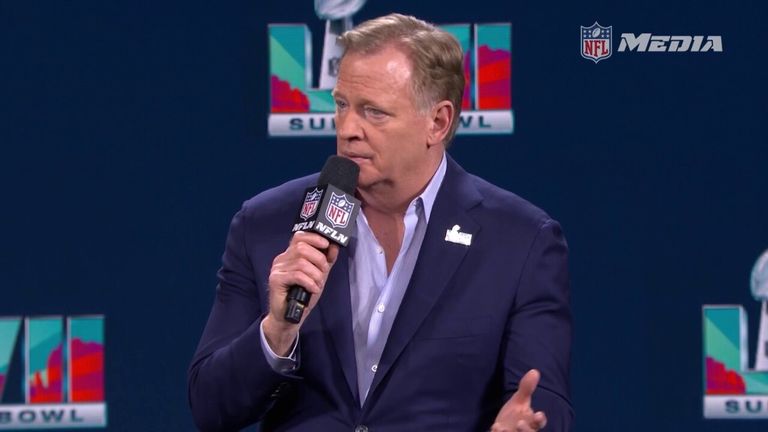 NFL commissioner Roger Goodell says he wants to make the NFL a global sport, as he hails the 'extraordinary' support for the game in the UK and Germany.

NFL commissioner Roger Goodell says he wants to make the NFL a global sport, as he hails the 'extraordinary' support for the game in the UK and Germany.
NFL commissioner Roger Goodell addressed a number of key issues – including the league's growth globally, their diversity efforts, and player health and safety – during his news conference on Wednesday ahead of Super Bowl LVII.
Goodell had suggested in October of last year, amid the NFL's three international games held in London, that the league could look to introduce a European division – with England's capital playing host to potentially not one but two franchises.
Speaking on the subject again on Wednesday, Goodell said: "I talked about the division back when we were in London.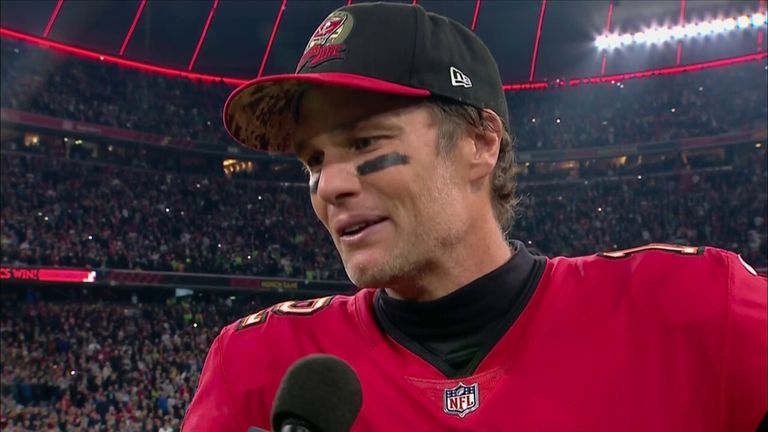 Tom Brady says it was an electric atmosphere for the first ever NFL game in Germany, after his Bucs side beat the Seahawks, 21-16.
"The context of that, frankly, was the incredible support we are getting for our game. Every time we play our game, whether that's in the UK or in Germany, it's just extraordinary to see the reaction of the fans."
Germany hosted its first-ever regular season game this season, a 21-16 win for Tom Brady's Tampa Bay Buccaneers over the Seattle Seahawks in front of a sell-out crowd at the Allianz Arena in Munich.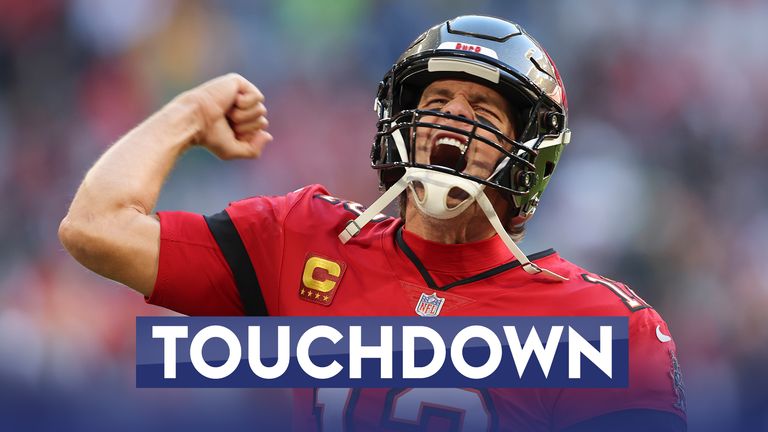 Tom Brady finds Julio Jones who races 31-yards for the opening touchdown in Munich.
"When we went to Germany," Goodell added. "I don't think any of us could have anticipated the reaction we got there. It was really rewarding to see how our fan base has expanded.
"We want to make the NFL a global sport – and we will continue on this path. We broke every record around our international games this year, be that viewership or attendance.
"The excitement is just extraordinary. And our biggest challenge is: how do we bottle that? We're going to put a lot of focus on that."
Goodell 'pleased' at progress on diversity at head coach and GM level
On the issue of diversity in the game, Goodell told reporters that the league is "pleased to see progress" in its efforts for greater representation of minorities at coaching and executive level, but that "we always look to see how can we do better."
Goodell credited the implementation of the NFL coach and front office accelerator program this past year as something that helped introduce teams to a more diverse candidate pool, telling reporters that the Tennessee Titans were introduced to their new general manager, Ran Carthon, during December's event.
The Titans hired Carthon, previously the San Francisco 49ers' director of player development, in January. Carthon, who is Black, is one of two minority GM or head coach candidates hired during this year's cycle thus far. The Houston Texans hired 49ers defensive coordinator DeMeco Ryans as their new head coach.
"We're gonna continue [the accelerator program]," Goodell said. "Our commitment's strong to that. But that's just one.
"We had a number of other programs that we've put in that I think are going to produce long-term results. Now we all want short-term results, but it's important to have it be sustainable for the future, and we believe diversity makes us stronger.
"It's about attracting the best talent and giving them the best opportunity to be successful. To me, that's at the core of what we do. We want the changes to be really fundamental and sound and sustainable."
There were two open GM positions – the Arizona Cardinals hired Monti Ossenfort, who is white – and five open head-coaching spots during the 2023 hiring cycle. The Carolina Panthers and Denver Broncos hired two white candidates – Frank Reich and Sean Payton, respectively – while the Cardinals and Indianapolis Colts have yet to fill their open positions.
Goodell reflects on changes to NFL concussion protocol
Also on the agenda for the commissioner on Wednesday was the issue of player health and safety. Last October, the NFL and the NFLPA agreed to modified concussion protocols in the light of criticism following a concussion sustained by Miami Dolphins quarterback Tua Tagovailoa.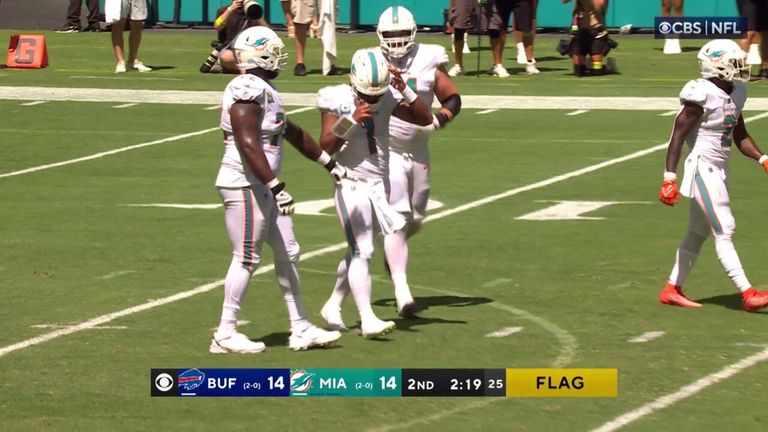 A look back on Tua Tagovailoa's hugely concerning concussion suffered in the NFL, and the fallout from it, as the quarterback prepares to return to action for the Miami Dolphins on Sunday against the Pittsburgh Steelers.
Tagovailoa was stretchered off the field and taken to hospital with head and neck injuries during a Thursday night game against the Cincinnati Bengals, just four days on from displaying concussion symptoms when shaken up and looking wobbly on his feet against the Buffalo Bills following a heavy hit.
"Any time we can change the protocols to make it safer for our players, we're gonna do that," Goodell said. "What we changed in October is something that we thought would give us a better opportunity to treat those conditions more conservatively.
"I think that's also why concussions went up this year because we had a broader definition, a more conservative definition. We had an increase of 17 per cent of evaluations. So if you have more evaluations, you're going to have more concussions."
Goodell added that one of the next steps for concussion prevention will be further improvements to the helmets players wear.
"Over the last few years, we've got our players to wear the best possible helmets and advance the technology there, so our players are safer from an equipment standpoint," Goodell said. "I think the other part of it is rules.
"Ultimately, you want to try to take that head out of the game. You're always going to have contacts that are not intended and that's why you need that protection. But ultimately, you want the rules to make sure that you're avoiding the techniques that can lead to those types of injuries."