Travis Kelce beats brother Jason in Super Bowl LVII: 'I love him' | Jason jokes: 'It's gonna be an awkward podcast' | NFL News
Travis and Jason Kelce are the first brothers to play against each other in Super Bowl history; Travis had 81 receiving yards and a touchdown in the Kansas City Chiefs thrilling 38-35 victory over Jason's Philadelphia Eagles, who racked up 417 yards of total offense in defeat
Last Updated: 13/02/23 5:43pm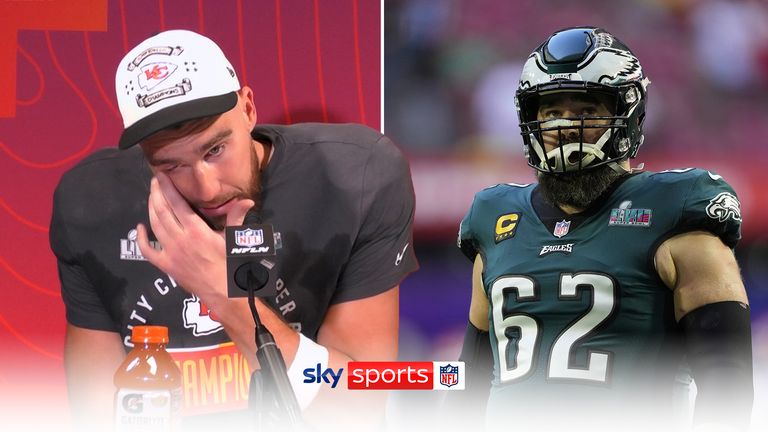 An emotional Travis Kelce said there wasn't much he could say to his brother Jason after beating him in Super Bowl LVII, other than that he loved him

An emotional Travis Kelce said there wasn't much he could say to his brother Jason after beating him in Super Bowl LVII, other than that he loved him
Travis Kelce told his brother Jason that he loved him following his Kansas City Chiefs' 38-35 win over Jason's Philadelphia Eagles in Super Bowl LVII on Sunday.
The pair are the first brothers to play against each other in Super Bowl history, and an emotional Travis said it was a "weird feeling" to come out on the winning side against his older brother.
The pair exchanged an embrace on the field after the game as the confetti flew for the Chiefs.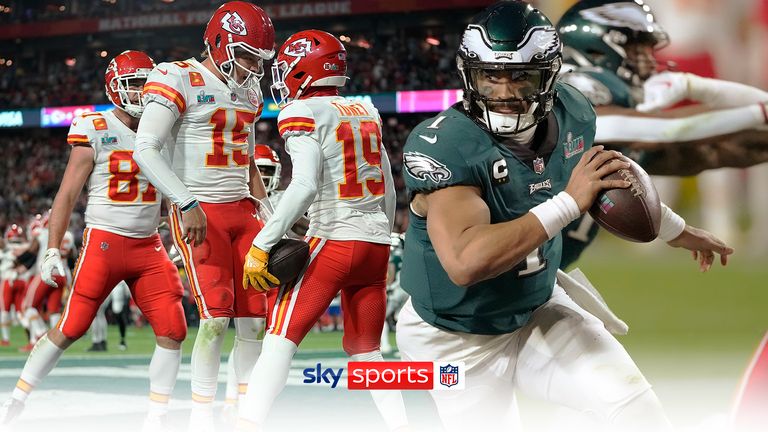 Highlights of the thrilling clash between the Kansas City Chiefs and Philadelphia Eagles in Super Bowl LVII
Asked what he said to his brother, Travis told reporters: "There's nothing you can really say to a loved one in a situation like that.
"You joke around all the time and say you want to beat your brother on the biggest stage, but its a weird feeling."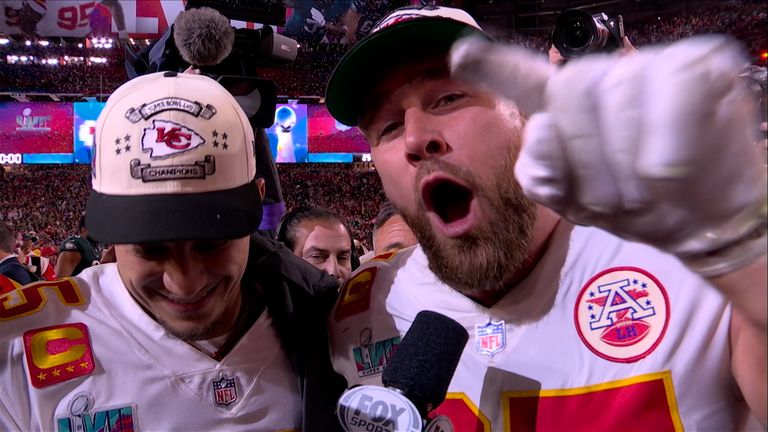 Travis Kelce felt no one believed the Chiefs were going to win the Super Bowl while Patrick Mahomes says everyone in the locker room stepped up at half-time to inspire their epic win over the Eagles
He added: "There's nothing I can say to him other than I love him and he played a hell of a year, a hell of a season."
Travis had 81 receiving yards and a touchdown in the Chiefs' victory, securing his and the team's second Super Bowl in the space of three years, leading some to call Kansas City the NFL's newest dynasty.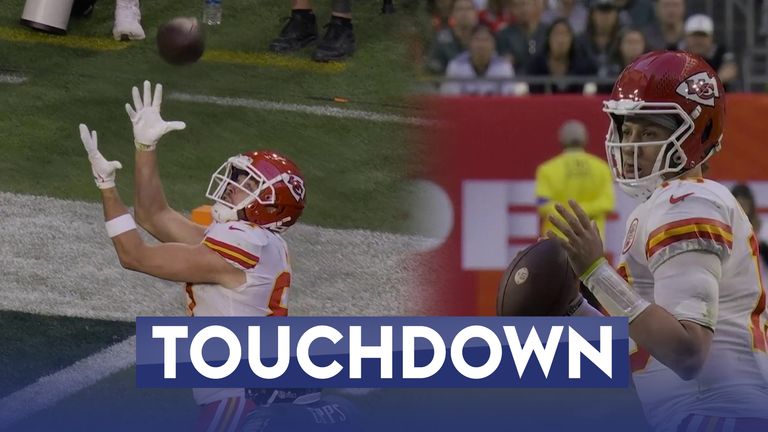 Patrick Mahomes finds Travis Kelce for an 18-yard touchdown in the first quarter of the Kansas City Chiefs' Super Bowl win over the Philadelphia Eagles
"You can call it whatever you want," Travis said. "All I know is we're coming back next year with our heart and the right mindset to try and get another one – I'll tell you that right now."
He added: "There's one thing about getting your first one, and it's a whole other feeling to get two.
"I wanted this one more than I wanted a game in my life. The guys in this locker room, the team-mates that I have felt the same way."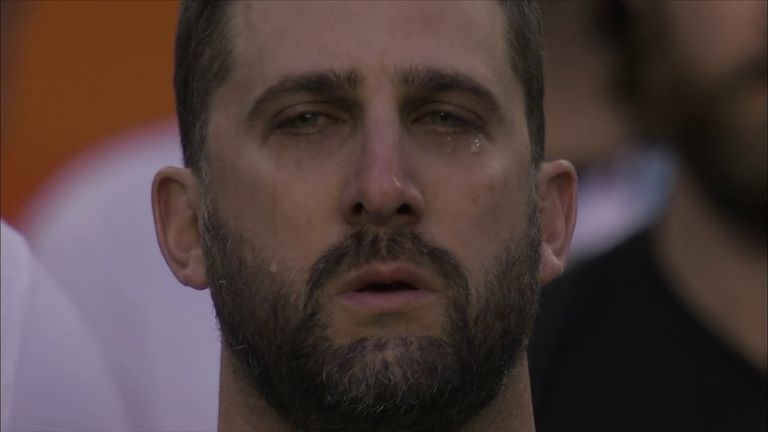 Nick Sirianni and Jason Kelce showed their emotion during the national anthem ahead of Super Bowl LVII
Jason still has one Super Bowl championship to his name, won with the Eagles five years ago, and though he has ceded bragging rights to his younger brother with two rings, he was gracious – albeit still showing his competitive spirit – in defeat.
"Maybe it hasn't hit me yet. I was a little emotional when I saw my mum and dad," Jason said. "Trav, I was not too emotional about. I was just like, '**** you, congratulations'.
"But no, really, really happy for Trav. Played his ass off… Obviously would've loved to win, but happy for Trav for sure.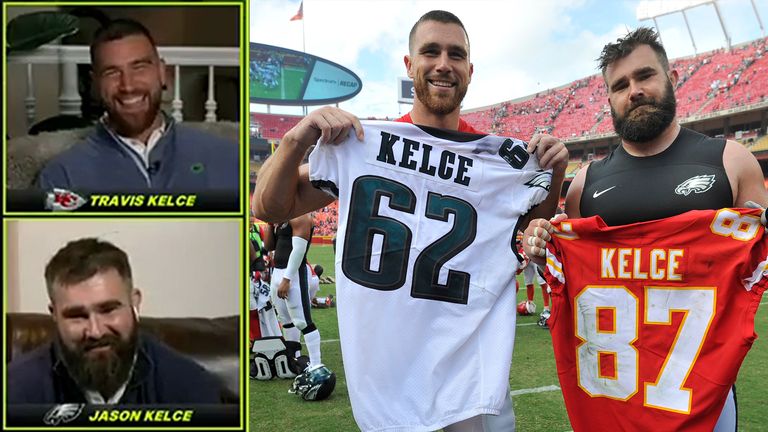 Travis and Jason Kelce discussed on MNF when they had their last 'fist fight' when growing up, and how they almost sent their dad to hospital!
"There's a lot of people I know over there in Kansas City that are a big reason why I'm even in Philadelphia, including head coach Andy Reid [who drafted Jason in 2011 while coaching the Eagles].
"Frustrated we didn't win but certainly happy for those guys."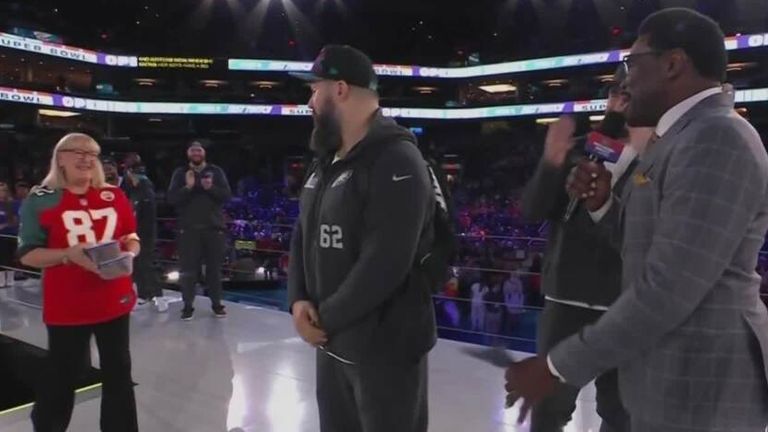 Donna Kelce stops by to give her sons some cookies during their interview at the opening night of the Super Bowl LVII
The brothers have gained added notoriety this season with the launch of their successful podcast 'New Heights', while during the build-up to Super Bowl LVII, the Kelces' mother, Donna, become a fan favourite as she brought the pair cookies on opening night and was seen bedecked in half-and-half Eagles/Chiefs jackets and jerseys.
She watched the game sitting next to NFL Commissioner Roger Goodell.
Travis said after the win: "I feel like this was the happiest year of my life – both off the field and on the field.
"To see my family be in all its glory and get all its flowers, my mum be the centre of attention on the jumbotron before the game, on the biggest stage, and being able to get closer with my brother throughout the season and to meet him at the mountain top, it's the best feeling in the world.
"I don't know how many more I've got left, but I'll cherish this one forever."
"It was an awesome two weeks for our family," Jason added, before joking: "It's gonna be an awkward podcast."