Valtteri Bottas questions FIA ban on F1 political statements: Drivers 'should say what they want'
F1 drivers will be banned from displaying political or religious statements without prior approval from this season; Alfa Romeo driver Valtteri Bottas: "People in this world should be free to say what they want."
Last Updated: 01/02/23 7:16pm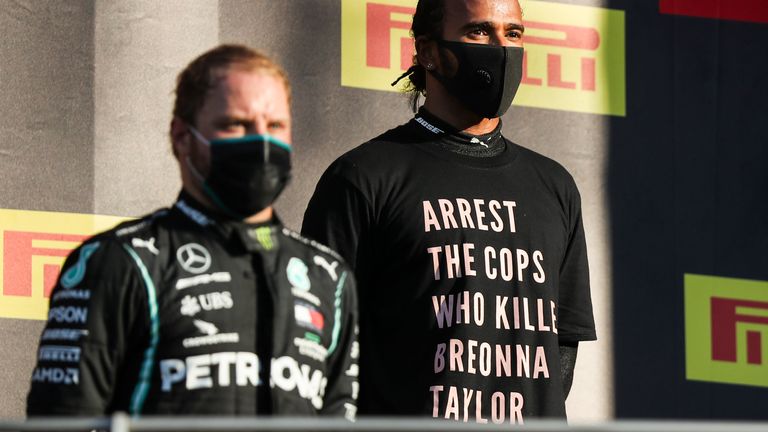 Valtteri Bottas has again voiced his concern over the FIA's new restriction on political statements in Formula 1, insisting that drivers are trying to "make the world a better place" and should be "free to say what they want".
F1 drivers will be banned from displaying political or religious statements without prior approval from this season after an update to the governing body's international sporting code.
Drivers will now be in breach of the rules if they make or display "political, religious and personal statements or comments notably in violation of the general principle of neutrality promoted by the FIA under its statutes, unless previously approved in writing by the FIA for international competitions, or by the relevant ASN for national competitions within their jurisdiction".
Alfa Romeo driver Bottas, Lewis Hamilton's former team-mate, was reported as telling Swedish media earlier this week that the FIA were trying to "control" drivers and reasserted that to Sky Sports News on Thursday.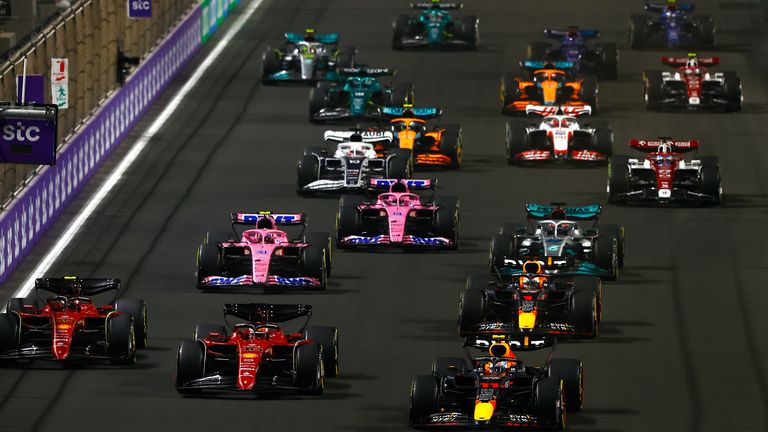 Sky Sports' Craig Slater debriefs the latest from Formula One after they sent a letter to the FIA following Mohammed Ben Sulayem's 'inflated price tag of $20bn' claim.
"I think everybody should be allowed to say what they want and do more things that they want or have passion for," Bottas, speaking in Zurich ahead of Alfa Romeo's car launch on February 7, told Craig Slater.
"People in this world should be free to say what they want.
"In a way, I don't see the need for that kind of thing to be in the rules but if you take it politically, let's say from F1's side or the organiser's side of a race, they want everything to go smoothly.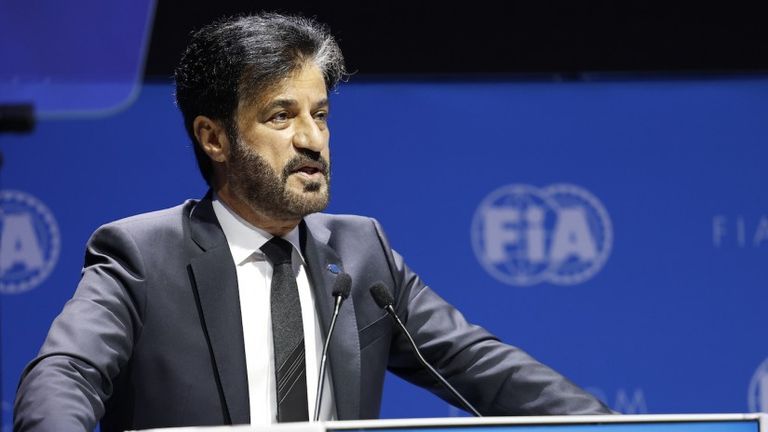 Craig Slater explains why some within Formula One believe FIA President, Mohammed Ben Sulayem has overstepped the mark by commenting on reports of a potential bid for the series.
"But normally when we've been speaking it's to try and make the world a better place. That's my view. I don't think it's necessary… but that's Formula 1."
Hamilton caused controversy at the 2020 Tuscan Grand Prix when he wore a shirt with the words "Arrest the policemen who killed Breonna Taylor", in reference to a black woman in America who was shot dead.
The now retired Sebastian Vettel has also used his platform to highlight causes, wearing a Pride T-shirt at the 2021 Hungarian Grand Prix and protesting against Canada's mining of oil sands this past season.
'Positive conversations' between F1 and FIA after incendiary letter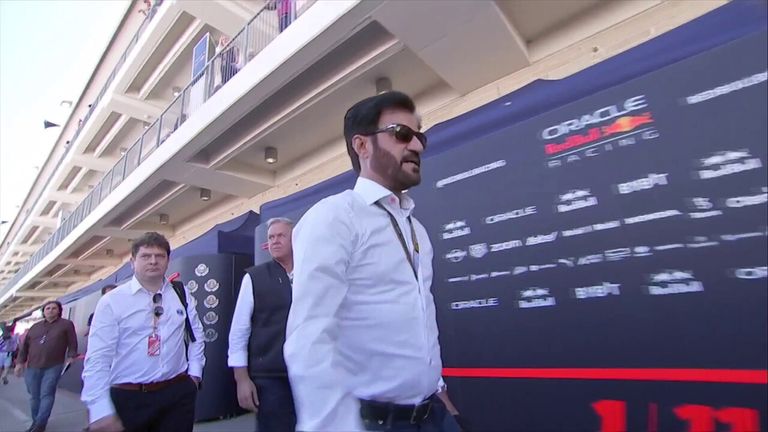 Craig Slater says there are 'positive conversations' between Formula 1 and its governing body after Mohammed Ben Sulayem's leadership was questioned.
The FIA's ruling on political statements is not the only way they have caused a stir in F1 recently, with F1 last week accusing president Mohammed Ben Sulayem "unacceptable" interference in the alleged sale of the sport.
Sky Sports News' Craig Slater:
"We revealed last week that the leadership at F1 felt that the FIA president Mohammed Ben Sulayem had made a major overstep by commenting on what he thought the worth of F1 was.
"The FIA, the governing body, does not have a day to day commercial role in the running of the sport and F1 subsequently sent a letter to the FIA making it very clear that they thought was an unacceptable thing for the president of the FIA to do.
"I can reveal to you that no reply has come from the FIA to F1, but I can also say that positive conversations continue between the two institutions, so they're functioning normally – as they need to be to keep the sport operating properly.
"I'm told there are positive conversations at all levels, but people are still telling me they have issues with the personal style of leadership Ben Sulayem has at the FIA."