Alex Matthews: Six Nations will banish memories of England's Rugby World Cup loss | Rugby Union News
Red Roses' Alex Matthews believes the Six Nations presents England with an opportunity to close the door on their Rugby World Cup final defeat; England's Six Nations campaign gets under way on Saturday March 25 against Scotland, with kick-off at 4.45pm
Last Updated: 20/03/23 4:29pm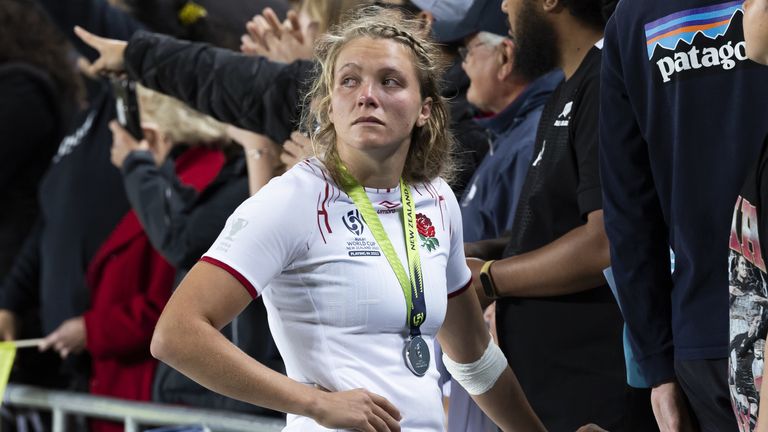 It is just over four months since England's agonising defeat in the final of the women's Rugby World Cup, but any lingering memories of that will be banished come 4.45pm on Saturday.
Elite-level sport is an unforgiving place at the best of times, so the reigning TikTok Women's Six Nations champions know there can be no dwelling on November's 34-31 loss to the hosts at Eden Park – particularly with a tournament-opener against Scotland to prepare for.
That clash at Newcastle's Kingston Park begins the Red Roses' quest to retain their Six Nations crown for the fifth year in a row and Alex Matthews is adamant their focus is firmly on what is to come rather than anything which has gone before.
"Our thing now is growing the gap to the other five teams [in the Six Nations]," back row Matthews, one of the players in England's squad who featured in that World Cup final loss, told the official Six Nations website.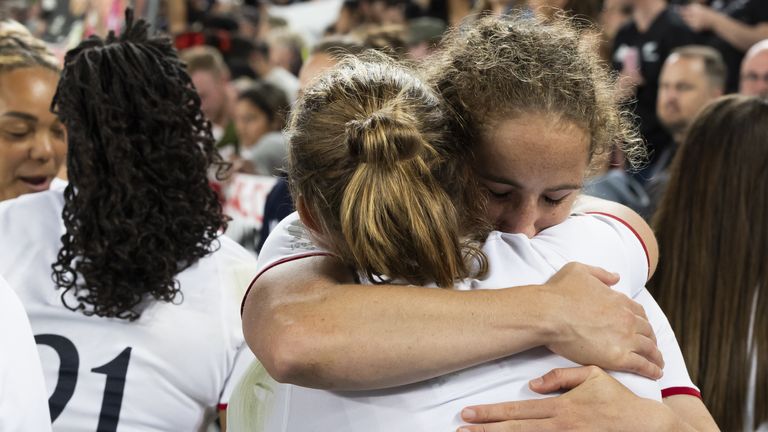 Former England international Rachael Burford believes England will bounce back from World Cup final defeat against New Zealand
"Obviously, it was heart-breaking to begin with. You spend so much time together, I think some girls felt quite lost getting back to normal life.
"I have always told myself it is just a game. I enjoy it and that's why I play but you have to be quite sensitive with how everyone is dealing with it. You have to let everyone deal with it individually in their own way."
England are looking to the future in more ways than one, with head coach Simon Middleton bringing his eight-year tenure to a close at the conclusion of this year's Six Nations, which will culminate in a potential Grand Slam decider against France at Twickenham on April 29.
The 57-year-old is not thinking about himself though and has instead been trying to ensure the Red Roses are in a good place for his eventual successor by bringing through some of the up and coming players to the senior set-up.
The last World Cup saw 15 players with an average age of 23 making their England bows, and Middleton has called up nine newcomers to his 42-player squad for this year's Six Nations along with continuing to keep a close eye on the U18 and U20 teams.
"It's really important that we look at those players and it just adds to the excitement of the tournament," Middleton told the England Rugby official website. "These young players play a massive role.
"They're absolutely essential and there's a lot of emphasis being put on our pathway. It's a fantastic camp for those players and we've got to keep growing that pool going forward.
"I couldn't think of a better place to exit, but it's not going to be about me. It's about the occasion and getting us into a position where we can try and go for the Grand Slam."
Part of the focus for the team has been evolving their attacking game, which should come as an ominous sign for the Red Roses' opponents after they ran in 45 tries in five matches during last year's Six Nations.
But Matthews is in no doubt that is an area the team can improve in from open play, along with keeping their strength of being able to devastate teams through mauls and drives from line-outs.
"Attack is definitely an area that came up in our review," Matthews said. "We want to be able to play a bit more, the girls to have confidence to play and not just kick for lineouts which we know we are good at.
"We need to be able to adapt to be able to do all of it for when those moments come.
"It gives the girls the opportunity to showcase what they have got. They came into training last week and the running lines, offloading game, it excited me on the side of the pitch watching."