Andy Walker: VAR is not helping referees after more controversy in Scottish Premiership | Football News
Sky Sports pundit Andy Walker believes VAR is not helping referees after a weekend of controversy in the Scottish Premiership.
The Sky Sports pundit has highlighted a number of "outrageous" decisions which left him questioning the use of the technology in Scotland's top-flight.
He believes referee Steven McLean got all three penalty awards wrong in Celtic's over Hibernian, albeit one was overturned, as well as Hibs striker Elie Youan's two yellow cards which saw him sent off early in the match.
Dundee United and Motherwell were angered by decisions in their games, while Kilmarnock manager Derek McInnes was left fuming after the failure to award a spot kick for an apparent handball by Andy Considine in their draw against St Johnstone.
Walker assesses some of the weekend's big talking points…
Celtic 3-1 Hibernian
Highlights of the Scottish Premiership match between Celtic and Hibernian.

Lee Johnson's team faced an uphill task when Elie Youan was shown a red card after just 24 minutes for a second bookable offence, but took the lead from the penalty spot when Carl Starfelt pulled Paul Hanlon's shirt.
Celtic were awarded a penalty for Hanlon's foul on Cameron Carter-Vickers, one for David Marshall's challenge on Liel Abada was overturned.
Walker said: "I don't think Steven McLean had a good game at all,"
"I thought the penalty that Celtic were given was just incredibly soft, there is no foul there from Paul Hanlon on Cameron Carter-Vickers.
Hibernian manager Lee Johnson was not happy with his side's red card in their defeat to Celtic.

"Neither are penalties for me and I just think we are setting a very low bar if that's the type of stuff you're looking at.
"The refs were crying out for VAR to come into Scottish football but I don't see it helping them at all, they're not using it well.
"I think we've got to accept that it's a contact sport and we don't want every pull of the jersey to be given as a penalty.
"We've then got the bar for some fouls that is incredibly low. I see officiating down south regularly and I think the laws of the game are applied differently.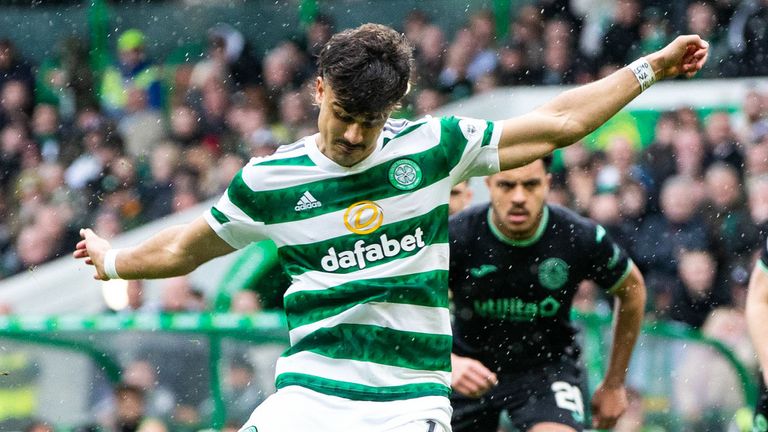 "The yellow cards to Elie Youan I thought were outrageous. He didn't deserve a yellow for his first challenge and he certainly didn't deserve a second yellow that meant he had to be sent off.
On the Marshall foul on Abada which was given as a spot kick and then reversed, he added: "It was just a really poor call from the referee in the first place. Liel Abada just stubbed his toe into the ground and it wasn't a penalty so that was good use of VAR overturning that."
Motherwell 2-4 Rangers
Highlights of the Scottish Premiership match between Motherwell and Rangers.

There was debate around Rangers' third goal with Fashion Sakala possibly offside in the build-up, but the former Motherwell striker had something to say about the second booking for Callum Slattery in the second half.
"No wonder it frustrated them because he now misses games and I think it was a ridiculous decision," he added.
"To put your body in the way of your opponent, I don't there was an aggressive throw of the arm.
"No complaints about his first yellow but surely referees must realise this is a second yellow, this play is going off.
"You have to be absolutely sure. The card came out far too quickly and it was the wrong decision."
Dundee United 1-1 St Mirren
Highlights of the Scottish Premiership match between Dundee United and St Mirren.

It looked like bottom side Dundee United were set for a vital victory after Steven Fletcher's early goal, but they were left furious after St Mirren were awarded a late penalty for an alleged foul on Curtis Main.
"Utterly baffling," said Walker.
"To give the penalty in the first instance is baffling and then for VAR to check it and say 'yeah you've actually made the right decision' it's just so frustrating.
"It's never a penalty in a million years, but when you get it you've got to take advantage of it and Mark O'Hara puts it away really expertly."
Kilmarnock 1-1 St Johnstone
Highlights of the Scottish Premiership match between Kilmarnock and St Johnstone.

Kilmarnock moved out of the relegation play-off place with a draw against St Johnstone, but manager Derek McInnes was furious after they were denied a penalty despite Andy Considine appearing to handle the ball in the box.
"This decision is genuinely outrageous, it's utterly baffling."
"When you see that ball coming in and you see the height of Andy Considine's hand, it's not just above his head it's completely outstretched.
"It's like a basketball movement where he's slapping the ball away.
"For the referee not to see it I think is bad enough, but for VAR to look at it and not ask him to go over and give the penalty is genuinely outrageous."
Scottish Premiership fixtures live on Sky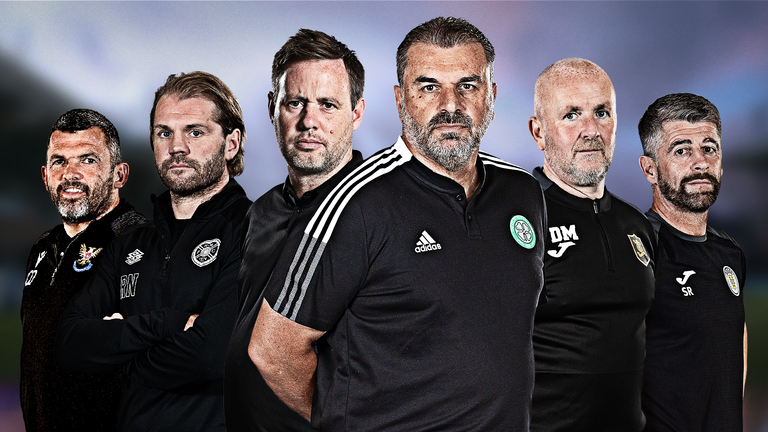 Sunday April 2: Ross County vs Celtic, kick-off 12pm
Saturday April 8: Celtic vs Rangers, kick-off 12.30pm
Sunday April 9: Dundee United vs Hibernian, kick-off 12pm
Friday April 14: Ross County vs Aberdeen, kick-off 7.45pm
Sunday April 16: Kilmarnock vs Celtic, kick-off 12pm