Baltimore Ravens apply non-exclusive franchise tag to Lamar Jackson, leaving him free to negotiate elsewhere | NFL News
Baltimore Ravens quarterback Lamar Jackson has reportedly been designated with a non-exclusive franchise tag, leaving him free to negotiate any other team in the NFL; Jackson, 25, already holds an NFL record of 12 games with at least 100 yards rushing
Last Updated: 07/03/23 9:28pm
The Baltimore Ravens announced on Tuesday they were designating Lamar Jackson as their franchise player, but is reportedly the non-exclusive franchise tag, leaving Jackson free to negotiate elsewhere.
The Ravens were always expected to use the tag if they didn't reach a long-term deal with Jackson first. The team and its star quarterback can continue negotiating now, but not exclusively according to AP.
"There have been many instances across the league and in Baltimore when a player has been designated with the franchise tag and signed a long-term deal that same year," general manager Eric DeCosta said in a statement.
"We will continue to negotiate in good faith with Lamar, and we are hopeful that we can strike a long-term deal that is fair to both Lamar and the Ravens. Our ultimate goal is to build a championship team with Lamar Jackson leading the way for many years to come."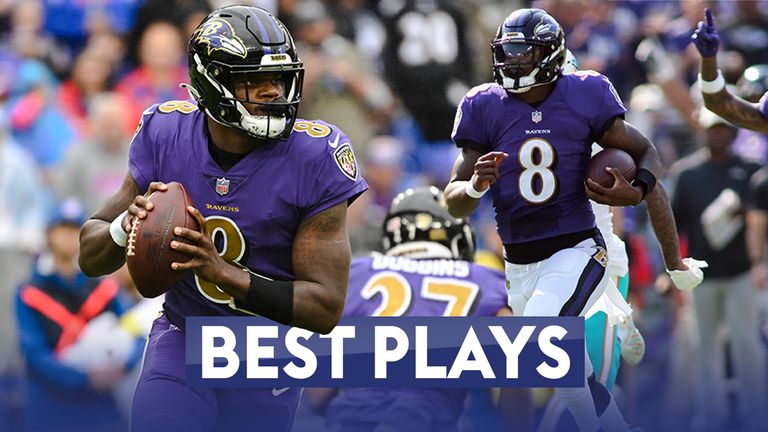 A look at some of the best plays from Jackson last season
The Ravens would have a chance to match any agreement between Jackson and another team, and if they chose not to match, they'd receive two first-round draft picks in return. If Jackson plays this season on the franchise tag, he'd make $32.4m.
Baltimore could have prevented Jackson from negotiating with anyone else by using the exclusive-rights franchise tag, but that could have cost significantly more.
The Dallas Cowboys used the exclusive franchise tag on quarterback Dak Prescott in 2020. A year later, they reached a long-term deal with him. Kirk Cousins is another quarterback who played on the franchise tag fairly recently. He did so during his final two seasons in Washington before joining the Minnesota Vikings in 2018.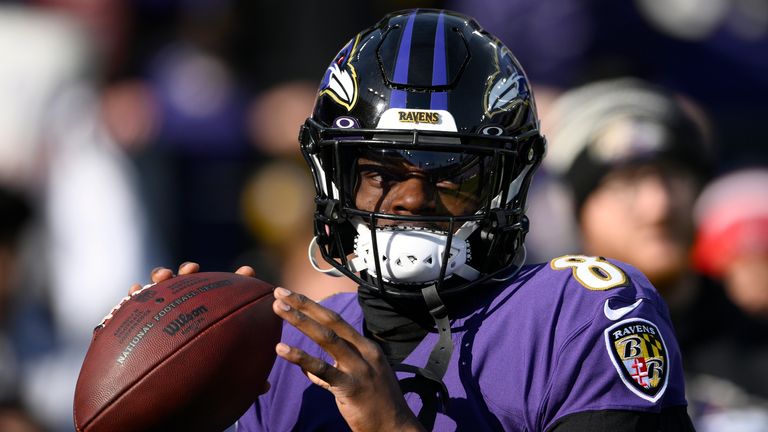 So now the saga between Jackson and the Ravens enters its next phase. Josh Allen, the other star quarterback drafted in 2018 with Jackson, signed a long-term deal with Buffalo two offseasons ago. Jackson, on the other hand, entered last season still without an extension.
His contract status didn't seem too disruptive last offseason as he participated in mandatory minicamp and training camp but there's no telling how the next few months will go.
Jackson was the 2019 NFL MVP, and his dynamic passing and running make him one of the game's most unusual stars. At 25, he already is one of six quarterbacks in NFL history with 10,000 yards passing and 4,000 rushing. His 12 games with at least 100 yards rushing are an NFL record.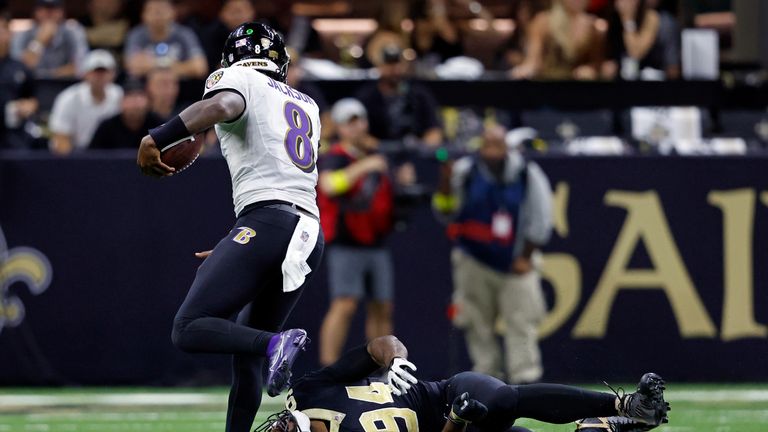 Watch as Ravens quarterback Jackson made three New Orleans Saints defenders miss on an electric 17-yard run
Jackson has been injured at the end of the past two seasons, and the Ravens haven't reached the AFC championship game with him, but his impact on their attack is massive. If he remains with Baltimore, he'll have a new coordinator after the Ravens hired Georgia's Todd Monkin.