Fran Williams welcomes England Netball's new programme to drive change for women's health | Netball News
England Netball's new programme NETBALLHer aims to normalise conversations on topics around the female body to improve experiences, fostering a sense of belonging that could reduce the drop-out rate and increase the number of females playing across different life stages
Last Updated: 31/03/23 3:24pm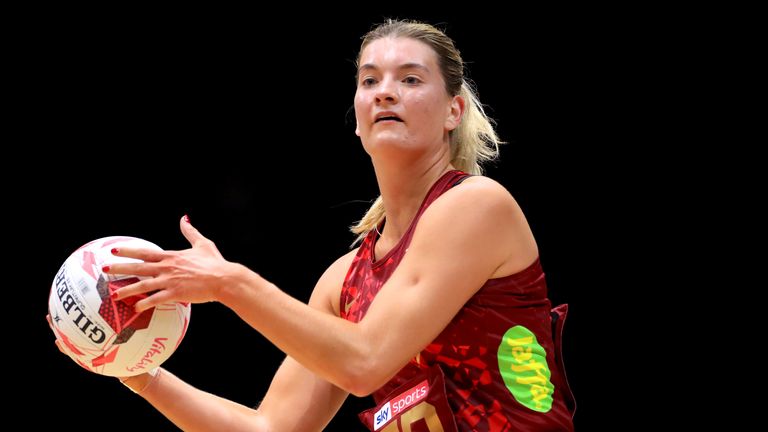 England defender Fran Williams has stressed the importance of recognising that "everyone needs support" following the launch of England Netball's new NETBALLHer campaign for elite and grassroots players.
The aim is to educate women and girls of all abilities about female health across all ages and normalise topics of conversation around the female body, including the menstrual cycle, menopause and wearing the correct sports bra among others.
Working alongside female health experts The Well HQ, the campaign also aims to provide education and advice to coaches, staff, officials and volunteers within the netball community to provide a greater understanding.
Currently, only six per cent of sports science research is dedicated specifically to females, according to research by The Well HQ.
In addition, 69 per cent of women take a break from playing netball and 41 per cent of teenage girls step back or drop out of playing netball completely.
England and Loughborough Lightning's Williams praised the project, emphasising that female health is a shared experience between elite and grassroots netballers.
"These are all issues whether you're the top netballer in the country or you're someone that just wants to play once a week for fun socially, we're all going to face these same issues," Williams told the PA news agency.
"It's something that unites us and shows it's something that we're all facing and it creates that community feel around it, but everyone needs support.
"While [England] might be more tailored to specifics performing at that elite level rather than for other people on a more day-to-day basis, it's still relevant for everyone.
"Us as Roses, we're going to be getting some bra fittings and more education around wearing the right sports bra, education sessions on pelvic health – which is something we really don't know that much about – so everyone's getting impacted."
88% of women say their menstrual cycle symptoms limit performance and 30 per cent say symptoms 'significantly' impact quality of life
50% of post-natal women experience pelvic floor dysfunction, a barrier to return to sport
64% of girls will have left sport by the time they finish puberty
Just under a third of women stop being active during menopause, yet the desire to be active is high
Women are eight times more likely to suffer an ACL injury than men
England Netball CEO: It's time for change
Fran Connolly, England Netball CEO, said: "It's time for change. Hundreds of thousands of women take part in sport every day but for far too long they have been supported by a system that simply hasn't served the needs of females.
"Today, we are standing up as a leading voice in women's sport to highlight this. We want to create environments at all levels of our game where women and girls can thrive and show up as their authentic selves. With the support of the wider netball family, we have the power to bring about this necessary change; to educate people about women's health, to open up conversations about these topics and to create a system that addresses the drop-off rate within women's sport.
"This is about raising the bar for females, to help educate, inspire, and create a community of support and we are proud to be the first to look at women's health across the whole of our game.
"Through our work, we will continue to put women and girls first, and we hope through the NETBALLHer movement we can enable everyone involved in netball and beyond to have a better understanding of women's health."
48% of teenage girls lack self-belief and don't feel good enough to continue playing netball
39% of girls don't do sport when they are on their period
27% of women drop out of netball due to injury
38% of netball coaches want to learn more about how to support women and girls at every life stage.
Vitality Rose Eleanor Cardwell has been using social media to raise awareness about the importance of wearing appropriate sports bras.
"It's great to see more work being done to educate people on women's health," said Cardwell. "Growing up, I got larger breasts than everyone else and I wasn't given any information about what kind of sports bra I should wear and it made taking part in PE quite uncomfortable.
"I hope through this movement we, as a sport, can have more open conversations about topics like this and girls can play sport without being concerned about areas of their body or their health."
Baz Moffat, CEO and co-founder of The Well HQ, said: "What England Netball is doing is pioneering and an outstanding national governing body to be working with. They've been determined to make sure that all parts of the organisation are included so that all girls and women involved in England Netball can thrive on and off the court.
"This is just the start of embedding best practice in female health into netball and something we are very proud to be part of."