Ja Morant 'completely sorry' and apologises ahead of NBA return from suspension for Memphis Grizzlies | NBA News
Memphis Grizzlies star guard Ja Morant has apologised again and vowed to "be more responsible" ahead of his expected return from suspension for "reckless" conduct.
The NBA banned Morant eight games for brandishing a gun in a social media video post at a Denver-area strip club on March 4, with the suspension ending after Saturday's win over the Golden State Warriors.
Morant was back in the fold and cheering from the bench during Monday's fourth-quarter rally and victory against the Dallas Mavericks, having spent 11 days in a Florida counselling facility addressing his issues with stress management.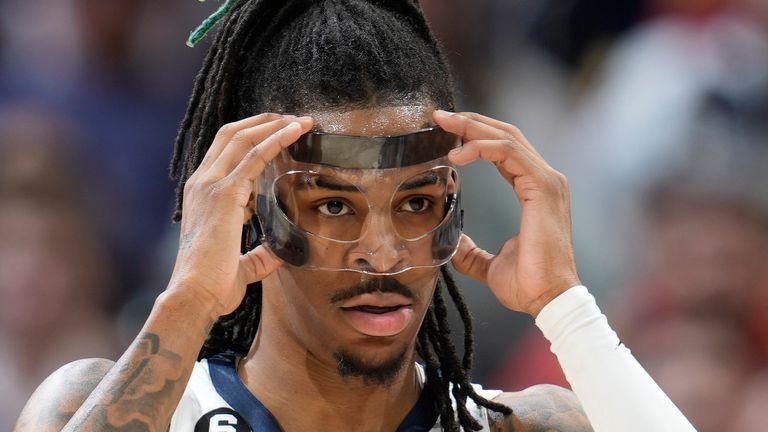 "I'm completely sorry for that [his ban]," Morant said after practice on Tuesday. "So, you know, my job now is, like I said, to be more responsible, more smarter, and don't cause any of that no more.
"I went there to counselling to learn how to manage stress. Cope with stress in a positive way, instead of ways I've tried to deal with it before that caused me to make mistakes."
Check out the top ten plays from Tuesday night in the NBA.

Morant insisted that he "never had an alcohol problem" and that his handling of stress was an "ongoing process", with the 23-year-old telling reporters that he is now concentrating exclusively on basketball.
"That's my main focus now," Morant said. "Obviously, super excited to be back with my teammates. That's the main thing right now.
"Right now, for me, it's just keeping the main thing the main thing and continuing to go through my process of becoming a better me. I feel like if I do that, not only will it help me, but it'll help everybody around me as well."
Grizzlies anticipate that Morant will return to action Wednesday when they play the first of back-to-back home games against the Houston Rockets, with Memphis in the midst of playing seven of eight matches at home.
Memphis are currently on a three game winning streak and have gone 6-3 without Morant, with the Grizzlies second in the Western Conference with 11 games remaining in the regular season.