Martin Brundle on Saudi Arabian GP: Sergio Perez lands 'significant' blow on team-mate Max Verstappen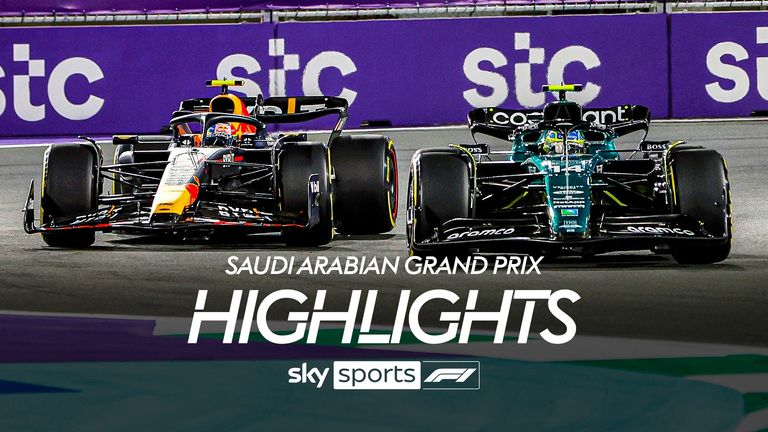 Highlights of the Saudi Arabian Grand Prix at Jeddah Corniche Circuit

Highlights of the Saudi Arabian Grand Prix at Jeddah Corniche Circuit
After a dramatic Saudi Arabian Grand Prix weekend, Sky Sports F1's Martin Brundle reflects on the battle between the Red Bulls and the penalty madness that eventually saw Fernando Alonso claim his 100th podium.
In the end, it was another show of total domination by Red Bull in Jeddah. I have to be honest and say that when Max Verstappen had a driveshaft problem in qualifying meaning that he would start 15th on the grid, I was quietly pleased, relieved, and energised. Nothing against Max and his incredible talent, but at least we would have something to look forward to on race day.
With Charles Leclerc's Ferrari also somewhat shockingly taking a grid penalty in just the second round of a 23-race season – for exceeding electronic control unit allowances – and starting down in 12th, there was guaranteed to be some movement.
The Jeddah Corniche track looks spectacular (at night) and the first sector of the lap is one of the best in the world, right up there with the likes of Suzuka. F1 cars flow with explosive speed, and the proximity of the walls magnifies that.
As usual in F1 however, when we have incidents and accidents, work is soon carried out to move walls, remove bumps, lower kerbs, and provide run off. One of the worst examples of that is the 'champions' wall' in Montreal, and the outside wall in the final Turn 27 in Jeddah.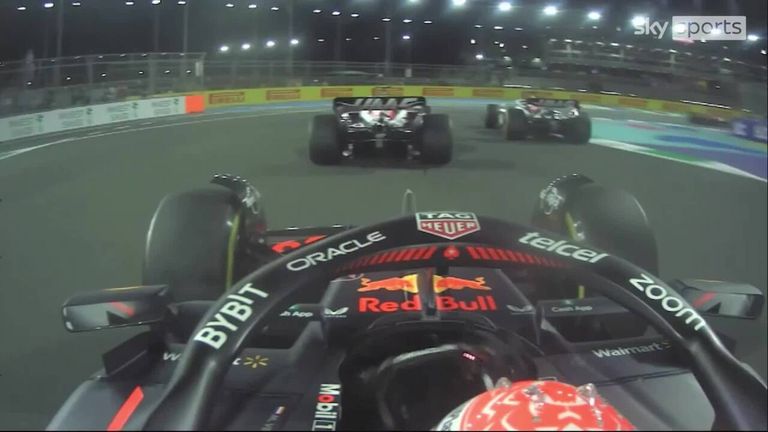 Check out all of Max Verstappen's overtakes from the Saudi Arabian Grand Prix where he started on P15 and finished on P2
The result of all this is that you then have significantly fewer incidents to talk about. I'm not being gung-ho and wishing for more crashes, but I like to see challenges and jeopardy which rewards the skilful and punishes the less accurate drivers.
In the perfect world, many would like a billiard table smooth surface, with kerbs a coat of paint high, along with very few downside risks. That's no good for the show. Regardless, this track definitely opens the eyes of the drivers with its high speed and blind sections.
Sergio Perez secured pole position despite not getting his second run together, but Verstappen wasn't around to highlight that. Leclerc was outstanding for Ferrari until his 10-place grid drop. And then came Fernando Alonso, who looks so determined at the moment you wouldn't even want to get in his way as he walks through the paddock.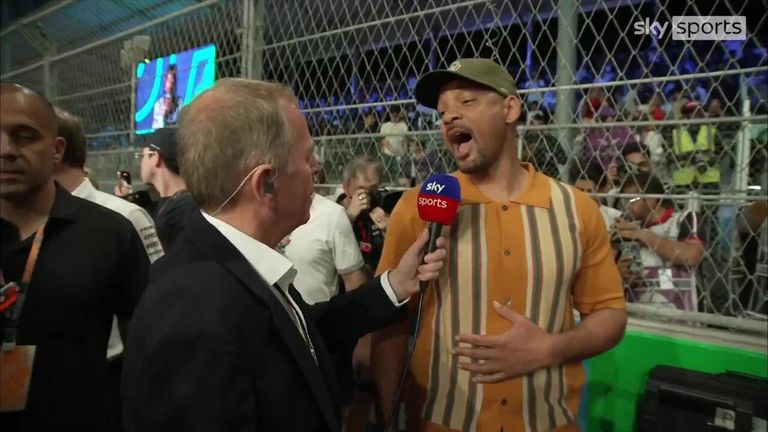 Martin Brundle bumps into Hollywood star Will Smith on his grid walk ahead of the Saudi Arabian Grand Prix
Red Bull's dominant speed has put many teams and their key personnel under big pressure, not least Mercedes, Ferrari and McLaren. I've rarely witnessed such a broad challenge across so many teams and they'll be looking to hire experienced talent from other teams, who are themselves still feverishly protecting the people they already have under contract and collecting up other talents. Add in Audi (currently Sauber Alfa Romeo) on a major recruitment crusade ready for 2026 and, despite the cost cap, it's a seller's market for people who know how a Formula One team and car really works.
Alonso ensures drama from the start
There was drama in the race even before the lights went out as front-row man Alonso parked slightly left of his grid slot. Fernando has always wanted to sit low in cars for better centre of gravity and air box airflow, and basically can't see out of the Aston Martin at parking speeds. After briefly leading the race, Fernando did a sterling job in building enough of a gap to George Russell's Mercedes, which was running in third at that time, to negate the five-second penalty he had received for his sloppy car positioning.
He was able to serve that during a Safety Car pit stop, ironically deployed when the sister Aston Martin in the hands of Lance Stroll broke down on track. Stroll did a fine job of parking in a service road and the Safety Car was not actually needed, but apparently, the GPS in race control said he was still on track. The actual camera angles suggested otherwise…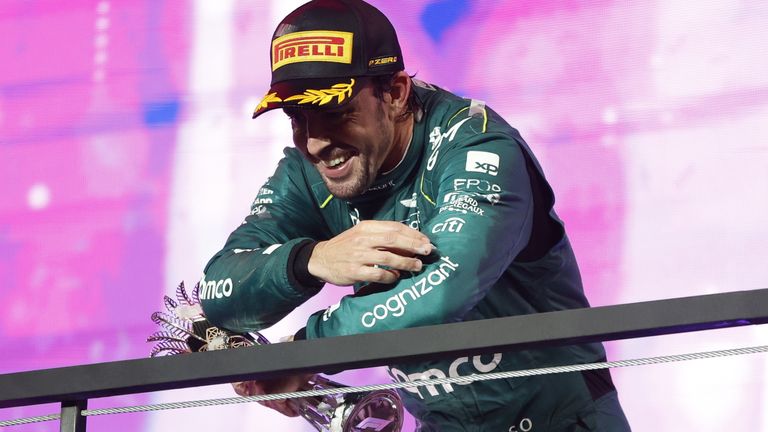 Sky F1's Ted Kravitz explains the procedure which saw Fernando Alonso reinstated to the podium after having initially been demoted
Fernando looked favourite to win division two and the final podium spot despite using more tyre life to impressively hold on to Perez in front of him. He had no hope of holding off the ever-advancing Verstappen, who benefitted dramatically from the Safety Car. The third-place trophy would be Fernando's, but only after a couple of rounds of 'pass the parcel'.
As he served his penalty in the pit lane, the rear jack was casually put into place ready to service the car at the end of the five seconds. This was pointed out to race control – presumably by Mercedes – as an infraction of the rules. Inevitably in previous team meetings this issue, whether positioning jacks constituted 'working on the car', had been discussed. There were obviously different recollections of the outcome of those discussions but it's pretty clear that gently bumping into the front jack is all part of an F1 car arriving into its service zone.
The first Aston Martin heard of this was feedback from our Sky Sports F1 commentary, which is part of many teams' broad spectrum of live analysis during track action. We had picked up on Mercedes telling George Russell to stay within five seconds of Fernando suggesting they thought a penalty was coming his way, and I remembered being surprised by how the rear jack was positioned during the penalty time.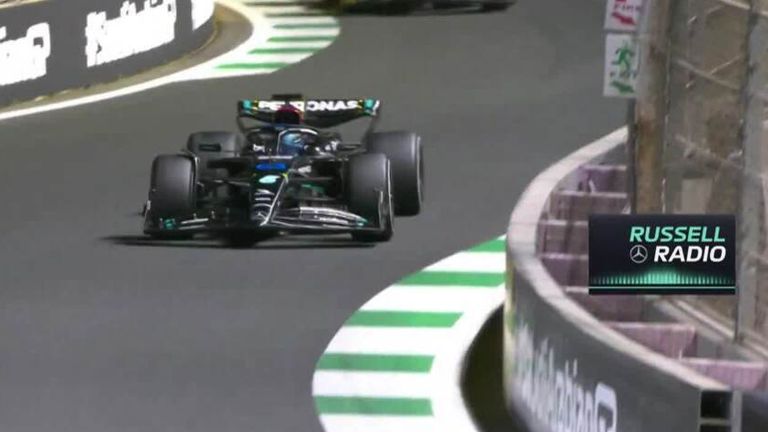 George Russell's battle for P3 followed some confusion around Alonso's five-second penalty at the Saudi Arabian Grand Prix
Esteban Ocon and Alpine had been penalised 10 seconds for a penalty-serving infringement two weeks earlier in Bahrain, and sure enough post-race Aston were informed of the breach and penalty. Cue lots of unhappy people, and a few happy folk. The trophy made its way to George Russell who received it with some dignity, saying he thought Fernando deserved third place.
By the time Aston had made their case that it had been agreed by discussion and precedents that the jacks can touch the car but not lift it, the trophy was winging its way back along the paddock to confirm Alonso's 100th podium in F1. All rather embarrassing and this will be tightened up before the next race in Australia.
Perez denies Verstappen | Russell beats downcast Hamilton
Perez out front matched whatever his team-mate Verstappen could muster speed-wise and duly won the race in fine style. His fifth victory, four of which have been on street circuits – but more significantly his first victory when Max was second.
Verstappen stole the fastest lap championship point on the final tour and that clearly annoyed Perez, who was surprised the team didn't call off the fight when they had a one-two easily in the bag and he was suffering with a longer brake pedal, and unbeknown to him, Max was feeling a vibration in his transmission.
Team Verstappen were perhaps surprised that Perez could match their pace, and they were no doubt annoyed that it was ultimately the qualifying car issue which prevented Max setting a new record of 16 victories in 21 races.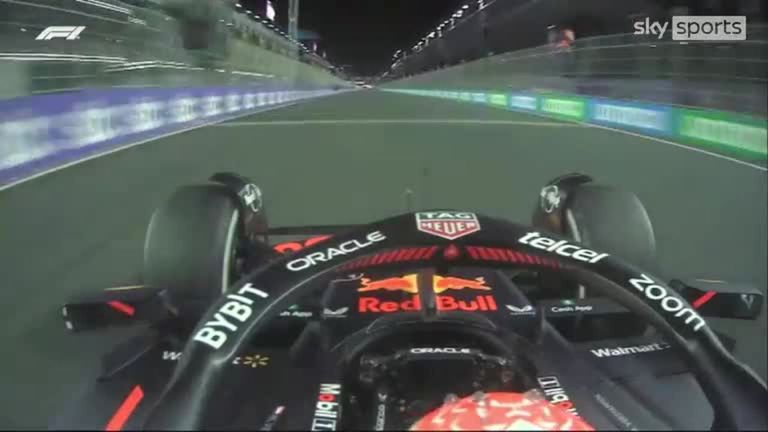 Sergio Perez questions instructions to go slower than his team-mate Verstappen during the final laps of the Saudi GP
Elsewhere George Russell did a fine job for Mercedes all weekend and out-qualified Lewis for the second time this season. Lewis has parted company with his apparently (to me anyway) indispensable physio and confidante Angela Cullen, and also said he can't connect with this car. His chin was down for much of the weekend and he wasn't ultimately able to benefit from good timing with the Safety Car and switching to faster medium compound tyres when all around him were on hard tyres to the finish.
Mercedes are seemingly quite excited about developments coming in the next few races and months. Nonetheless, they were still comfortably faster than the Ferraris who went nowhere in the second phase of the race on hard tyres. The timing of the Safety Car didn't help them either, but there's much work to do in Maranello.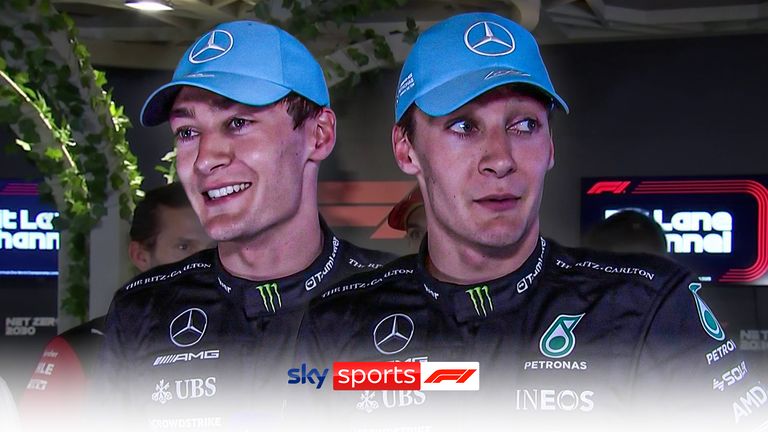 Lewis Hamilton and George Russell acknowledged Red Bull are clear frontrunners
Alpine looked solid at this high-speed track and came home a pleasing eighth and ninth, although that would have been a place lower without Stroll's retirement. Nonetheless some decent points.
The final hard-earned point went to Haas's Kevin Magnussen after a fine drive and some great racing with Alpha Tauri's Yuki Tsunoda. Along with Nico Hulkenberg, having two experienced drivers is paying off for Haas right now.
There was also a tremendous scrap between McLaren's Oscar Piastri and Lando Norris, and Williams' Logan Sargeant. Yes, I hear you, it was over 15th, 16th and 17th, but we may well need those moments this season given the relentless pace of the Red Bull, especially with its DRS rear wing open.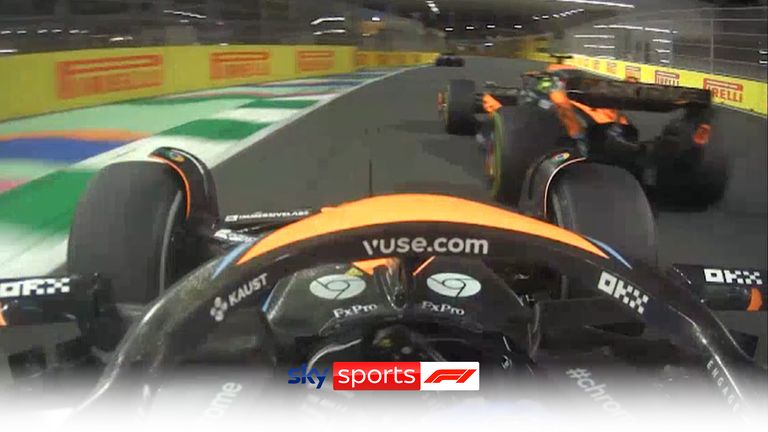 Ride onboard with McLaren drivers Oscar Piastri and Lando Norris as they battled for position
It's been a very difficult start to the year for Lando with two 17th places and he'll be desperate to turn that around in Melbourne next time out. He has the talent in bucket loads, but Piastri is showing very well already. Shockingly McLaren are last in the constructors' standings at the moment, on zero points along with Alpha Tauri.
And so, as we watch the tensions between the drivers at Red Bull, we patiently await the rest of the field to find some speed. In fact, lots of speed.
MB