Sam Tomkins: England captain and two-time Man of Steel to retire after 2023 season | Rugby League News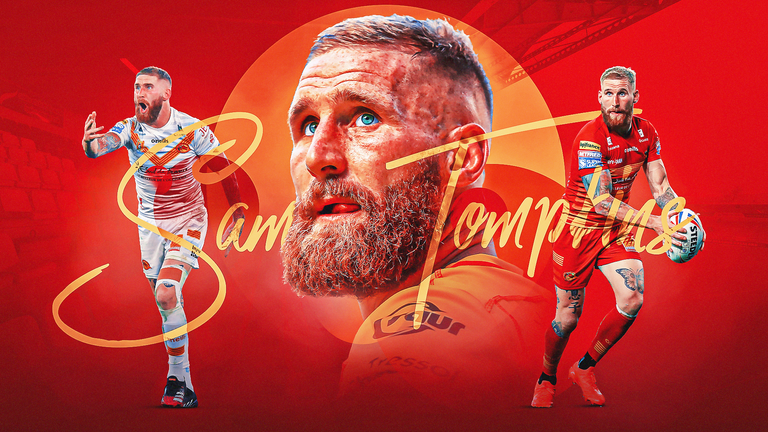 Sam Tomkins will bring an illustrious 15-year career to an end later this year, with the England captain and two-time Man of Steel announcing that he will retire at the end of the 2023 Super League season.
With three Grand Final wins, two Challenge Cups, two League Leaders Shields and two Man of Steel awards to his name, Tomkins is one of Super League's most decorated stalwarts and will take his place among the greats of the modern era.
In an exclusive interview with Sky Sports to confirm the news, the man himself explained his decision to retire and looked back at some of the highlights of his decade-and-a-half in the sport.
Why now? Knee injury the 'nail in the coffin'
Tomkins suffered a knee injury in 2022 that kept him out of four of the Dragons' last seven Super league matches, with the England skipper then taking the time to get right for the Rugby World Cup, during which he was an integral cog for the hosts in their run to the semi-finals.
However, after undergoing surgery in January to relieve some of the problem, Tomkins has felt the harsh effects of recovery with such a big injury, especially after Catalan's round two win over the Leigh Leopards in February.
"It was on my mind last year. I had a knee injury which was a struggle to get through," Tomkins told Sky Sports.
"With the World Cup being at the end of the season, it was of massive importance to me.
"I had the opportunity to captain my country in a World Cup so it was basically a case of doing everything possible to get through that, which I did.
"But I knew there was a problem I needed to try and fix so I had an operation in December and I spoke to lots of specialists, some of the best around, and they all came back with the same conclusion that my knee was pretty spent.
"It was always in the back of my mind that this year would be my last.
"After coming back and playing a game, straight after the game, the recovery process was tough, so that was sort of the final decision maker.
"It was Tuesday morning after we played Leigh on the Saturday. Normally, two days after a game it is sore, but it starts to get better but this was three days after the game and it was getting worse.
"That was the nail in the coffin.
"To call it early in the season was something I wanted to do because I didn't want any questions being asked because I am out of contract this year.
"I wanted to get it out there now that this is my last season, and I can hopefully be successful this year and enjoy it.
"It was tough to go in and get the words actually out my mouth to say I am done."
Taking it back to April 2008: Tomkins makes his debut:
From a young whippersnapper to England captain, Tomkins grew into a leader for every team he played for and will be a huge missing piece going forward on the domestic and international stage.
But before all that happened, he was just a youngster dreaming of his debut.
"I remember [then Wigan coach] Brian Noble telling me midway through a week. We were playing on a Monday against Whitehaven and midway through the week he said 'you are going to make your debut' and I didn't sleep for about four days," Tomkins recalled.
"From being five years old, I wanted to be a rugby player. I progressed through the Wigan system and the reserve grade, and you're almost a player but you are not yet.
"To play one first team game was my goal.
"So it was a lot of sleepless nights, a lot of worrying, we were playing Whitehaven so looking back I probably shouldn't have been quite as nervous as I was.
"It was an amazing night, I got to make my debut alongside Trent Barrett, a legend of the game – I have no idea why he was playing against Whitehaven!
"That was the point where I felt like a rugby player, April 2008."
Changing the game: What does it mean to be a full-back
In 2009 Tomkins was really thrust into the spotlight as Wigan head coach Michael Maguire moved him full-time to the full-back position, having spent most of his time at half-back to that point.
Little did the game know, Tomkins was about to reinvent the position entirely.
Steve Prescott and Jonathan Davies had rapid speed at the back, but Tomkins was the first to make the full-back an extra half-back and it worked wonders.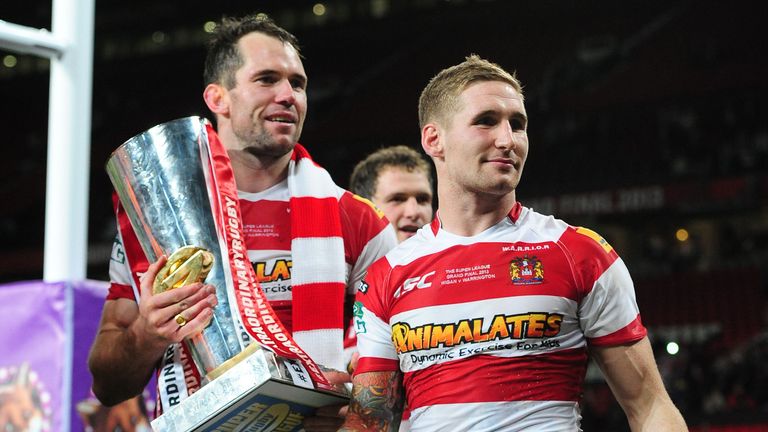 "I didn't want to play full-back", Tomkins laughed.
"Then Michael Maguire came to the club in 2010 and straight away he said I think you would make us a good full-back.
"At the time, I saw it as a step down because the full-backs of old were just a running player, they didn't have a great impact on the way that teams attacked.
"But as the season progressed, Maguire said we are going to aim our attack around you and you will be able to get the ball as much, if not more, as you would at half.
"Eventually, we played Harlequins away and I started at full-back, and I got all the nerves again from making my debut.
"At the time, it felt strange, but I grew into the role and grew to love it very, very quickly.
"It was certainly the best option for me, it meant I got to express myself more than in the half-back position, with a little bit less pressure as well.
"We probably moved before the times a bit more than others did."
The highest of highs: Grand Final wins with Wigan
A long rugby league career can often end without just reward, but Tomkins saw the fruit of his labour from very early on and that 2010 Grand Final win against St Helens still goes down as one of his all-time highlights.
"I have been lucky that there are lots of highlights to go from but ultimately we play this game to win trophies," he added.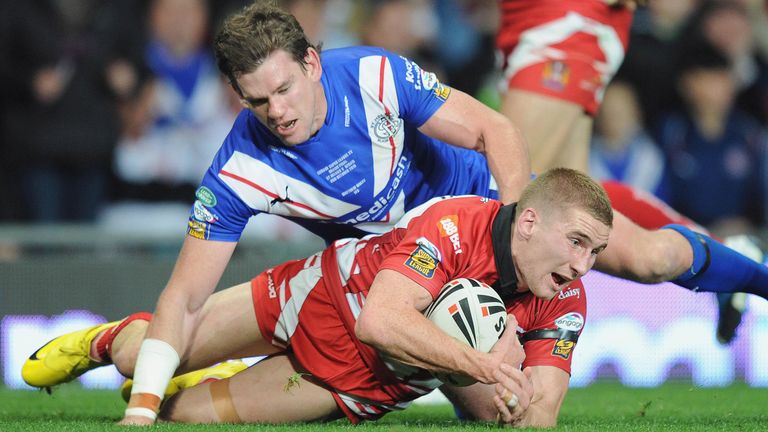 "The trophies that I have won have all been special.
"The 2010 Grand Final was the first trophy I won and I was lucky to come into a team at that time where there were people like Sean O'Loughlin who had been playing for seven or eight years and hadn't won a trophy yet, legends of the game.
"There was a group of young players who went in and won a trophy in our first couple of years which was huge.
"The 2013 Grand Final was when I was leaving to go to New Zealand and I desperately wanted to win a Grand Final in what I thought was my last game in a Wigan jersey, which we managed to get.
"2010 and 2013 Grand Finals were for me the ones that stand out and probably meant the most."
Representing England: Always a 'proud' moment
Not only has Tomkins had a career to remember domestically, but he has thrived on the international stage too.
Indeed, his time in England camps represent some of his proudest moments, especially after captaining them at last year's Rugby League World Cup.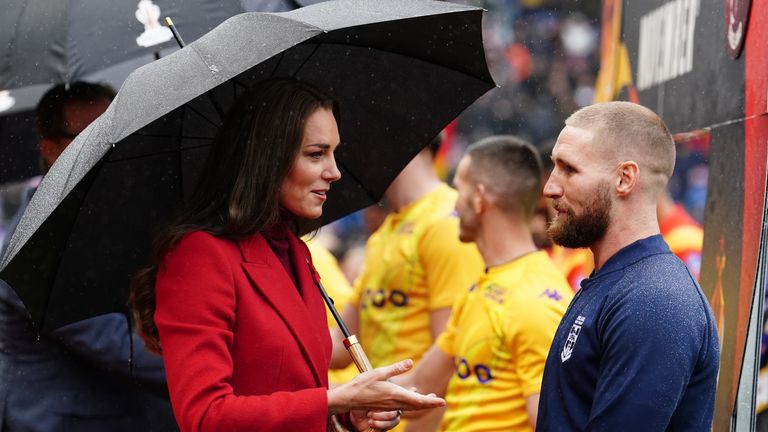 "Playing for your country is very, very special and it is something I have never taken for granted," he said.
"Every time you put the jersey on you get the exact same butterflies from the first game to the 29th game.
"It is special, so it is almost like every game is a highlight in a sense.
"The Series in 2018 was big and we beat New Zealand. The second game was at Anfield and we had to win that game to win the Series.
"That, for me, was a big one to get that win and lift the trophy a week later at Leeds."
What is next for Sam Tomkins?
Although his time as a rugby league player is drawing to an end, Tomkins will be remaining with Dragons and in the game, representing them in off-field matters as he "learns" what his new passion is within the game he loves.
With one chapter closing, he believes the next is about to begin.
"I will be continuing with the Dragons. I have got a new role at the club which will be off the field." Tomkins said.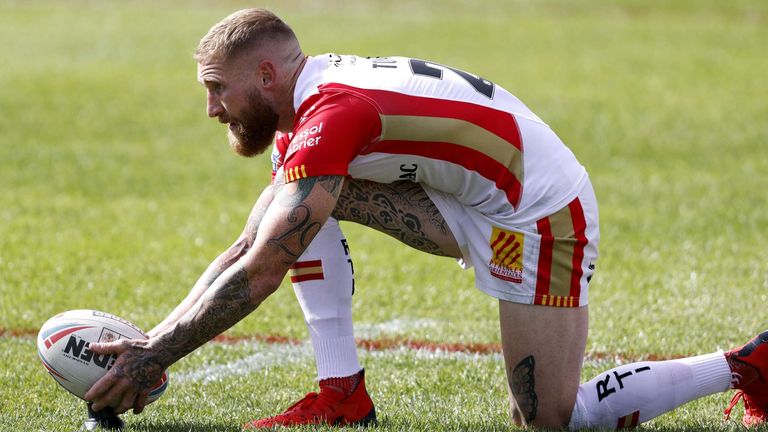 "It is quite a broad role to start with and the club are keen to keep me involved and that is something I want to do.
"I have grown to love this club over the last four and a half years.
"As the months and years have gone by, this is home for us now. We are very settled, my children are settled in school speaking French.
"They have got a French life. When I moved to France I had two boys who were one and two, now I have got four kids going from seven down to one and they are very French so this is home for us now.
"I will be doing everything from recruitment down to some position-specific coaching with some younger players, mentoring some young players and representing the club at some meetings that need to take place over in England whether it be Super League, RFL, IMG.
"The next step for me, I feel like I am the 18 year-old Sam Tomkins again who has got the potential to do something but needs a lot of learning so that is where I am at."
A final thank you from Sam Tomkins:
"It goes right back to coaches from being a kid. There are guys that give up their time and go to work and then come and look after 20 snotty kids that are trying to throw mud balls at each other rather than train.
"So I would have to thank people who did that right back then progressing through to all my coaches.
"My mum and dad are a big one. They have had three sons playing rugby from toddler age right through to all playing professionally for 10 years each.
"They sacrificed their whole social life from being in their 20s and without them, me and my brothers wouldn't have been able to play one game of Super League so they are a big help for us and we probably don't say it enough.
"Then lastly, it is my wife Charlotte. She has seen the highs and the lows.
"It is easy to enjoy the highs with the team and with your group but when you are low, you are at home and it is your support network at home that has to pick up those pieces.
"My wife is the glue of the family, makes sure everything stays together and keeps moving.
"We live 1,000 miles from any family and we have got four young children.
"She has had to pick up a lot of the slack with that when I have not been able to, which I am sure I will have to repay come September when I will be on dad duty from 24/7."