Why there is a lack of female coaches in football – and the steps being taken to change landscape | Football News
Arsenal Women manager Jonas Eideval put it succinctly when he recently said: "You can have female Prime Ministers, but you can't have a female coach coaching in the Premier League for some reason? Why?"
Some 34 years after Channel 4's television series The Manageress, which followed the fortunes of a woman taking charge of a fictional professional men's football team, we are yet to see a female head coach step into the dugout in any of the top flights of the British men's leagues.
Yet when you consider that only a third of managers in the Women's Super League are female, and six of the 12 managers in the league below in the Championship, the most pertinent point that should be raised first and foremost: where are all the female head coaches in women's football?
Arsenal women's head coach Jonas Eidevall dismays over the lack of female representation off the pitch in football

The managerial gender gap is not restricted to English football. Of the 32 qualified nations for this summer's World Cup in Australia and New Zealand, only 12 are women, including England's Sarina Wiegman and the Republic of Ireland's Vera Pauw.
The European landscape sees the French and Spanish top flight with similar ratios to that of the WSL (4/12 in Division 1 Feminine and 4/16 in Liga F) but Italy's Serie A (2/10) and Germany's Frauen-Bundesliga (1/12) boast the widest gender gap.
So what does one of the game's leading female coaches make of those stats?
"I think it's a reflection of the women's game and its journey to professionalism and the journey that we're on as a whole," Wales Women's manager Gemma Grainger, who has been coaching for 22 years and spent 11 years at the Football Association working with different female age groups, including the Lionesses in the run-up and at Euro 2017, told Sky Sports.
"There's naturally more male coaches. The men's game has been professional for much longer and we see that transfer of male coaches into the women's game, and that's the state we're at in this moment."
While the WSL was established in 2011, it was not until the 2018/19 season that it turned fully professional. For one of the legends of the game, Marieanne Spacey-Cale, who won 91 England caps over a 17-year period and is now head coach of Southampton FC Women, a side chasing promotion to the top flight, the game is still playing catch up.
"We have to accept that we're slightly behind in terms of female coaches in the game because the development of the game on the pitch has been crucial to make the game and the profile of the game grow," Spacey-Cale said.
"The next stepping stone will be to increase the number of female coaches working in the game. We can look at the numbers in the WSL and Championship, but if you drop down and look at the number of women coaching at grassroots level and in tier three and four, there's a base there now. It means we can try and talent spot and identify who are the coaches working towards their next level of qualifications in an environment that they're learning and developing – they're the coaches coming through in the future."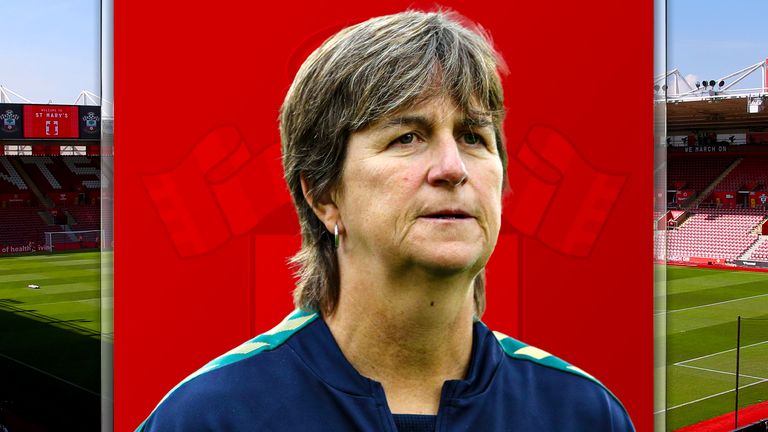 Spacey-Cale added: "There are women now coaching in boys' academies which hadn't happened before, which goes to show the development of the coaches is happening. Those coaches have more of a choice about where they want to coach, who they want to coach and who with.
"What's important is that opportunities are more readily available to apply for coaching jobs that they feel they can be the very best for and get it."
While Jill Scott has been linked with a coaching role at her former club Manchester City to work with the boys' and girls' teams, other female coaches working at that level have since been talented spotted to join youth sides at the FA and FAW. They include Natalie Henderson, who worked with Newcastle boys' academy before becoming the Lionesses U17s head coach and former Swansea boys' academy coach Nia Davis.
"One of our coaches who works with our U17s, head coach Nia Davis was working at Swansea City boys academy and has been identified as a really talented coach and is now a head coach with the U17s here. That's a great example of identifying and putting them on the right pathway," Grainger said.
Tapping into the player pool
Further education for current players about life after playing and targeting those with a passion for coaching is another growth area that can see the number of female coaches increase in the coming years.
Anita Asante, who retired at the end of last season following a stellar career that saw her win the quadruple at Arsenal and play at five major tournaments with England, was appointed Bristol City Women's assistant coach in the summer and is now working alongside manager Lauren Smith.
Gemma Grainger says more players are attending coaching courses than there used to be and feels it's important to identify the players with the passion early in their careers

The 37-year-old continues her punditry duties where time allows, but the lucrative pull of the media can sometimes draw a recently retired player away from a life on the sidelines.
"We don't want to keep losing the top players. We need to look at ways to keep them but it's got to come from the drive of that individual. You've got to want to make those continuous sacrifices and have that type of lifestyle," former England and Arsenal captain Faye White told Sky Sports.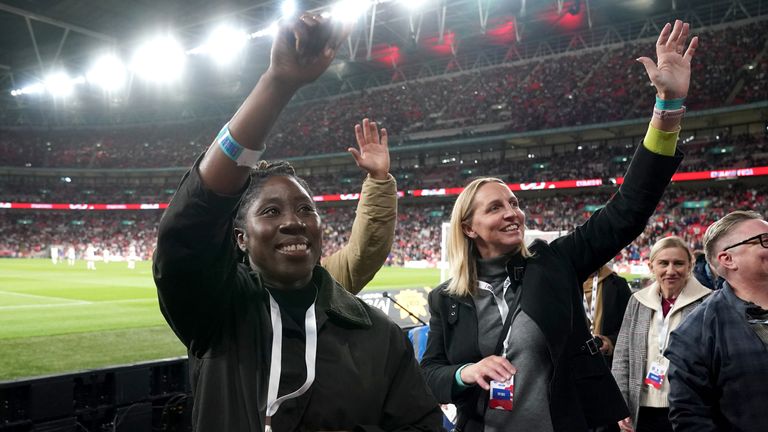 Grainger echoes White's view that players need to have that dedication for coaching. "One of the great things the FAW are doing in conjunction with the WSL is identify those players who have that passion, help them become qualified and ultimately the coaching system will help them be better players as well," she said.
"There's that real link for players to see that their coaching badges will help them understand the game more. At some WSL clubs, they have some of our players working with the academy teams, so there are opportunities to get the coaching hours.
"Being a coach is completely different to being a player. Some of the players who I've spoken to ask about the hours that it takes and the dedication."
Arsenal and former Scotland international Jen Beattie believes more players are thinking about life after playing but agrees that some are more 'passionate' than others about it.
"I know Viv Miedema and Beth Mead are both doing their Uefa B while still playing," Beattie told the Three Players and A Podcast show. "Jill Scott is always carrying out her coaching skills. She's obviously really passionate about it and I know she's having a super successful career right now off the back of The Jungle (after winning I'm a Celebrity) but I do still think she'd love to get back into coaching because she loves football.
"It comes from the clubs, it comes from the resources that they can give, it's more important in the women's game to have that personal development off the pitch and to have that plan B and have something to fall back on because you never know when your career might be done. Some people do it because they know they want to get into it and Jill Scott comes under that category and Viv Miedema loves the tactical side of football, always so talkative about it and loves the challenge aspect of solving solutions on the pitch – she's a massive football brain. I do think she'll go into coaching or a management role at some point and I think she'd be unreal at it."
Motherhood and management
Motherhood can be another factor. While some players wait until retirement to start a family, like England Women's all-time record goalscorer Ellen White, the challenges of holding down a coaching career while starting and bringing up a young family are difficult bedfellows.
Encouragingly, three of the four WSL managers are mums but the guilt of juggling both full-time roles is one that won't easily go away, as Chelsea coach Emma Hayes spoke honestly about during her post-match interview on Mother's Day last night after a league win at Leicester.
"I cried when I left him (son Harry) this morning to come up and stay in a hotel. I found it difficult this one. The girls said 'why didn't I bring him'. I said 'that's half the problem us parents have, the guilt of being the best at our jobs and being parents'. I regret that one and I won't do it again."
Chelsea manager Emma Hayes opens up about the challenges of balancing football management and motherhood

Faye White retired 10 years ago and while discussions over a move into coaching took place, England's longest-serving captain said the timing wasn't quite right after having her first child.
"I'm not saying that some women who have children can't be coaches, but you look at Emma Hayes, she started her coaching a lot earlier, got a lot of grounding before she had a child. It's a very different path.
"It depends on your relationship and the dynamic in your family and who will look after your child. For me, my priority changed. I was such a focused player but then you have a child, and I didn't think it would change me as much as it did. It puts life into perspective. Everyone's different. I thought that I'd have a baby and go straight back into it. It didn't work out quite that way.
"It's about looking at ways we can because ultimately you don't want to have to sacrifice one or the other really. There are other streams now such as the media, which can be more attractive to work around your family life which is what myself, Rachel Brown, Yanks (Rachel Yankey) and what Ellen (White) might think that's more the opportunity. But it is about having that balance."
Finding the next generation of coaches
Through a number of initiatives, programmes, growing visibility and success of the Lionesses, the most recent Sport England survey found there are now 100,000 more girls playing football than there were five years ago.
Further energy and resource are being instilled into coaching projects from clubs and the Home Nations' governing bodies to find the female coaches of the future, with Southampton just one club currently embarking on a bespoke initiative to help a group of women achieve a recognised coaching qualification.
Spacey-Cale, who will help mentor the budding coaches, said that interest in the programme has been high and that the women will be supported well beyond the initiative.
Speaking to Sue Smith, England manager Sarina Wiegman explains how the European Championship was won, the impact on the country and how the victory has helped develop the game

"We will keep checking in on these coaches throughout not just their period on the programme but post that to keep showing it doesn't shut off when it finishes and there is support in place. That's what is important about having mentors, people who can support them in the environments they are working in.
"They will have a programme of activity, mentoring and support outside the programme and building confidence and belief in themselves as coaches is really, really important. To do that in the safety of where they coach on a day-to-day basis will show them what coaching is about and this is the support that is available for them."
Changing social stereotypes
Confidence is a key word when it comes to female coaching, especially when stereotypes and outdated views can still hamper and restrict the number of women getting involved in their children's grassroots football and that's where Grainger believes could be key to changing the future landscape of coaching.
Gemma Grainger says we need to change the stereotype on female coaches at grassroots level and encourages potential coaches to go on mixed courses with men

"There are some really good mums out there who would be just as good as the dads (at coaching) but it's the social change that we're driving for, because the stereotypes are embedded in the industry over years and years and years," Grainger said.
"There are campaigns out there, whether it's the FA Wildcats or the FAW Huddle scheme (mainly for 5-11 year-olds) focusing on increasing the number of girls playing the game. But strongly aligned to that has to be that specific drive to offer coaching courses in a variety of ways too. So if females want to attend female-only courses that's an opportunity, but also if females want to attend a mixed course that's fine as well because I think that is the way we change stereotypes. I've had some fantastic male allies who have supported every single part of my development."
Those same male allies could help open the pathway for what should hopefully become the first of many female coaches to work in the professional men's game.
Shelley Kerr became the first woman to coach a professional men's team in Scotland when she took charge of fifth-tier side Stirling University in 2014, but as yet such a historic moment has not been witnessed in the English game. While Hayes was linked with the AFC Wimbledon men's managerial vacancy back in February 2021, with the pool of women coaches currently small in number, female candidates making future shortlists remains a long shot – but that could change in the coming years.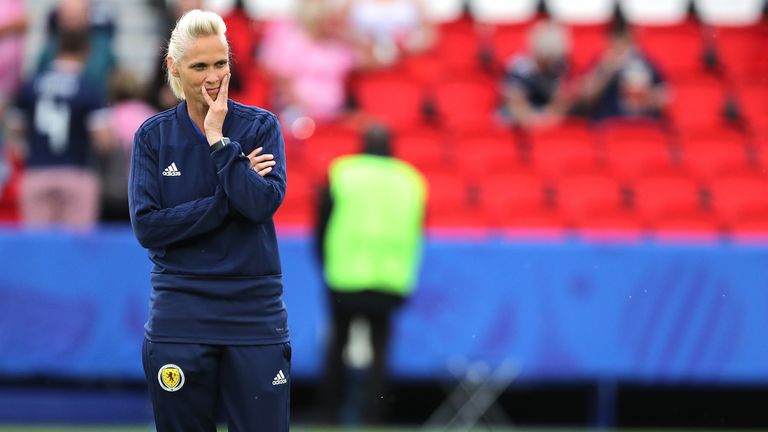 "I think it's about female coaches having that choice. As we know male coaches are welcomed into the female game and that should be the same in the male game," Grainger said.
"Increasing the pool of female talent is absolutely a priority for me. Five or ten years ago we were talking about participation levels for girls, we're talking about it with female coaches now and we have to see that increasing. We have to make visibility a priority, we have to increase the pool at grassroots level and give those people an opportunity to work at that level and identify, like we do with players, who are our next pool of coaches."
For Spacey-Cale, it's about normalising women working in the men's game.
"A woman should work in the men's game but an individual will make that decision as long as they are supported and given the tools they need," she said.
"It's a very individual choice. I like the fact there are more female coaches working in academies with the younger boys because then it becomes the norm. Once it's normal, you can take it wherever you want."