Women's Six Nations: England eyeing record crowd for game vs France at Twickenham next month | Rugby Union News
England to end Women's Six Nations campaign against France at Twickenham on April 29 – but start tournament against Scotland on Saturday as "wounded animal" after defeat to New Zealand in November's World Cup final ended 30-Test winning streak
Last Updated: 22/03/23 9:16pm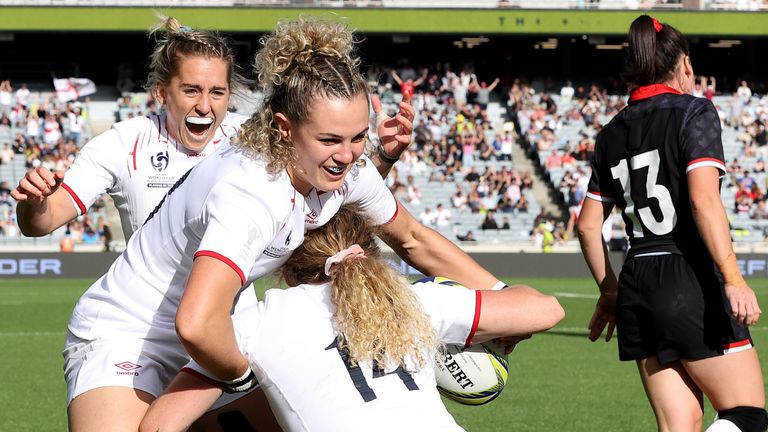 England are hoping for a record crowd for a women's rugby match when they face France at Twickenham in their final Six Nations fixture next month.
Around 40,000 tickets have already been sold for that showdown on April 29, with England hopeful of eclipsing the 42,579 fans who watched their World Cup final defeat to New Zealand inside Auckland's Eden Park in November of last year.
England's loss to the Black Ferns ended their 30-Test winning streak and Bryony Cleall says the team will be "a wounded animal" as they pursue a fifth straight Six Nations title, with their campaign beginning against Scotland in Newcastle on Saturday and then ending with the first standalone Red Roses fixture at Twickenham.
Cleall said: "For years we have wanted [Twickenham] and for years we have been disappointed being put in other venues we sell out. We want to keep moving the game forward and attracting new fans and we are in a stadium we have all dreamt of playing in.
"If we keep performing in the Six Nations, tickets are going to increase and it is going to be a truly incredible occasion."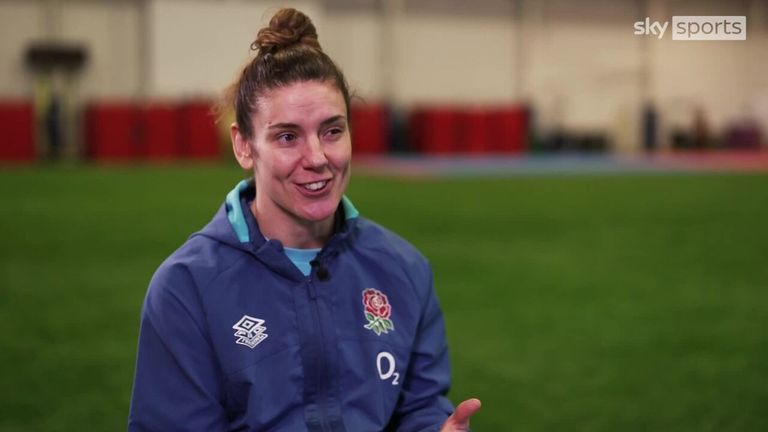 Sarah Hunter feels there is more to come in professional women's rugby and says further investment will push the game forward
Cleall's team-mate Hannah Botterman added: "Coming to Twickenham any time is exciting, let alone when we hopefully get a lot of people down to it. Hopefully we can get upwards of 50 [thousand] to that game."
Captain Sarah Hunter will retire after winning her 141st cap in the clash with Scotland; Abbie Ward is absent due to her pregnancy; and injuries have also hit the camp, including to Botterman (knee) and Rosie Galligan (hamstring).
Cleall said: "It is a bit of a changeover of players. We have retirements, a pregnancy and some injuries so what better way to blood some new Red Roses, let them perform, let them have some game time and show what they can do? Come the World Cup here in 2025 they will be the players that will be taking us through."
Cleall: Red Roses have the best squad in the world
On the Six Nations, Cleall added: "We always want to grow the gap from the teams behind us.
"We are a bit of a wounded animal coming off the back of a World Cup final loss. I know the girls were disappointed but it is a new lead into another World Cup
"We wanted to be the best team in the world from a World Cup perspective but I truly believe we hold the best squad and we want to show that to the world again."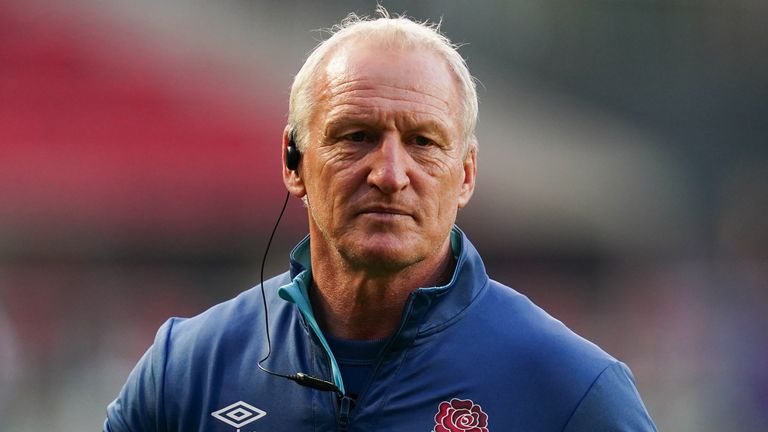 The exit of Hunter – the most-capped female player in the world and the most-capped English player across men's and women's rugby – will be followed by the departure of head coach Simon Middleton at the end of the Six Nations.
Cleall said: "[Sarah has] emotional intelligence, empathy and the ability to look after all of us and push us on and off the pitch. She won't let anyone drop their standards. People will follow her wherever she goes and that is testament to who she is and the values she holds.
"[Middleton] has been incredible. The interactions I have had with him have been exceptional, the player management, the ability to talk to us and the game plans. If you go on a winning streak for 30 games, you look at your leaders and think, 'they are doing something special'.
"He has built the squad and the staff so it is going to be a loss and we want to find the right person to step in and keep pushing the work he has done, which has taken us to one of the best teams ever to have played the game of rugby."