Lewis Hamilton and George Russell expect James Allison's return as technical director to strengthen Mercedes
James Allison returned to role of technical director with Mike Elliott moving to chief technical officer in Mercedes reshuffle; Allison to have more hands-on role in Mercedes' car development again; Watch the Azerbaijan GP live on Sky Sports F1 this weekend
By Jonathan Green
Last Updated: 27/04/23 4:07pm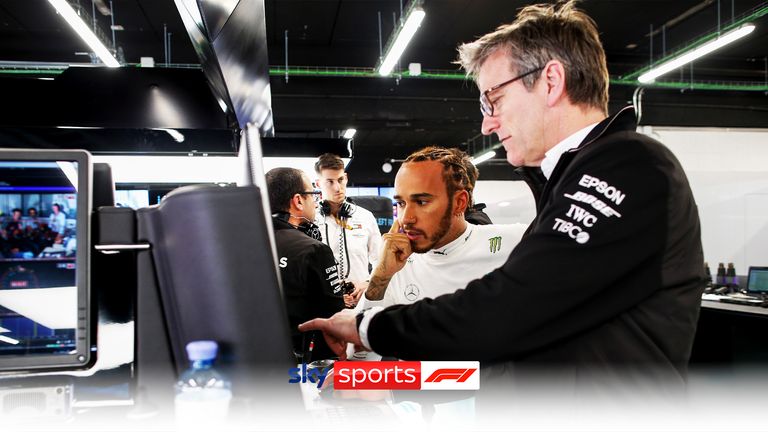 Lewis Hamilton believes the return of James Allison to the role of technical director can only benefit Mercedes going forward

Lewis Hamilton believes the return of James Allison to the role of technical director can only benefit Mercedes going forward
Lewis Hamilton and George Russell are confident Mercedes are now in a stronger position following their technical reshuffle that saw James Allison and Mike Elliott swap jobs.
Mercedes confirmed ahead of F1's resumption in Azerbaijan that Allison had returned to the role of technical director, which he previously held from 2017-2021, with Elliott moving to chief technical officer.
The reshuffle follows a second year in which Mercedes have made a slow start to the season under F1's new technical regulations, with team principal Toto Wolff admitting after the opening race in Bahrain the team needed to abandon the car concept they had stuck by for 2023.
Allison will now have a more hands-on role with the W14 and future cars, with Hamilton optimistic about how Mercedes will progress.
"James has always been a part of the team, obviously he was focused a little bit on another area before," Hamilton said in Baku.
"Having him step back in to support and work alongside Mike I think is only going to strengthen the team moving forwards.
"He's obviously got an amazing amount of experience. So I think moving forwards it's just going to be great for the team. Particularly with all the things we want to achieve, not only on-track but off-track, I think it's going to be good."
Asked by Sky Sports F1's Ted Kravitz what Allison's particular strengths were for the role, Hamilton said: "James is massively competitive. He has got amazing experience in the position he's in, he is really great at making sharp and strong decisions.
"Just the experience he had, he had great experience back at Ferrari, he's worked with great drivers and great teams. He's just very approachable and really great at pulling together people and saying this is the direction we're going.
"I think he's going to work really well with Mike. Mike is incredibly talented and this only strengthens the package we already have."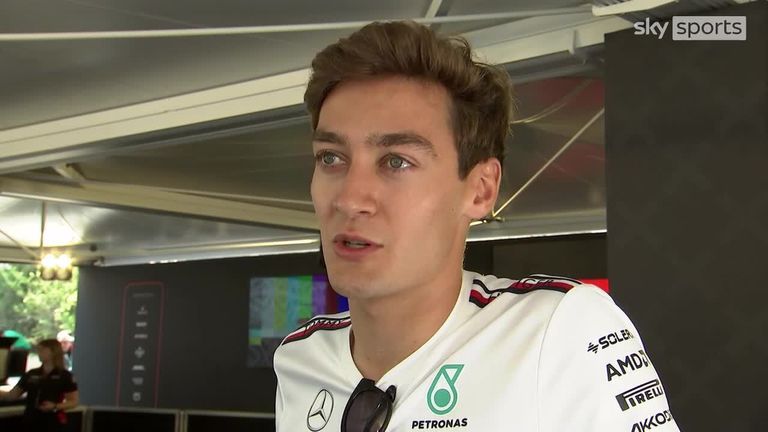 George Russell has welcomed the team's decision to restore James Allison to his previous role as technical director
Mercedes' reshuffle was prompted by Elliott, having concluded his skills were not best suited to the technical director role.
Russell believes Allison and Elliott are now in positions where they can best deliver.
"I think it's really good news. Obviously, Mike was the technical director and James was sort of overseeing a few different projects and now effectively we've got both of them full time," Russell told Sky Sports F1.
"Mike is one of, if not the most, intelligent blokes I've ever come across in my life, but I think placing him in this new role will really put him in his element.
"When it comes to a team sport, it's not just drivers, we're managing, well Toto's managing 2,000 people. Or if you talk about a football team you need to get your best players in the right positions to get the overall team result and effectively that's what this change has been.
"In both regards, we've swapped around and put both where they belong."
He added: "This was a team decision, there's the saying you win and lose together and that's truly how it is and there's never one person accountable for any success or any failure. It's always a team one."
The Formula 1 season resumes with the Azerbaijan Grand Prix from April 28-30, with the first Sprint weekend of 2023 shown in full live on Sky Sports F1. Watch Saturday's Sprint at 2:30pm and Sunday's race at 12pm. Get Sky Sports