Brooks Koepka: Why PGA Championship and fifth major win was a result of failure at The Masters | Golf News
Brooks Koepka, who is the first LIV Golf player to win a major championship, said: "I definitely think it helps LIV. But I'm more interested in my own self right now, to be honest"; Koepka held off Viktor Hovland and Scottie Scheffler on the final day at Oak Hill
Last Updated: 22/05/23 2:09am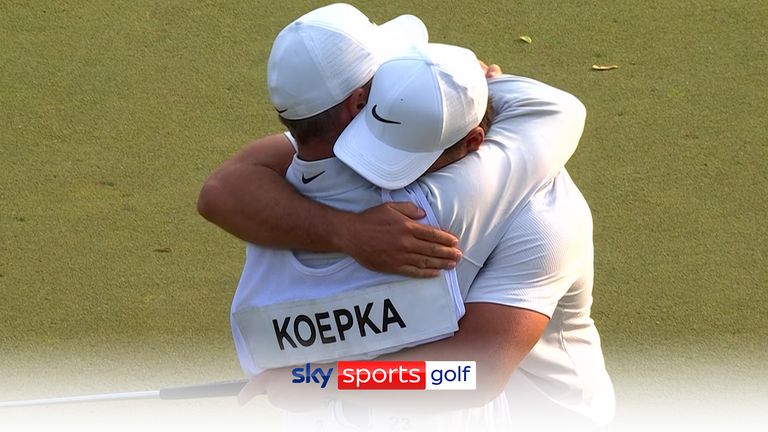 Watch the moment that Brooks Koepka claimed a third PGA Championship with a two-shot victory at Oak Hill.

Watch the moment that Brooks Koepka claimed a third PGA Championship with a two-shot victory at Oak Hill.
Brooks Koepka said his final-day Masters failure played a key role in him securing a fifth major title after emerged victorious with an impressive PGA Championship victory.
Koepka led by two strokes after three rounds at Augusta National earlier this year, but ultimately lost out to Jon Rahm as he shot a three-over 75 on the Sunday.
Koepka blamed himself for "choking" when addressing the media earlier this week but, holding a one-shot advantage entering the final day in Rochester, the 33-year-old this time would not let his lead slip.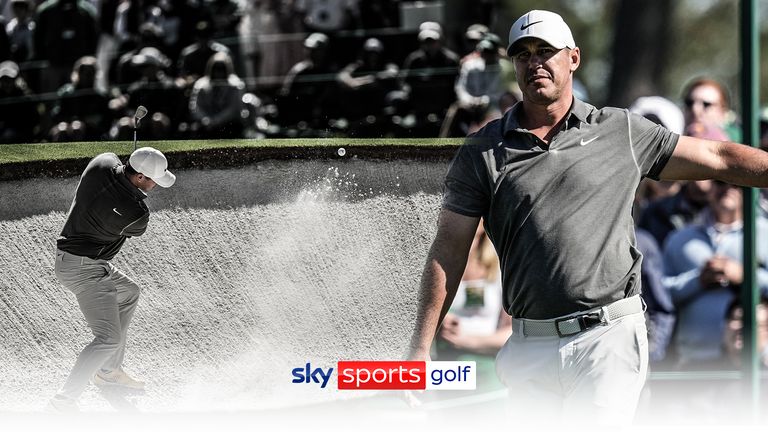 Brooks Koepka was leading heading into the final round at The Masters, but he hit six bogeys on day four and ended four shots behind winner Jon Rahm.
"I definitely wouldn't have won, I don't think, if that [The Masters] didn't happen," Koepka said. "Definitely take it and keep using it going forward for each event, each major, any time I'm in contention.
"I've always learned more from the four times I finished second than, I guess, the five times I've won now.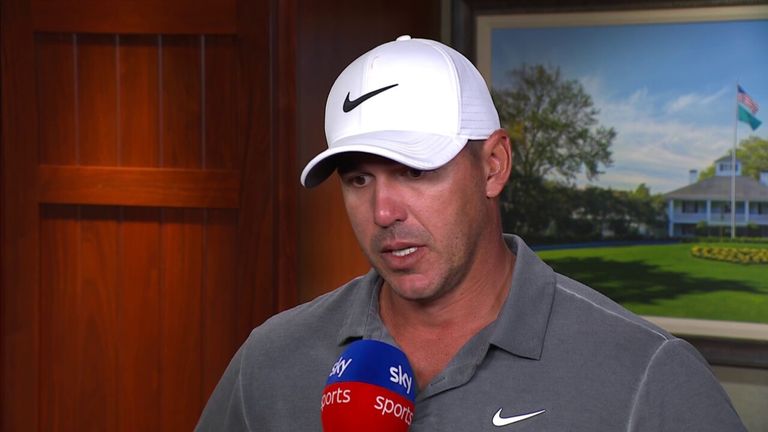 Brooks Koepka gives his reaction to his final round 75 at The Masters as he finished second to Jon Rahm at Augusta National.
"I think failure is how you learn. You get better from it. You realize what mistakes you've made.
"Really, I think the big key is just being open and honest with yourself, and if you can do that, you'll be miles ahead of everybody else."
Koepka's victory was his third at the PGA Championship and fifth overall, moving him clear of Rory McIlroy (four) and level with the legendary Seve Ballesteros, among others, on five.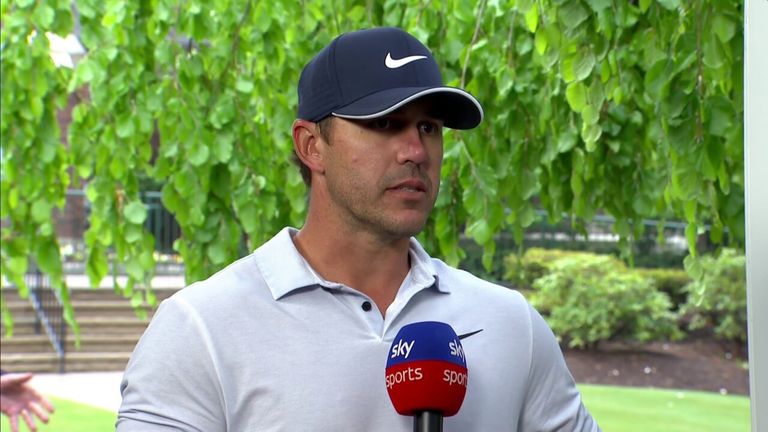 Brooks Koepka on what it would mean to join Jack Nicklaus and Tiger Woods in winning three or more PGA Championships.
It was his first major win for four years, with injuries blighting his career in the intervening years before a marked return to form in 2023.
"It feels damn good," he said. "This one is definitely special. I think this one is probably the most meaningful of them all with everything that's gone on, all the crazy stuff over the last few years. It feels good to be back and to get number five."
Brooks added on his legacy: "I do care about it. It's just tough to really grasp the situation kind of while you're still in it, I think.
"I try not to think of it right now. Probably when I'm retired and I can look back with Jena and my son and kind of reflect on all that stuff, that will be truly special, but right now I'm trying to collect as many of these things as I can."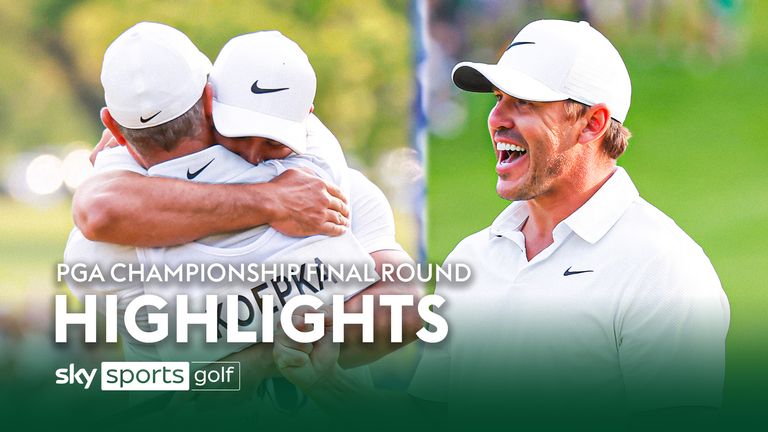 Highlights from the final round of the 2023 PGA Championship at Oak Hill which saw Brooks Koepka lift the trophy for a third time.
Koepka's victory at Oak Hill also represented the first major success for a member of the LIV Golf tour.
"I definitely think it helps LIV," Koepka said. "But I'm more interested in my own self right now, to be honest with you.
"Yeah, it's a huge thing for LIV, but at the same time I'm out here competing as an individual at the PGA Championship. I'm just happy to take this home for the third time."
Hovland: Second-place finish 'sucks right now'
Pushing Koepka all the way in the final round was his playing partner Viktor Hovland. The Norwegian trailed by only one stroke until he found the bunker on his way to a double bogey the 16th hole.
Hovland opted to hit a nine iron out of the sand but his effort plugged in the lip of the bunker and his challenge disappeared like his ball, with Koepka birdieing the same hole to move four clear.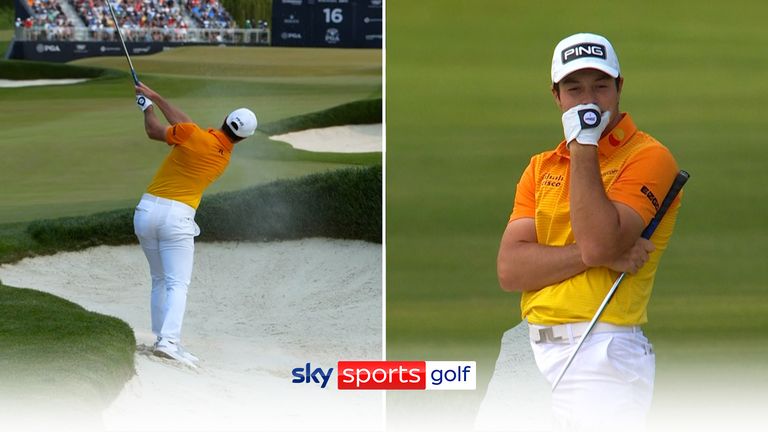 Viktor Hovland's hopes of winning the 2023 PGA Championship effectively ended after a double bogey on the par-four 16th hole when he left his ball in the lip of the bunker.
"I felt like I played really solid golf," Hovland told reporters. "I gave myself a lot of looks… but Brooks was hard to catch. He is a great player, and now he has five majors. That's a hell of a record right there.
"It's not easy going toe to toe with a guy like that. He is not going to give you anything, and I didn't really feel like I gave him anything either until 16.
"I feel like I belong out here. I just have got to get a little bit better, and hopefully it goes my way the next time.
It's Hovland's third top-10 finish in a row in major championships and he added: "It sucks right now, but it is really cool to see that things are going the right direction.
"If I just keep taking care of my business and just keep working on what I've been doing, I think we're going to get one of these soon."
Scheffler 'doesn't care' about return to No 1 ranking
Scottie Scheffler shot a five-under 65 to finish in a tie for second with Hovland, two shots back from Koepka on seven under. It's a result that saw him return to No 1 in the world.
Leapfrogging Masters champion Jon Rahm into top spot represented no silver lining to the 2022 winner at Augusta National, however.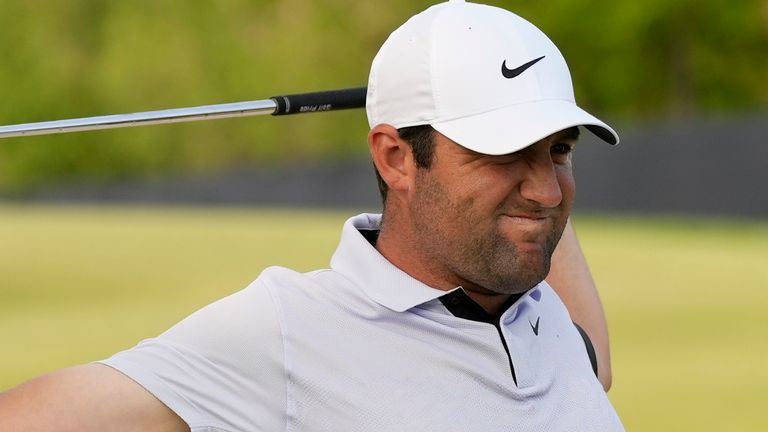 "It's nice, but I really don't care," Scheffler told the media, laughing. "I don't play for world ranking. I play to come out here and compete.
"Right now, I'm a little sad that I wasn't able to get the tournament done, but I'm proud of how I fought, I'm proud of how I played the back nine today to give myself a chance. I got beat by somebody that played better this week, and tip of the cap to Brooks. I's just how it goes."