Mercedes upgrades: George Russell not expecting 'anything scary' from W14 changes at Monaco GP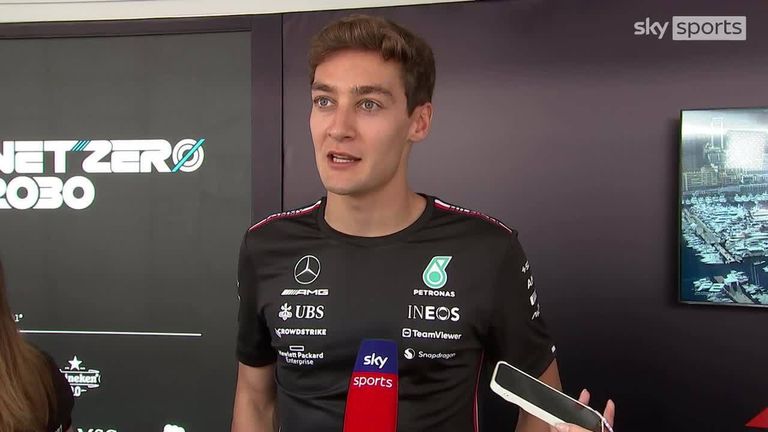 George Russell can't wait to see how his new revamped Mercedes will perform in Monaco with their new upgrades.

George Russell can't wait to see how his new revamped Mercedes will perform in Monaco with their new upgrades.
George Russell says he isn't expecting anything "scary" from Mercedes' upgrades, and that their choice to debut them at this weekend's Monaco Grand Prix isn't "risky".
Mercedes had planned to bring the long-awaited updates to last weekend's Emilia-Romagna Grand Prix, before flooding in northern Italy saw the event cancelled before a car had taken to the track in Imola.
While Monaco is usually not best suited for a team to bring significant upgrades due to the unique slow-speed nature of the track and the high risk of an accident, Mercedes opted against further delaying until next weekend's Spanish Grand Prix at the more conventional Circuit de Barcelona-Catalunya.
"I think you always need to go into a circuit like this with a degree of respect and you need to build up to it," Russell said on Thursday.
"But I trust in the team and I don't think there's going to be anything that's scary with regards to this new update, that totally throws us off-piste.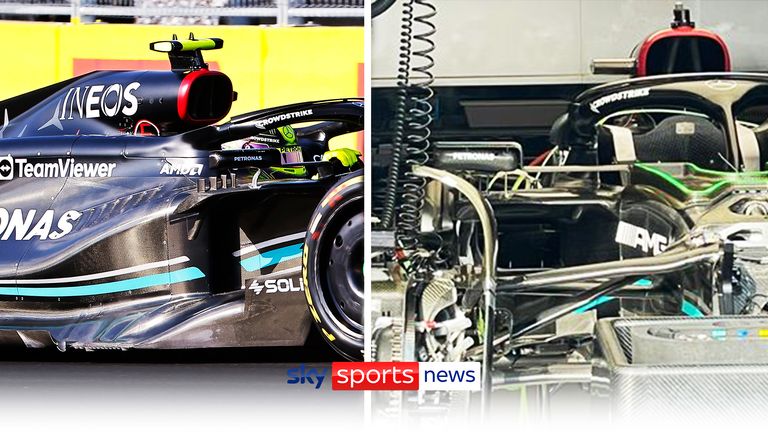 Sky Sports News' Craig Slater assesses the impact that Mercedes' new upgrades could have, as the first pictures emerge of their revamped car.
"I'm glad that we are sort of proceeding with the update this weekend because you always want to put as much performance on the car as possible and it would have been a demoralising weekend for all of us had we known we've got a bit of performance on the table just sitting there in the factory."
The changes to the car, which include a departure from their 'zero-sidepod' philosophy as part of new bodywork, also feature a new floor and new front suspension.
Mercedes are trying to close the gap on Red Bull, having been emphatically outperformed by the reigning constructors' champions since new design regulations were implemented at the start of last season.
After its new parts were seen for the first time as Mercedes set up in their Monaco garage on Thursday, the updated W14 will hit the track when first practice gets under way at 12:30pm on Friday, live on Sky Sports.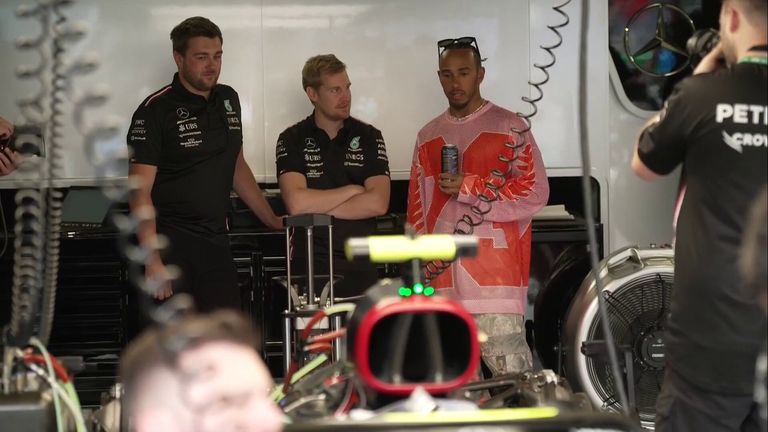 Anthony Davidson believes Mercedes' long-awaited car upgrades won't show until the Spanish GP due to the nature of the Circuit de Monaco.
"It's not necessarily risky," Russell said. "We just wanted to get cracking with the development. It was obviously always intended for Imola last week so we're not just going to sit here on performance and not use it.
"So yeah, perhaps bold, but it was always the case to run this package in Monaco."
Russell echoed Mercedes team principal Toto Wolff's comments earlier in the week in which he said the team must "be careful" not to draw too many conclusions from how the car performs in Monaco.
"We're obviously aware that this is a very, one-of-a-kind circuit, and we're not going to really read anything into the performance that the new updates show this weekend," Russell said.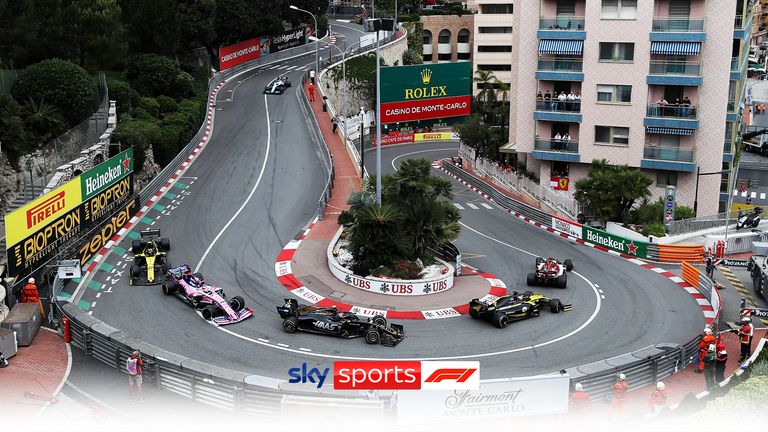 Don't miss the Monaco Grand Prix live this weekend on Sky Sports F1.
"There's always outliers in teams who overperform around a track like Monaco and teams who underperform around Monaco, but ultimately we don't design a car to be at its peak in Monaco.
"So we just need to get through the weekend and take a review once we get to Barcelona and go from there.
"I don't think you'll learn a lot at all from a race weekend like this, so whatever we take away from this weekend, we'll take with a pinch of salt and go into Barcelona with a clean slate."
Hamilton: I'm excited to feel something different
Mercedes arrive in Monaco already facing a 128-point deficit to Red Bull in the constructors' standings just five races into the season, but have been in a close battle with Aston Martin and Ferrari behind the pace-setters.
Russell's team-mate Lewis Hamilton admitted last month that he was "counting the days" until Mercedes' upgrades arrived, and says his excitement remains despite Monaco not being an ideal circuit to introduce them.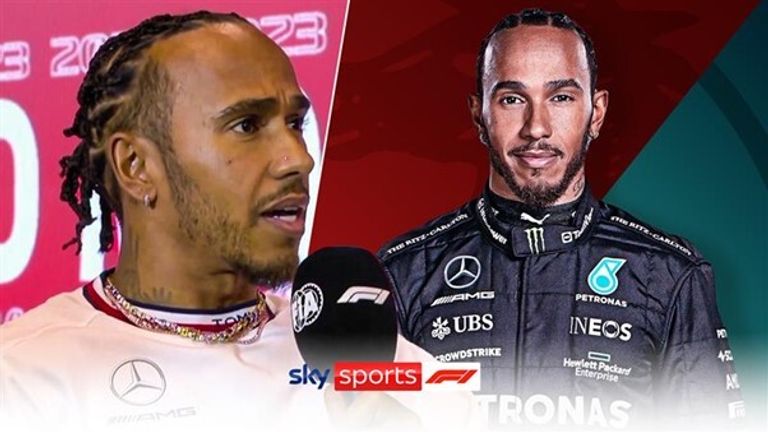 Lewis Hamilton insists he's happy at Mercedes and downplayed reports of a possible move to Ferrari.
"Unfortunately it couldn't have been a worse track for us to assess our upgrades," Hamilton said.
"It's not a downforce assessing circuit, it's very bumpy, the car's pretty soft, there's lots of roll and also mechanical grip is super important here.
"I think Barcelona will be the place where we get the best reading. I think we have to tread carefully this weekend to make sure we don't get blindsided by different results.
"But nonetheless, I'm still excited, I'm excited to feel something different. I don't know what it's going to be, more rear-end, more front-end."
Sky F1's Anthony Davidson takes a look at the iconic track ahead of this weekend's Monaco Grand Prix.
While Hamilton, who is seeking a record eighth world championship in the sport, is clearly enthused by the opportunity for a fresh start, he warned that there is no immediate prospect of catching Red Bull.
"I just need to say that this change is not going to put us ahead of the Red Bulls," Hamilton said. "It's not really going to put us on their tail either, but hopefully this is just turning the needle a little bit and puts us on a trajectory to catch them, hopefully.
"There's a lot of people on the team that have had all the success that we've had in the past and there's a lot of people that haven't had that success yet and are super hungry.
"I'm really encouraged when I do go back to the factory and see just how hard everyone is working.
"Last year we were a little bit lost in terms of how to fix the issues that we had, they now have the North Star, they know exactly where they need to go and we're working on how to get there."
Sky Sports F1's live Monaco GP schedule
Friday May 26
10.05am: F3 Qualifying
12pm: Monaco GP Practice One (session starts 12.30pm)
2.05pm: F2 Qualifying
3.45pm: Monaco GP Practice Two (session starts 4pm)
5.30pm: The F1 Show: Monaco
Saturday May 27
9.55am: F3 Sprint
11.15am: Monaco GP Practice Three (session starts 11.30am)
1.30pm: F2 Sprint
2:30pm: Monaco GP Qualifying build-up
3pm: Monaco GP Qualifying
4.45pm: Ted's Qualifying Notebook
Sunday May 28
7.15am: F3 Feature Race
8.45am: F2 Feature Race
12.30pm: Grand Prix Sunday Monaco GP build-up
2pm: THE MONACO GRAND PRIX
4pm: Chequered Flag Monaco GP reaction
5pm: Ted's Notebook
5.30pm: The 107th Indy 500
Formula 1 now heads to the streets of Monaco for the sixth Grand Prix of the 2023 season – watch all the action on Sky Sports F1 from May 26-28. Get Sky Sports