Michael Block: Club pro's stunning PGA Championship performance capped with final-round hole-in-one | Golf News
PGA club pro Michael Block added another chapter to his incredible story at the 2023 PGA Championship by making a slam dunk ace at the par-three 15th hole during the final round at Oak Hill

PGA club pro Michael Block added another chapter to his incredible story at the 2023 PGA Championship by making a slam dunk ace at the par-three 15th hole during the final round at Oak Hill
"Are you serious?!"
Not only was that Michael Block's priceless reaction when he learned he was to be paired with Rory McIlroy for the final round of the PGA Championship, but the same three words were no doubt being uttered the world over as the 46-year-old club pro continued a truly sensational week at Oak Hill with an incredible hole-in-one on the 15th hole of his final round.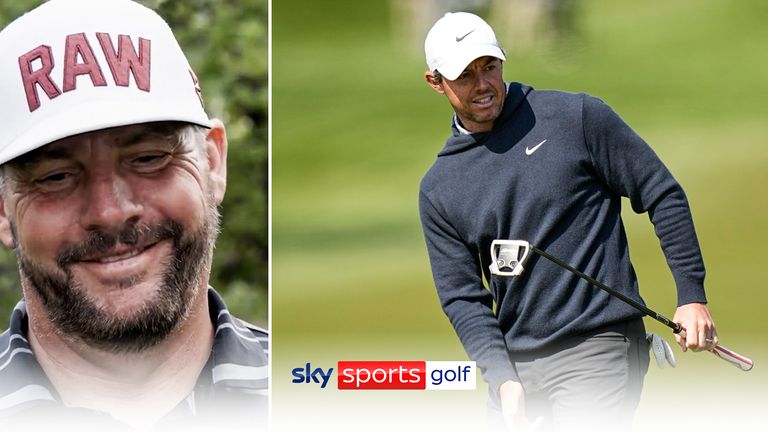 Block was in disbelief after learning he would be paired with Rory McIlroy in the final round of the PGA Championship
Block, who had missed the cut in all six previous major appearances, not only made the weekend this time around but became the star of it, somewhat even overshadowing eventual winner Brooks Koepka.
Block followed up three-straight rounds of 70 with a 71 on the final day, his one-over-par tournament score good enough for a tied-15th finish, earning him a spot in next year's PGA field and bagging himself a cool £288,333 in the process.
As was the case throughout the week, the fan favourite had a taste for the big occasion, and it took a clutch putt for par from eight feet on the 18th to confirm his return in 2024.
Block, however, told Sky Sports he had "no idea" over the importance of that putt.
Block reveals that despite claiming the biggest pay cheque of his career, the experience of playing in the final round of the PGA Championship was the best aspect of his week
"I never looked at the leaderboard for the entire day," he said. "I probably wouldn't have made it [if I did].
"I had no clue whatsoever. I just wanted to do it for that crowd right there.
"I'm going to go home the happiest guy in the world. It has been a very good week."
Who is Michael Block?
Block grew up in St Louis and played golf in college at Mississippi State before transferring to the University of Missouri-St Louis. He received a degree in course management from the San Diego Golf Academy.
Prior to the PGA Championship, he played in 25 PGA Tour events, making the cut at only four of them.
Block has become a dominant force in the Southern California PGA, winning Player of the Year honours in nine of the last 10 years, and it is that success that has earned him the majority of his PGA Tour starts.
He qualified for the second major of the year courtesy of a runner-up finish at the 2023 PGA Professional Championship, a tournament for golf club professionals and teachers who are members of the Professional Golfers' Association of America, with the top 20 earning a spot at Oak Hill.
Block is the club pro at Arroyo Trabuco Golf Club in Mission Viejo, California, charging $125 for a 45-minute lesson, while a nine-hole playing session runs up a $500 bill.
His home course was designed by former world No 1 Tom Lehman and Casey O'Callaghan, with Block owning the record low round at Arroyo Trabuco after shooting 59 in 2019.
How did his final round go?
Not bad.
Let's be honest, it was all about his ace on 15. And, making it all the more remarkable, his ball did not just find the hole off the tee, it went in flush! Nothing but net.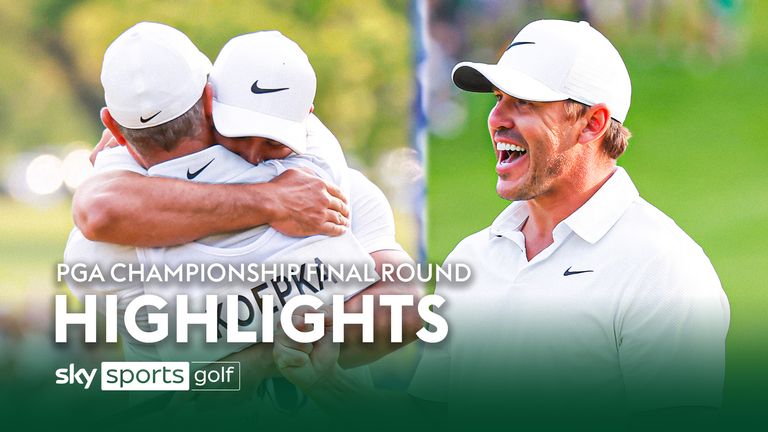 Highlights from the final round of the 2023 PGA Championship at Oak Hill which saw Brooks Koepka lift the trophy for a third time
Yes, Block dropped a shot on his very next hole with a bogey-five on 16 and his one-over 71 was actually his highest round of the week, but that mattered little in the grand scheme of things.
He delivered one of the most incredible moments in PGA Championship history with his hole-in-one, while he also came up clutch with his par putt on 18 to secure his spot in the tournament next year.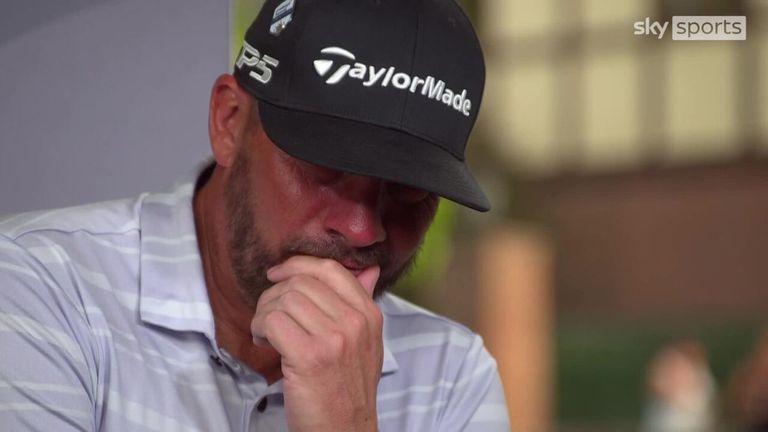 Block broke down in tears as he reflected on his week at the PGA Championship, saying he has been living a dream
Block had bogeyed the opening hole of his round, while another followed on the front nine at the par-four seventh. But at no point did his game unravel and, very much still in contention for a top-15 finish, he sent the crowd wild with his stunning ace on 15.
"Unbelievable," Block told Sky Sports. "I could see while it was up in the air that it was going right at the hole, but I did not see it go in.
"The crowd was cheering, so I was like, 'thank you'. I thought maybe it was pretty close, but then Rory turns around and goes, 'it went in the hole'.
"I had no idea. You've got to be kidding me right now."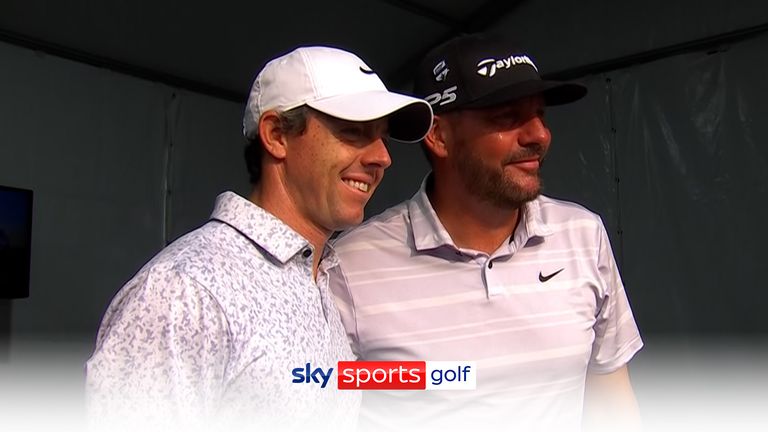 Block ended his dream week at the PGA Championship at Oak Hill by getting a picture with his playing partner McIlroy
What the field made of his performance?
Rory McIlroy, on his round with Block and that hole-in-one: "The atmosphere out there, playing with Michael was unbelievable.
"Being in this position as a club pro and playing so well and competing into the latter stages of a major championship – it was really impressive. It was nice to go out there and share the course with him for 18 holes.
"That hole [15th] has sort of given me fits all week. I haven't really liked the look of it, and Michael stands up and hits this lovely little draw back into the left wind, and the ball goes straight in the hole.
"When it's your week, it's your week, and with the way the week's went for him, it was a fitting way to cap off his PGA Championship."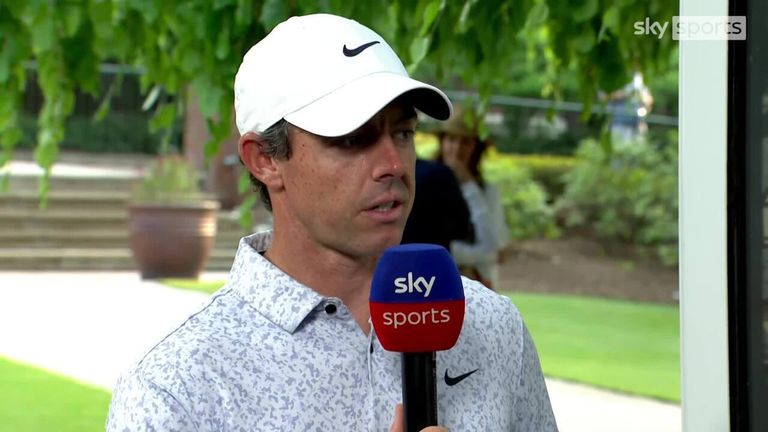 McIlroy knows he needs to be better to win major tournaments but is happy with how he managed to battle and produce a decent performance, finishing T7 at the PGA Championship
Justin Rose, who played with Block on Saturday: "Great guy. I felt like he was rooting for me and I was rooting for him, and the crowd was certainly rooting for him.
"He was having fun with them and they were having fun with him.
"It was a really great energy… he plays in a sort of a carefree way, just his mannerisms and routine and the way he kind of took one look and hit, especially with his putter.
"I know he's got a couple of teenage boys who will be super proud of him, so that's pretty cool."
Rich Beem, former PGA champion on Sky Sports: "This will rank right up there as one of the best stories in golf.
"How in the world did he make this happen, at the age of 46? Everything he did out there was absolutely extraordinary.
"Just when you thought it couldn't get any better, it did. What a great story. What a great round of golf. What a great week.
"He's one of these players who has always been fantastic on the club pro circuit, but when it comes to the majors and the PGA Tour events he has played in, nothing has really blossomed.
"I love his attitude. He is going to absorb every ounce of what went on this week and will remember it for the rest of his life."
What next for Block?
Block's top-15 finish has assured him a spot at next year's PGA Championship at Valhalla but, in the more immediate future, it has resulted in an invitation from the PGA Tour for next week's Charles Schwab Challenge.
Block himself insisted he knew nothing of the importance of saving par on the final hole of his tournament, but those watching on from the stands certainly did as they celebrated him successfully getting up and down in two after a rather wayward second shot on the par-four 18th.
He knocked his third from the rough to the back left of the green and within eight feet of the pin, setting up a makeable putt to confirm his return next year.
He then sunk the effort, but not before drawing out the drama one last time as it briefly threatened to pull up shy before finally rolling in following a momentary pause on the lip of the cup.
"I just played with Justin Rose on a Saturday in a major and Rory McIlroy in a Sunday at a major," Block said. "I'm not sure how it gets any bigger than that.
"So when I go play Colonial next week, it's not going to feel like a down, but it's going to be like, 'no problem', compared to what I just did the last couple days."