Ref Watch: Dermot Gallagher gives verdict on Jurgen Klopp feud with Paul Tierney and Diogo Jota's high boot on Oliver Skipp | Football News
Former Premier League referee Dermot Gallagher dissects the flashpoints from Liverpool's dramatic 4-3 victory over Tottenham.
Liverpool 4-3 Tottenham
Liverpool manager Jurgen Klopp angrily goaded the fourth official after Diogo Jota's late winner in the 4-3 win over Tottenham and pulled his hamstring in the process!

INCIDENT: When Diogo Jota broke through and scored to make a pulsating game 4-3 on 94 minutes, Jurgen Klopp ran straight up to fourth official John Brooks in anger, pulling his hamstring in the process.
Klopp revealed after the game that the anger was due to referee Paul Tierney giving a soft foul against Mohamed Salah on Ben Davies in the build-up to Spurs' equaliser for 3-3.
Klopp and Tierney have a long-held feud that dates back to December 2021, when the Liverpool boss told the referee – coincidentally after a match against Tottenham – that he "has no problem with any referees, except you".
FREE TO WATCH: Highlights of Liverpool against Tottenham in the Premier League

DERMOT SAYS: The yellow card was obviously for what Klopp did or said to the fourth official. That was dealt with on the field by Paul Tierney. If they felt it needed to go further it would be a red card.
I would suggest that's closed but I have no extra information.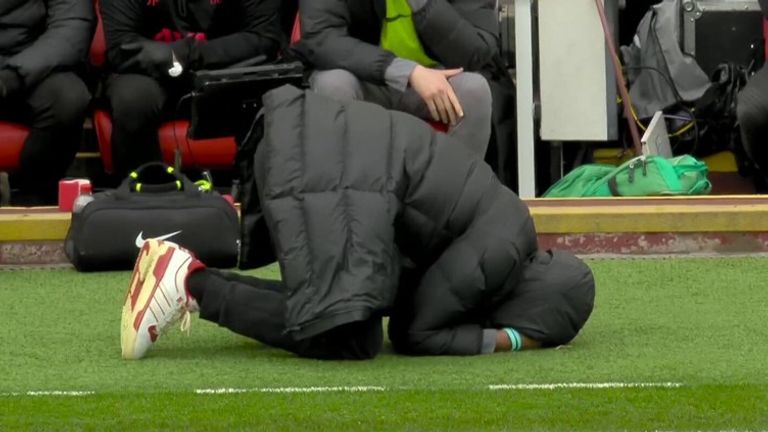 Could Klopp face sanctions for post-match comments?
DERMOT SAYS: It's difficult to answer. It will be reviewed and once that's done it will unfold.
Every referee, myself included, has teams that can look back and say he made a decision against us. It happens, you can't live in the past. You have to move on.
Jurgen Klopp discusses his altercation with referee Paul Tierney and assistant John Brooks, following their 4-3 thriller against Tottenham, with Liverpool taking all three points

Should the referee's audio be released?
DERMOT SAYS: I'm all for transparency. If the audio gets played, it can put it to bed.
Stephen Warnock: Klopp feels something has been said to him but doesn't want to tell us. They're saying the audio is there – give it to us then! Clear this up completely. Stop this confusion about what might have been said, give us the audio, and clarify it. This comes back to being open with decisions and explaining them after games.
Do managers have a responsibility to behave a certain way towards referees?
DERMOT SAYS: I've refereed 15 games this season on local parks and at times I've found it difficult – and I've refereed in the Premier League. I can understand a young referee would.
There's no doubt about it, what people see on television they mimic themselves in local games. You don't want to see anything like that. People have a responsibility.
Should Jota have been sent off?
Dermot Gallagher discusses whether Liverpool's Diogo Jota deserved to be sent off for his high boot against Tottenham

INCIDENT: Referee Tierney booked Jota for catching Spurs midfielder Oliver Skipp in the head with a high boot with Liverpool leading 3-2 heading into the final 10 minutes at Anfield.
Skipp was forced to withdraw from the game after sustaining a large gash to his head but, with VAR intervention not forthcoming, Jota remained on the field and netted Liverpool's dramatic winner 99 seconds after Richarlison looked to have snatched a point for Spurs in stoppage time.
Ryan Mason was left 'baffled' by the decision not to give Diogo Jota a red card for a high boot on Oliver Skipp

DERMOT SAYS: If it had been a red card, Jota couldn't complain. He's face-on, he puts his boot up. I know Skipp puts his head in, the argument is he invades Jota's space but should Jota have his foot that high? Most certainly not. If it was a Champions League game it would be a red card.
What's happened is the referee has felt Skipp had gone into his space so Jota was reckless rather than dangerous.
The Super Sunday panel were unaminous in agreement that Diogo Jota should have been sent off for a high challenge on Tottenham's Oliver Skipp

If you remember the [Sadio] Mane one on Ederson, his boot was up but the feeling was because he could see the goalkeeper so far in front of him and carried on, the speed and intensity made it a red card.
Jota's got very, very lucky. Even if Skipp ducks, it's still shoulder-high. Jota's led with his boot and caught him with his studs in the face. That's dangerous.
Should Skipp have been sent off for tackle on Diaz?
INCIDENT: Skipp goes into a tackle with Luiz Diaz, winning the ball first but following through above the Liverpool winger's ankle. The incident went unpunished.
DERMOT SAYS: "This is most definitely not a red card. It looks really, really bad in slow motion, but Skipp plays the ball. He's come from a short distance, he has no intention other than to play the ball.
"You have to accept because Diaz is coming the other way, there are going to be challenges that look worse.
"The referee didn't give a free-kick either."