Paul Merson: Man City's Champions League final opponents Inter a tougher test than Man Utd | Football News
Man City will be feeling the pressure in the Champions League final. They turned up against Chelsea a couple of years ago and were expected to win. We can go through semi-finals where they've been expected to turn up and win and they haven't – it's a big match, of course they're going to be nervous.
For how good they are and how dominant, how many times are they going to get into this position ever again? The league looks after itself, 38 games, you've got leeway in that but there's only got to be a penalty in the final like they conceded against Manchester United and all of a sudden it's game on.
I always thought this was a harder game than the Man Utd game. Inter have got forwards in Lautaro Martinez and Romelu Lukaku who can hurt you, I didn't see that with United's front three – bar Marcus Rashford. That was the problem.
This is a tough game, and they will be nervous.
If both teams play to the best of their ability, Man City win. But they're humans, and even though they're great we've seen off days with City. Not many, but a few.
'City's team picks itself'
I think the team picks itself now. If you look at it now, it does. That's a big advantage Man City have got now, for all the top players they have got and how he can turn it around, 100 City fans could name the team this weekend – and I personally think 100 of them would be right.
That's a big thing. You look at Chelsea – on the last day of the season if you'd asked 100 Chelsea fans what the team was going to be that day I don't think any of them would've got it right.
He's got a set team here, and whereas before he's juggled it up sometimes, I don't think that's the case now. It'll be the same team as the FA Cup final in the Champions League final, I think, apart from the goalkeeper.
Completing the treble would be huge, massive in this day and age where every team has international footballers. Like I've said before, this would be bigger than the Man Utd one in my opinion – I saw the other day Gary Neville's combined team and only three City players got in. If only three of them get in, that means it's a bigger achievement to manage it.
It would be phenomenal. Every game's hard, we're playing internationals left, right and centre. On top of that, players don't really get breaks any more, they get three or four weeks off and they're back training. It's a lot of hard work they've gone for, and it would be really phenomenal.
As I said, the league looks after itself but in cup competitions, you only need a bad 45 minutes or a poor refereeing decision and that's it.
'I don't know how City would replace Gundogan'
Ilkay Gundogan, Rodri and John Stones were the best three players on the pitch in the FA Cup final by a distance. They were outstanding.
Manchester City's Manuel Akanji and Kevin De Bruyne discuss the influence of captain Ilkay Gundogan after his superb brace in the FA Cup final.

If Gundogan leaves at the end of his contract, I don't know how they replace him. He's a big-game player. A huge-game player. There's not many of those about, who produce at the right times in big games. There's plenty of good footballers, but not many like him.
It's a no-brainer to keep him if they can. I'm sure Pep will want to, it's not one of those where they say 'Oh, we'll let him go', I just don't see how you replace him, I really don't.
I can't think of anyone off the top of my head who can come in and play the way he plays.
Should De Gea have kept out his second goal at Wembley?
It's gone through a few bodies, I'm not a goalkeeper so it's a hard one – you might ask the best goalkeeper in the world and he might say he was unlucky, I don't know.
If I'm a defender and that gets hit and I turn around and it's in the back of the net, you do stand there and think, 'How's that gone in?' but it's a hard one.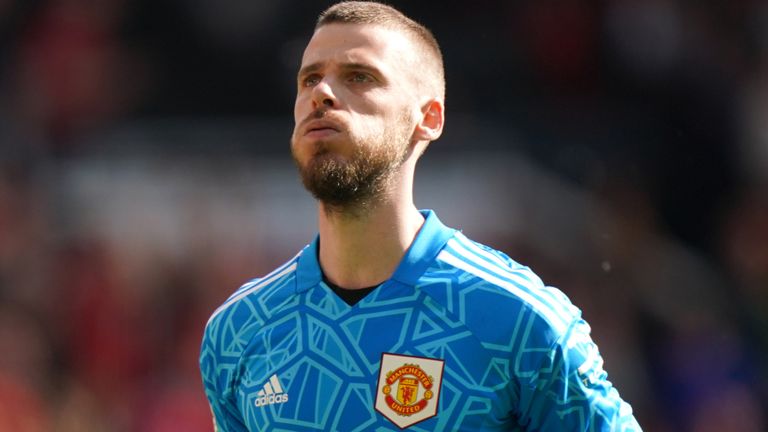 If he dives and it takes a flick and goes the other way everyone would ask what he's diving for. When he scored, I expected him to save it but sometimes the ones where you miskick it go in more often than not. How many times have you seen a forward go through, the ball bobbles three times and goes in the corner? If he hits it well, the keeper probably saves it. That's probably the same as Saturday.
He plays for the biggest club in the world, his wages have been publicised a lot and that's why people judge him in that way.
I've heard millions of people say he's on £375,000 a week… that's not his fault. Good luck to him. More often than not, if you miskick shots they've got more of a chance of going in, believe it or not. Drill it as hard as you can and that probably doesn't go in.