PGA Tour, DP World Tour, LIV Golf merger: How the world of golf reacted to sensational announcement | Golf News
The PGA Tour, DP World Tour and LIV Golf announced on Tuesday they are merging to form "a new collectively owned" entity; the sensational announcement surprised players and pundits alike and has received a mixed reaction from the world of golf and beyond
Last Updated: 06/06/23 11:28pm
The world of golf has been expressing its surprise, shock and feelings of betrayal at the stunning announcement that the PGA Tour, DP World Tour and LIV Golf are to merge to form a new entity.
More than a year of contention and litigation between LIV and the established Tours and the players who joined the new competition ended in the most astonishing and abrupt fashion on Tuesday with the announcement the three bodies had set up a new commercial entity to "unify golf".
One American player, Wesley Bryan, replied to the PGA Tour tweet confirming the merger by writing: "Love finding out info on Twitter. This is amazing. Y'all should be ashamed and have a lot of questions to answer.
"I feel betrayed, and will not be able to trust anyone within the corporate structure of the PGA Tour for a very long time."
The move came as a huge surprise to many professionals, with Canadian Mackenzie Hughes tweeting: "Nothing like finding out through Twitter that we're merging with a tour that we said we'd never do that with."
PGA Tour golfer Michael Kim questioned how many people had known the merger was to happen.
He tweeted: "The hell is going on? Very curious how many people knew this deal was happening. About 5-7 people? Player run organization right?"
But six-time major winner Phil Mickelson, one of the players who joined LIV Golf, described the merger as "awesome news"
And Austria's Bernd Wiesberger, who left the DP World Tour for LIV Golf, said: "Common sense has prevailed!!!"
LIV Golf CEO Greg Norman had been a notable absentee from the press release announcing the merger, and it later transpired he had only been told about it moments before the news was made public.
But late on Tuesday he tweeted: "A great day in global golf for players and fans alike. The journey continues!!"
Not getting in on the social media reaction was Rory McIlroy, who spent the past year vehemently defending the PGA Tour against LIV before going quiet on the topic in recent weeks.
South Korea's Byeong-Hun An, known as Ben An on the PGA Tour, and former winner of the BMW PGA Championship, labelled the merger a "win-win" for the PGA Tour and LIV Golf but a "big lose" for players who had remained loyal to the Tour.
He tweeted: "I'm guessing the LIV teams were struggling to get sponsors and PGA Tour couldn't turn down the money.
"Win-win for both tours but it's a big lose for those who defended the tour for the last two years."
R&A chief executive Martin Slumbers welcomed the news of the agreement, writing in a statement: "We are pleased that an agreement has been reached which will help men's professional golf move forward in a collaborative, constructive and innovative fashion.
"We care deeply about golf's future and are committed to ensuring that the sport continues to thrive for many years to come.
"This agreement represents a huge step toward achieving that goal for golf and we look forward to working with the new entity for the benefit of the sport globally."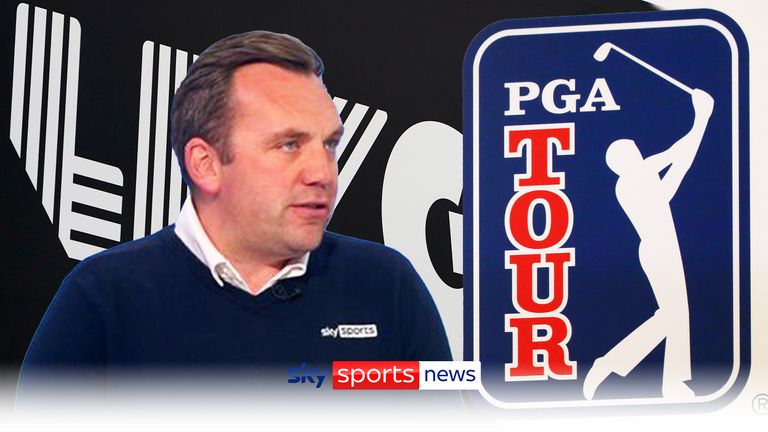 Sky Sports News' Jamie Weir explains the implications of the merger between the PGA Tour, DP World Tour and LIV Golf
Masters chairman Fred Ridley said: "As we have expressed previously, what makes golf special is its rich history and ability to bring people together. We are encouraged by this announcement, which represents a positive development in bringing harmony to men's professional golf.
"Augusta National Golf Club and the Masters Tournament are-and will remain-devoted to developing the game and celebrating its many virtues."
Sky Sports Golf analyst and 2014 European Ryder Cup captain Paul McGinley told Sky Sports News: "Any day that golf is united is a good day.
"The last two years it has not been united. It has been a diluted product for the consumer. There has been a lot of acrimony among the players and the tours.
"It has been very fractious. And the fact it's going to be united again – in whatever form that may be – is obviously a good day."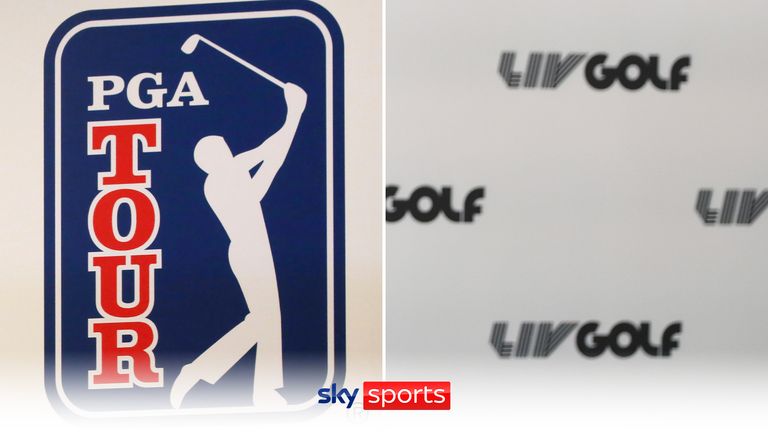 Sky Sports' Andrew Coltart was 'shocked' by the news the PGA Tour, DP World Tour and LIV Golf are to merge to become one unified entity
Sky Sports Golf analyst Rich Beem added: "It's definitely historic news, we'll have to wait to see if it's a positive historic."
The new entity will be powered by Saudi Arabia's financial muscle, with the statement confirming the merger saying that the Middle Eastern country's Public Investment Fund (PIF) would "make a capital investment into the new entity to facilitate its growth and success".
Amnesty International expressed concern at what it saw as a further attempt by Saudi Arabia to launder its human rights record through the vehicle of sport.
"While this may have taken some golf fans and commentators by surprise, it's really just more evidence of the onward march of Saudi sportswashing," Amnesty UK's Felix Jakens said.
"It's been clear for some time that Saudi Arabia was prepared to use vast amounts of money to muscle its way into top-tier golf – just part of a wider effort to become a major sporting power and to try to distract attention from the country's atrocious human rights record."
And the 9/11 Families United organisation – a group of survivors and the families of victims of the September 11 2001 terror attacks – said it was "shocked and deeply offended" by the merger.
"Mr. Monahan (PGA Tour commissioner Jay Monahan) talked last summer about knowing people who lost loved ones on 9/11, then wondered aloud on national television whether LIV Golfers ever had to apologise for being a member of the PGA Tour," the organisation said in a statement.
"They do now – as does he. PGA Tour leaders should be ashamed of their hypocrisy and greed. Our entire 9/11 community has been betrayed by Commissioner Monahan and the PGA as it appears their concern for our loved ones was merely window-dressing in their quest for money – it was never to honour the great game of golf."