Are Jalen Hurts and the Philadelphia Eagles still the NFC's best team ahead of 2023/24 NFL season? | NFL News
The Philadelphia Eagles dominated the NFC last season but lost in the Super Bowl; Quarterback Jalen Hurts had an incredible campaign but finished second to Patrick Mahomes in MVP voting; How far will Philly go in 2023/24?
Last Updated: 30/08/23 11:04am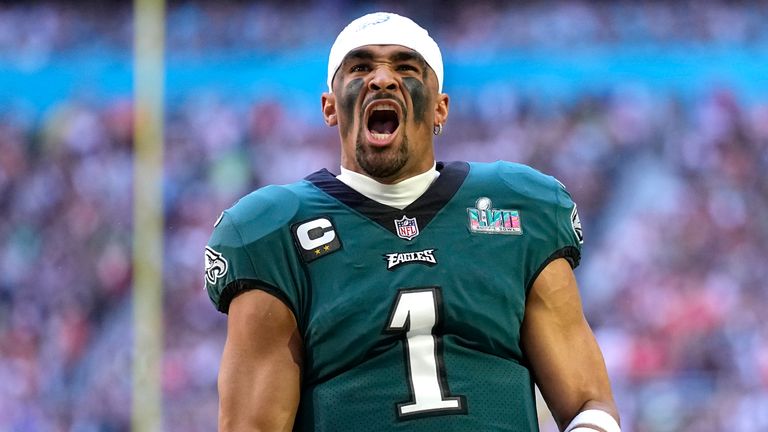 After a promising end to their 2021/22 season, the Philadelphia Eagles attacked the offseason to retool and upgrade, and it led to a tremendous 14-3 campaign in 2022/23.
They obliterated the New York Giants and San Francisco 49ers in the playoffs, but ultimately fell just short at the final hurdle. Superhero Patrick Mahomes and the Kansas City Chiefs topped them 38-35 in Super Bowl LVII.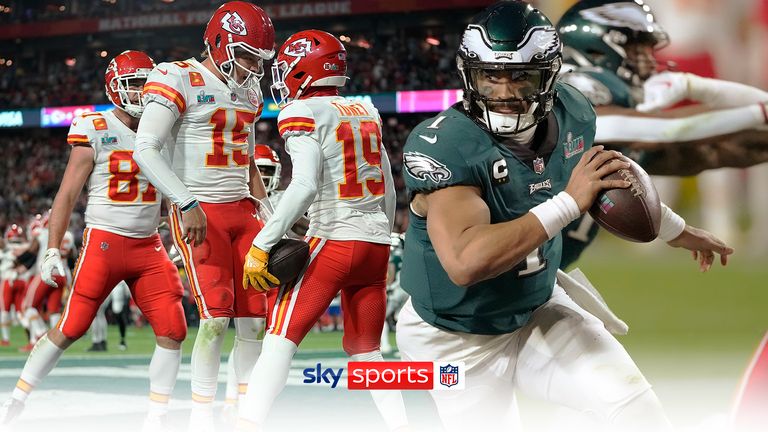 Highlights of the Kansas City Chiefs' thrilling victory against the Philadelphia Eagles in Super Bowl LVII
What now for the birds? Will they remain the NFC's best? Or was last season too good to be repeated?
Big losses
As is the case after any productive and successful season, NFL teams see their top coaches and players picked off by other teams in the coaching carousel and free agency.
However, in a rare case, head coach Nick Sirianni said farewell to both of his coordinators. Offensive coordinator Shane Steichen moved to Indianapolis and will aim to aid the development of new Colts quarterback Anthony Richardson. Defensive coordinator Jonathan Gannon heads to Arizona for a big rebuilding project.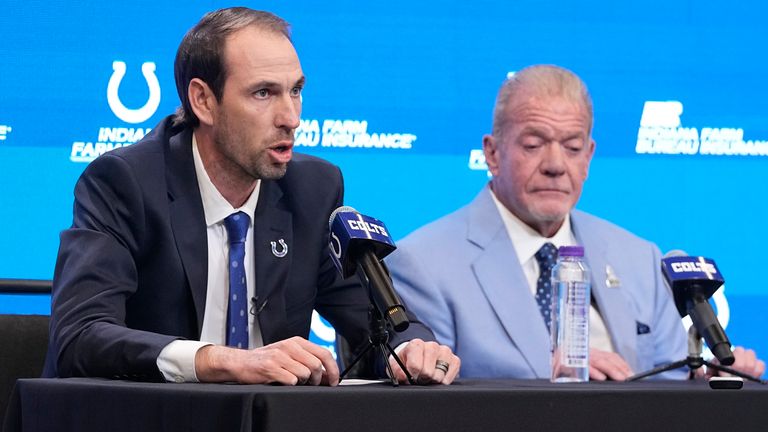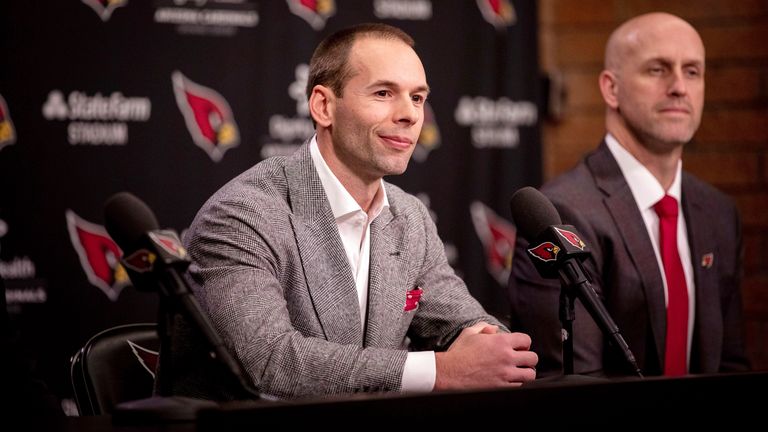 The offensive transition should be seamless, with former quarterbacks coach Brian Johnson looking to continue his work with quarterback Jalen Hurts and maintain a top-five attack.
However, struggles on the defensive side of the ball should be expected. Last season, Philadelphia allowed the second-fewest yards per game in the league and produced an incredible 70 sacks. But after Gannon's late departure to Arizona, the Eagles reportedly missed out on their top coaching targets and settled for Seahawks' defensive assistant Sean Desai.
Defense is also the side of the ball on which the Eagles suffered their biggest player losses this offseason. Outstanding defensive tackle Javon Hargrave departed to NFC rivals San Francisco. Both starting linebackers (TJ Edwards and Kyzir White) left in free agency, and so did both starting safeties (CJ Gardner-Johnson and Marcus Epps) so Desai will be working with a new-look group. How will they compare to last year's outstanding unit?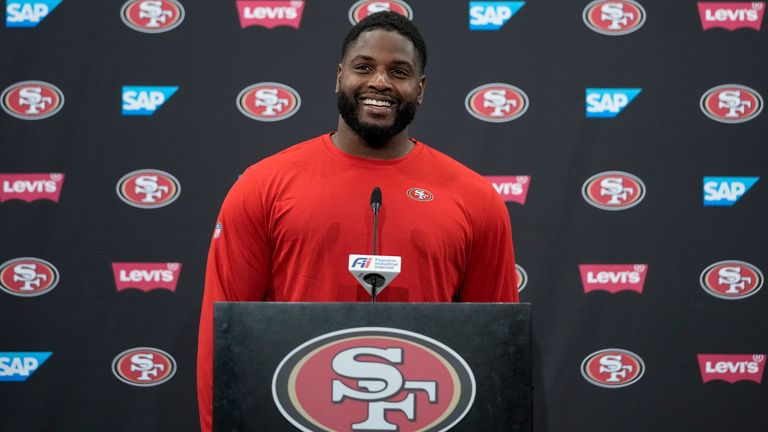 Philadelphia did lose some key contributors on offense (Isaac Seumalo offered high-level, consistent guard play and running back Miles Sanders had his most productive season in 2022) but the attack looks more locked and loaded than the D.
Key returners
With Jason Kelce, Brandon Graham and Fletcher Cox signing one-year deals to return to Philadelphia, the Eagles have managed to retain their core leaders. Of course, there was no question of him leaving, but Hurts receiving a five-year, $255m deal (which made him the highest paid player in the league at the time) means there is plenty of stability in important areas of the roster.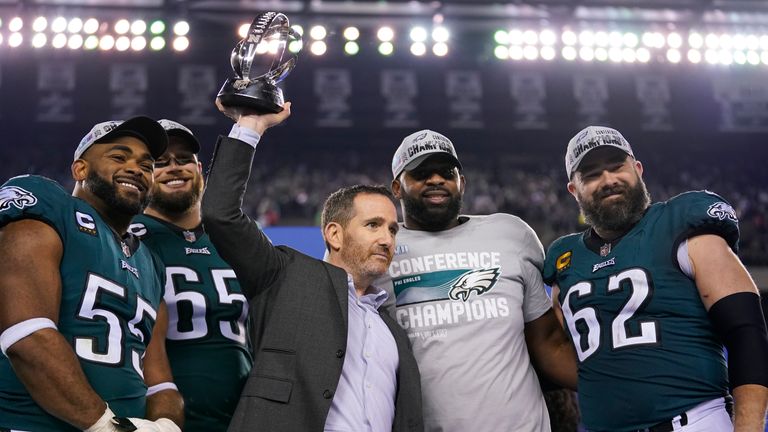 Four of the five starting offensive linemen from last season will start again this year, and Seumalo's replacement at right guard is last year's second-round pick Cam Jurgens, who has a year of learning from legendary O-line coach Jeff Stoutland under his belt.
Hurts and his top three receivers – AJ Brown, DeVonta Smith, and tight end Dallas Goedert – return to an attack that should again be one of the league's best.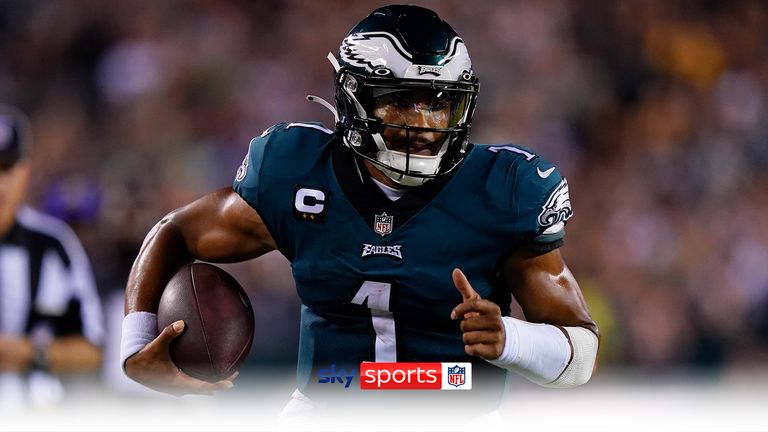 Watch some of Jalen Hurts' best plays from his superb 2022 season
The defense is relying on a youth movement and some development. The Eagles crucially locked up cornerback James Bradberry to a new three-year deal and still boast Pro Bowl talents Haason Reddick and Darius Slay, but are relying a lot on second-year Georgia Bulldogs Jordan Davis and Nakobe Dean, who step into starting defensive tackle and linebacker roles, respectively.
An eclectic mix of additions
As has been the model in recent seasons, the Eagles aim to 'buy low' on talented veterans and see who hits, then work their magic in trades to make the most of their draft picks.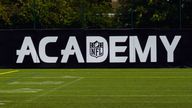 Inside the NFL Academy: 'The world will know'
"The world will know" – Sky Sports NFL goes behind-the-scenes with the NFL Academy as the UK's landmark programme seeks to chisel college and NFL stars of the future.
In free agency, they filled holes in some lacking areas – Rashaad Penny (RB) and Terrell Edmunds (S) will see playing time – but made no 'splash' signings.
However in April's NFL Draft, general manager Howie Roseman made his mark. They went into the weekend with a pair of first-round picks and turned them into two more Georgia college stars in DT Jalen Carter and edge rusher Nolan Smith. In the third round, they selected safety Sydney Brown, who made a splash in preseason and is expected to ascend the depth chart quickly.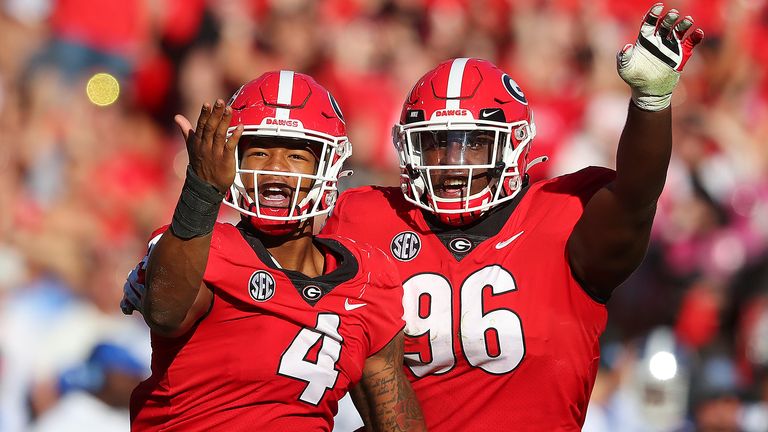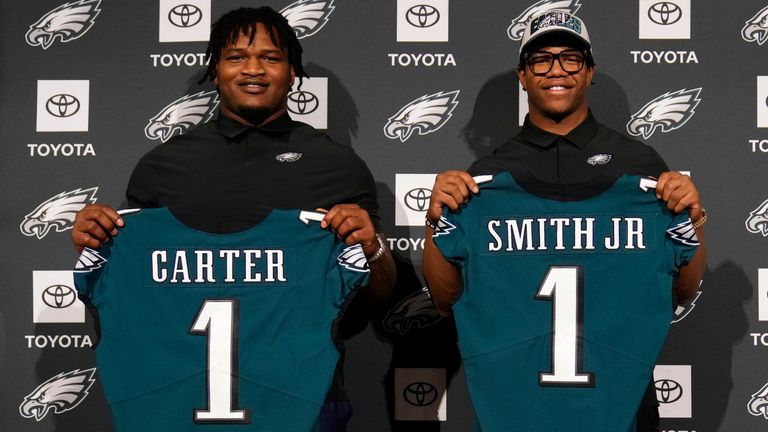 But perhaps the most exciting addition – especially for fantasy football fans – is running back D'Andre Swift, who the Eagles acquired for a 2025 fourth-round pick and a 2023 seventh-round pick swap.
Despite three injury-riddled seasons in Detroit, Swift has proven to be an explosive runner and a fantastic receiver out of the backfield. Expect him to boom in Philly.
How do the Eagles stack up in the NFC?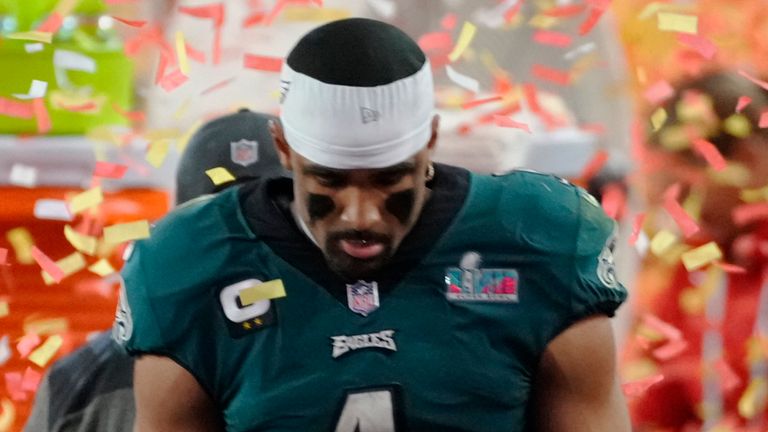 Regardless of how well the Eagles do play, they will have to contend with some tough teams to top the conference again. Their closest rivals, the Dallas Cowboys, will be back and strong again after a 12-5 record last year.
The San Francisco 49ers, who the Eagles toppled 31-7 in Philadelphia in the NFC Championship game, stole one of Philly's best players in Hargrave and will no doubt be in the mix again in 2023.
However, unlike the AFC where quarterbacks rule, the rest of the NFC is more wide-open. Minnesota and Seattle should hypothetically return to the postseason behind Kirk Cousins and Geno Smith, but are they sure things? Will the Giants continue to improve in their second season under Brian Daboll?
Past the obvious, it appears to be a mystery. Can Detroit build on their late-season surge? Will the Saints or the Rams return to their previous heights? How far will Justin Fields take Chicago in his second year at the helm?
Expectations in Philadelphia will be high once again.