Japanese GP: Max Verstappen wins at Suzuka to crown Red Bull F1 2023 constructors' champions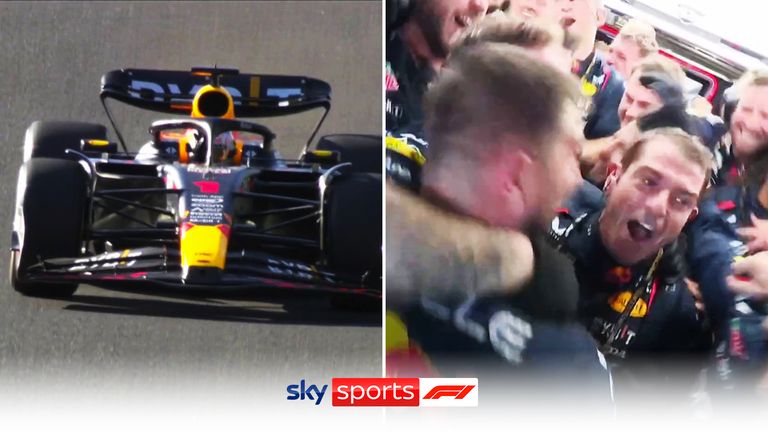 Max Verstappen dominates the Japanese Grand Prix to secure Red Bull the 2023 constructors' championship

Max Verstappen dominates the Japanese Grand Prix to secure Red Bull the 2023 constructors' championship
Max Verstappen claimed a dominant victory in an otherwise action-packed Japanese GP as Red Bull were crowned constructors' champions for a sixth time.
After narrowly holding onto the lead ahead of Lando Norris at the first corner, pole-sitter Verstappen eased to victory by 19 seconds.
Verstappen's 26 points mean that Red Bull can no longer be caught by Mercedes and Ferrari and are the first team to wrap up the Constructors' Championship with six races remaining.
Norris finished second ahead of McLaren team-mate Oscar Piastri, who secured his first podium finish in Formula 1.
Charles Leclerc was fourth for Ferrari for the third consecutive race ahead of Lewis Hamilton, who twice battled wheel to wheel with Mercedes team-mate George Russell and did a brave overtake on old rival Fernando Alonso at 130R.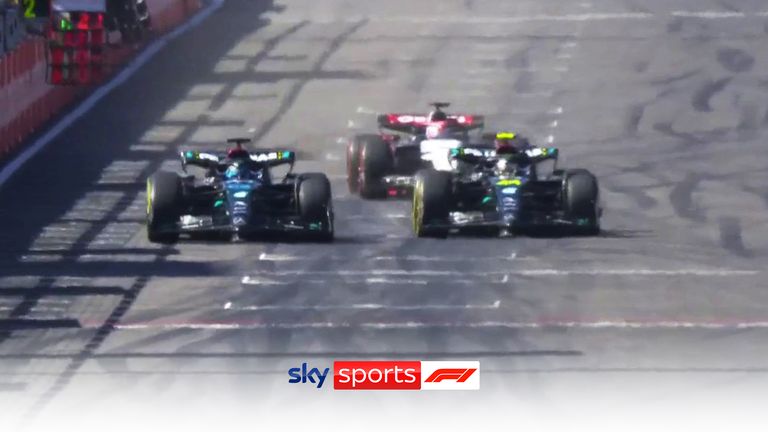 Mercedes drivers Lewis Hamilton and George Russell nearly collide as they battle it out for seventh at Suzuka
Carlos Sainz was sixth in the other Ferrari ahead of Russell, who had to settle for seventh having attempted to make a one-stop strategy work but slipped back in the closing stages.
Alonso was eighth for Aston Martin while Alpine secured a double points finish with Pierre Gasly ninth and Esteban Ocon 10th.
While Verstappen single-handedly delivered Red Bull their world title, it was a miserable afternoon for team-mate Sergio Perez who twice had to pit for new front wings after contact with Hamilton and Kevin Magnussen and then twice retired from the race.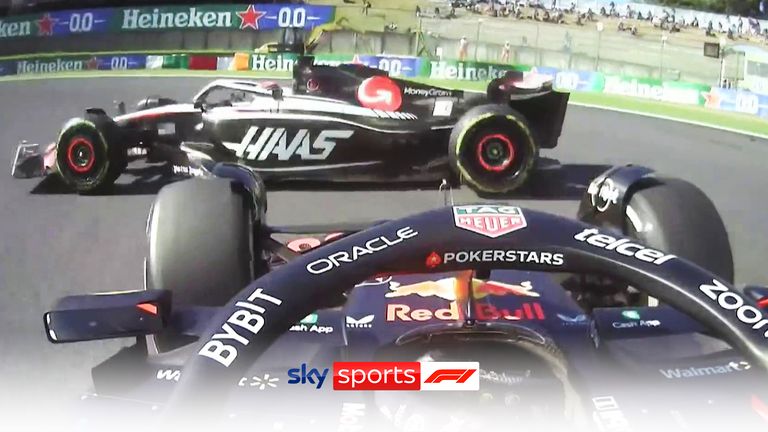 Sergio Perez tries to pass Kevin Magnussen but locks up and sends him spinning at Suzuka
Perez's failure to score points means Verstappen now holds a 177-point lead at the top of the Drivers' Championship and could be crowned world champion in the Sprint race at the Qatar GP next time out.
Japanese GP result
1) Max Verstappen, Red Bull
2) Lando Norris, McLaren
3) Oscar Piastri, McLaren
4) Charles Leclerc, Ferrari
5) Lewis Hamilton, Mercedes
6) Carlos Sainz, Ferrari
7) George Russell, Mercedes
8) Fernando Alonso, Aston Martin
9) Pierre Gasly, Alpine
10) Esteban Ocon, Alpine
How Verstappen ensured Red Bull wrapped up long-expected title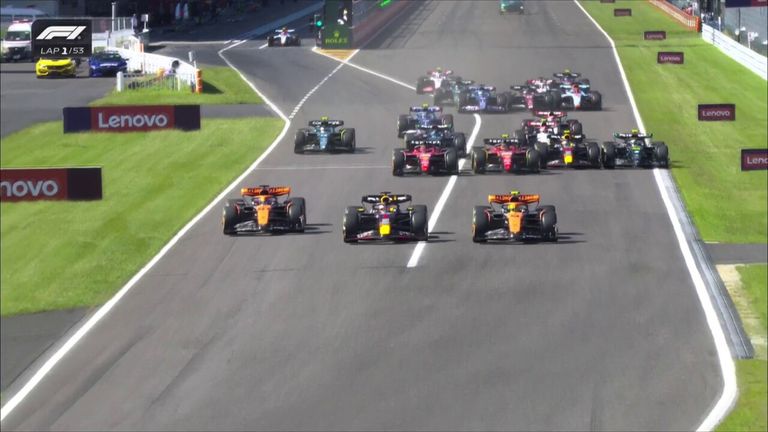 Max Verstappen uses his experience at Suzuka to elbow out both McLaren's on the opening lap of the Japanese Grand Prix
At lights out pole-sitter Verstappen immediately moved across to cover Piastri but that created an opening to give Norris a glimpse of the lead from third but Verstappen just had enough grip to hold onto the lead through Turns 1 and 2.
After acing an early Safety Car restart, Verstappen was never threatened as he cruised out front to win comfortably by nearly 20 seconds.
While Piastri had at one point reclaimed second place by being able to pit under a Virtual Safety Car, McLaren told him to let Norris by to see off any threat of the one-stopping Russell.
It has long looked a formality that Red Bull would be back-to-back world champions with the RB19 in a class of its own throughout the season.
Verstappen's win at Suzuka was the 15th by the team this year, with last week's race in Singapore the only blemish on the otherwise unbeaten record in 2023.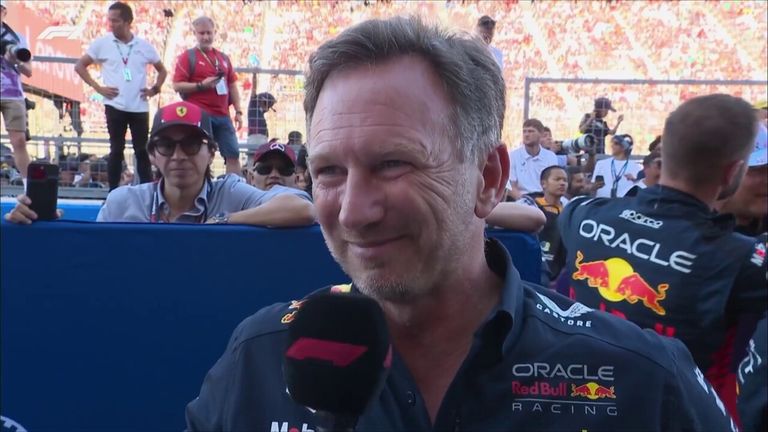 Red Bull team principal Christian Horner reflects on another record breaking day as Max Verstappen wins the Japanese Grand Prix to give Red Bull the 2023 Constructors' Championship
The 2023 season has seen Red Bull surpass McLaren's 1988 record for most consecutive wins – setting new benchmarks of 14 straight wins within a season and 15 consecutive victories overall.
With six races remaining, Red Bull will now be looking to surpass Mercedes' record for most wins in a single season which stands at 19 from 2016.
Verstappen meanwhile will have his first opportunity to wrap up his third consecutive world championship at the Qatar GP, with the Sprint weekend next up from October 6-8.
Perez's travails means Verstappen could be crowned champion on the Saturday of that weekend. His contact with Hamilton had been a cause of the opening lap Safety Car and after further damage when making a desperate overtake attempt on Magnussen, the Mexican first retired on lap 15.
He re-emerged briefly on lap 39 in order for Red Bull to let him serve his five-second penalty for the Magnussen collision, before exiting the race again on lap 42.
Hamilton offers thrills as Russell left unhappy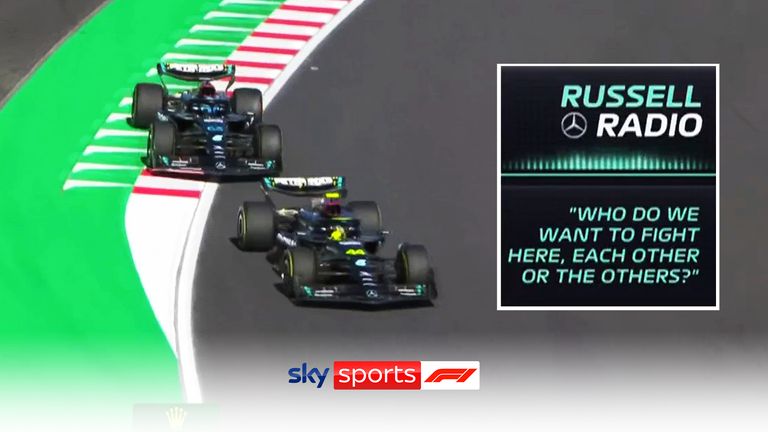 Lewis Hamilton and George Russell battle it out for the second time in the race going into turn 11 at Suzuka
Perez and Hamilton had touched while going four-wide with the two Ferraris into the first corner, while Alex Albon's Williams was sent briefly airborne by an Alfa Romeo at the start.
On the first full lap of racing, Russell got past team-mate Hamilton at the final chicane to take seventh place but back came the seven-time world champion and despite losing parts of his car after the earlier damage, Hamilton reclaimed the position at Turn One as the two Mercedes nearly touched.
On lap 16, the Mercedes pair duelled again after Hamilton went wide at Degner Two allowing Russell to close back up to him.
They were alongside each other through Spoon corner and nearly touched wheels again as both ran wide but Hamilton held on, prompting Russell to ask "are we fighting each other or the others?".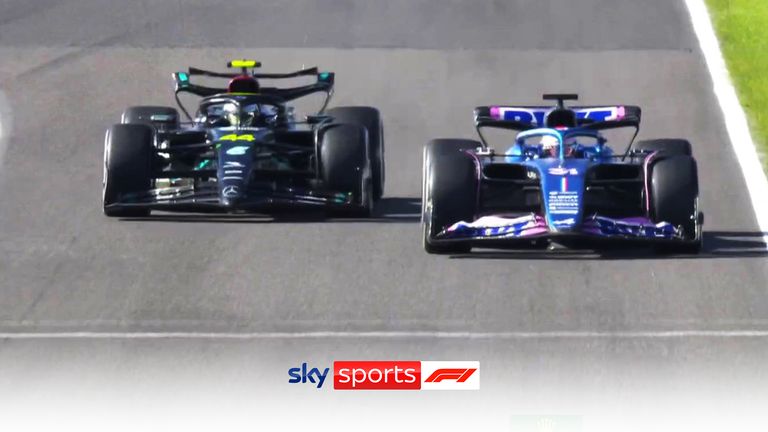 Lewis Hamilton overtakes Fernando Alonso and Esteban Ocon in the space of 1km at Suzuka
While Russell opted for 'Plan B' of a one-stop, Hamilton soon pitted and then produced a brave overtake on Alonso at 130R before swooping past Ocon's Alpine at Turn One as he made his way forwards again.
Russell's strategy saw him holding onto fourth with eight laps remaining, but Leclerc pulled off a brave move around the outside of Turn 2 before Mercedes asked the Brit to move aside for team-mate Hamilton.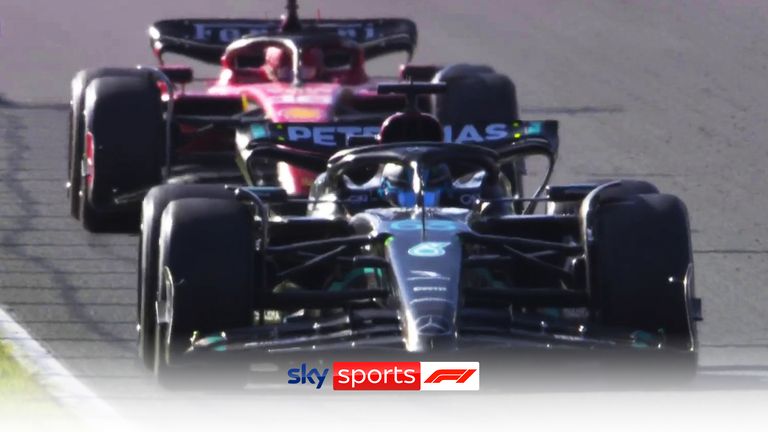 Charles Leclerc brilliantly passes George Russell for P4 at Suzuka
Russell wanted to wait until the final lap, but duly let Hamilton through at Turn One with four laps to go before complaining his team-mate was not helping him defend against Sainz. "If you want to play the team game…he pushed me off the track earlier," Russell said on the radio.
Sainz duly overtook Russell a lap later but ran out of time to take fifth off Hamilton.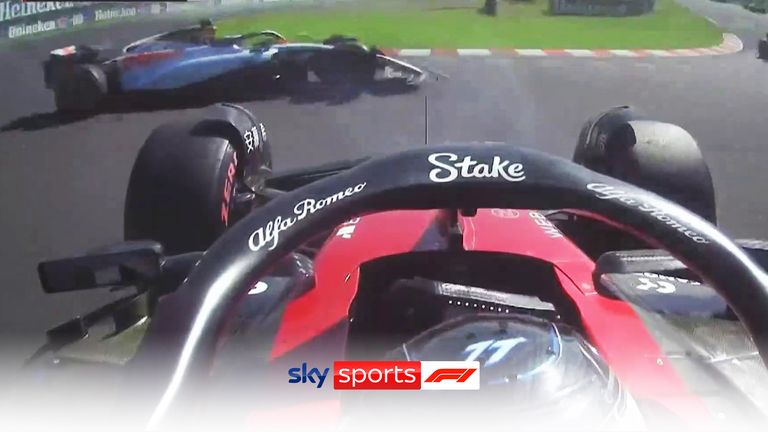 Logan Sargeant sends Valtteri Bottas off track at Suzuka after locking up
What's next?
After a two-week break, Formula 1 returns to the Losail Circuit for the second-ever Qatar Grand Prix from October 6-8.
The Sprint weekend offers Max Verstappen his first chance to wrap up the Drivers' Championship and become a three-time world champion.
The Dutchman requires an advantage of at least 146 points to be crowned champion in Qatar.
Will Max Verstappen wrap up his third world championship at the first attempt at the Qatar GP? Watch every session of the Sprint weekend live on Sky Sports F1 from October 6-8. Stream F1 on Sky Sports with NOW. Cancel anytime