Jenson Button: Former F1 world champion says he would be 'more fearful' against Max Verstappen compared to Lewis Hamilton
Lewis Hamilton believes he's had stronger team-mates than Max Verstappen and says he is "no more impressed" by the Red Bull driver compared to Formula 1's previous world champions; watch all sessions from the Singapore GP live on Sky Sports F1 from September 15-17
Last Updated: 08/09/23 6:24pm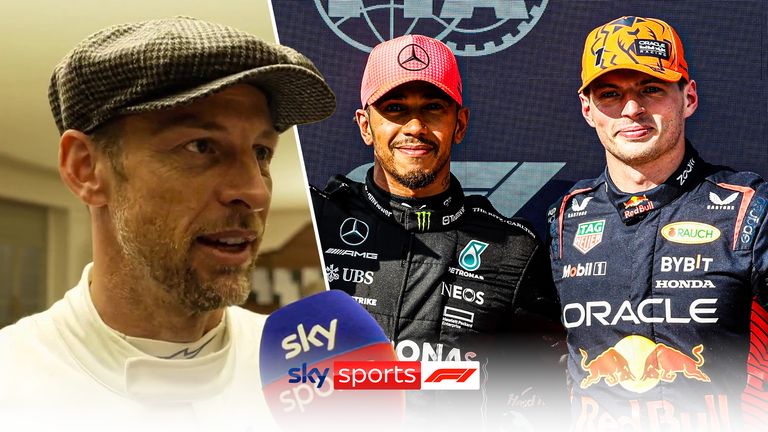 Jenson Button gives his thoughts on Lewis Hamilton's latest comments on Max Verstappen's driving partners, as well as looking at the future for Lando Norris.

Jenson Button gives his thoughts on Lewis Hamilton's latest comments on Max Verstappen's driving partners, as well as looking at the future for Lando Norris.
Jenson Button has revealed he would be "more fearful" against Max Verstappen rather than Lewis Hamilton.
Button was named when Hamilton told Sky Italy that all of his team-mates have been stronger than Verstappen's during their respective Formula 1 careers.
Hamilton and Button were team-mates together from 2010 to 2012 at McLaren and the latter outscored his team-mate over the three seasons.
"I think Lewis has had some very tough team-mates. But, for me, I would be more fearful going up against Max in the same car," Button told Sky Sports News.
"I think it is because the car is designed around his style, or he can drive a car that Adrian Newey gives him. Adrian Newey gives him a car that says 'this is the quickest car in the world. If you take away front downforce, it will go slower but be easier to drive'.
"And Max is like 'right, I have to drive how you made this car and I need to drive it as good as I can'. I think he's very good at that and I think a lot of drivers struggle to compete with that.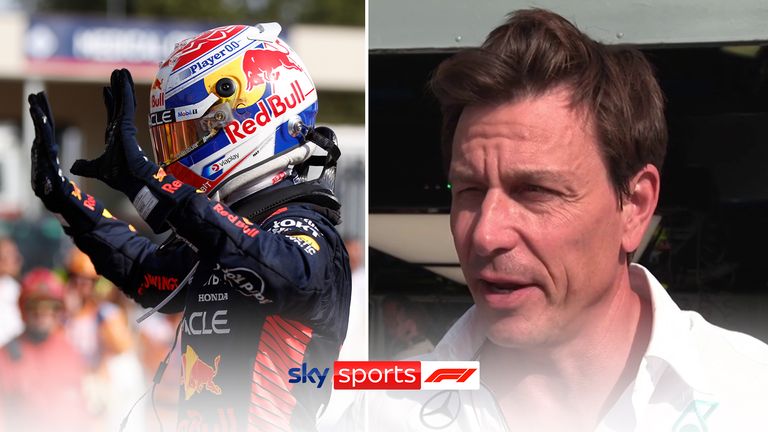 Mercedes team principal Toto Wolff questions whether Max Verstappen would hold any importance to setting a new record of 10 consecutive Grand Prix wins.
"They are all unbelievable drivers – the best in the world. And some of the best we have ever seen in F1. I wish there was more competition at the front between Max, Lewis and Fernando. Those are the three that stand out for me.
"But it's not the way in F1. It's a technology race and Red Bull, fair play to them, they are doing a better job right now."
Lewis Hamilton and Max Verstappen team-mates in F1
| | |
| --- | --- |
| Lewis Hamilton | Max Verstappen |
| Fernando Alonso (2007) | Carlos Sainz (2015-16) |
| Heikki Kovalainen (2008-2009) | Daniel Ricciardo (2016-2018) |
| Jenson Button (2010-2012) | Pierre Gasly (2019) |
| Nico Rosberg (2013-2016) | Alex Albon (2019-2020) |
| Valtteri Bottas (2017-2021) | Sergio Perez (2021-present) |
| George Russell (2022-present) | |
Button: Norris may have to look elsewhere
A future team-mate of Verstappen could be Lando Norris, as the British driver has previously held talks with Red Bull to join the team.
Verstappen, who is looking for a record-extending 11th straight Grand Prix win this weekend in Singapore, has also stated the pair have "talked" about being team-mates.
Norris' contract at McLaren expires at the end of 2025 and Button thinks the 23-year-old needs to consider his options.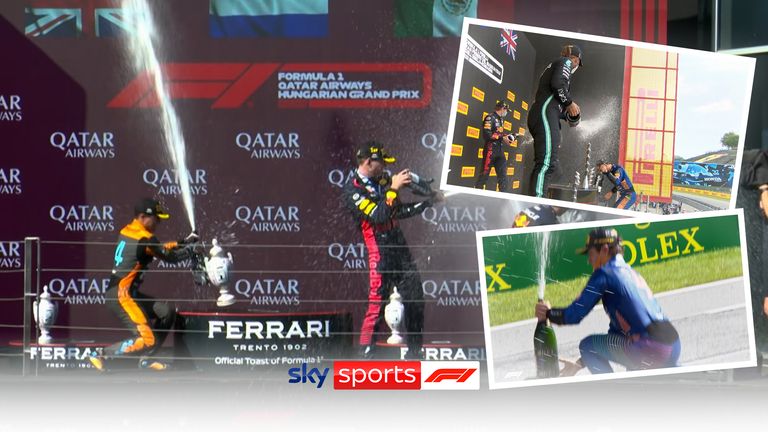 After Lando Norris broke Max Verstappen's trophy at the Hungarian GP, take a look back at his previous bottle-slamming celebrations on the podium.
"The issue is you have to beat the best to be world champion. When I left Brawn, I was like 'I have to go to McLaren because I need to race against Lewis Hamilton', who was regarded as the best," said Button.
"I think that's what he has to decide what he has to do. If he's clever, he will decide on a car that suits his style. I think we have seen from a lot of drivers the Red Bull doesn't suit many drivers apart from Max, so it's not an easy decision for him.
"He's not a guy that can win right now and probably won't next year either. So, he's got to be looking elsewhere for 2025, or he puts his trust in McLaren. They won races, they won championships and it can come back around.
"As long as he can see the future and think that they are in a good place as a team and it gives him confidence, stay there. If not, go and fight Max Verstappen in his own team."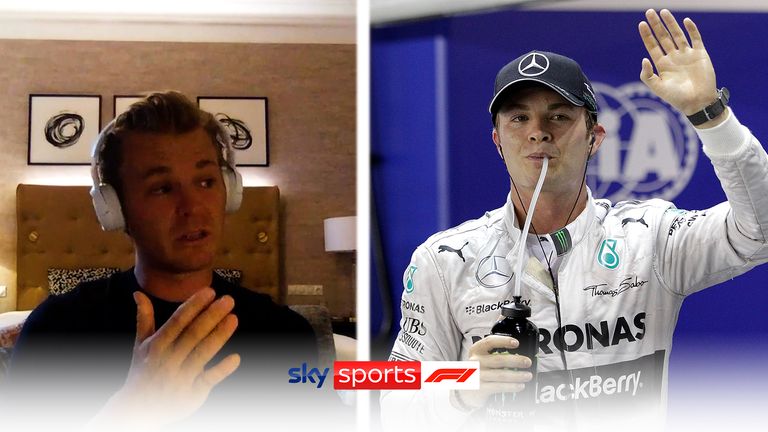 Speaking on the Sky Sports F1 Podcast, Nico Rosberg reveals the extreme physical challenge drivers face during a race weekend in Singapore.
Sky Sports F1's live Singapore GP schedule
Friday 15 September
10am: Singapore GP Practice One (session starts at 10.30pm)
1.45pm: Singapore GP Practice Two (session starts at 2pm)
3.30pm: The F1 Show
Saturday 16 September
10.15am: Singapore GP Practice Three (session starts at 10.30am)
1pm: Singapore GP Qualifying build-up
2pm: Singapore GP Qualifying
3.45pm: Ted's Qualifying Notebook
Sunday 17 September
11.30pm: Grand Prix Sunday: Singapore GP build-up
1pm: THE SINGAPORE GRAND PRIX
3pm: Chequered Flag: Singapore GP reaction
4pm: Ted's Notebook
Next up for the F1 circus are the stunning streets of Singapore under the lights. All sessions from the Singapore GP will be live on Sky Sports F1 from September 15-17. Stream F1 on Sky Sports with NOW. Cancel anytime