Jon Wilkin: Women of Steel shortlist promises 'memorable' Grand Final | Rugby League News
Emily Rudge, Jodie Cunningham, Keara Bennett, Shona Hoyle, Sinead Peach, and Tara-Jane Stanley are up for the 2023 Woman of Steel award; all six nominees are in action as the Betfred Women's Super League Play-Offs begin this Saturday live on Sky Sports Arena from 3.30pm
Last Updated: 20/09/23 11:49pm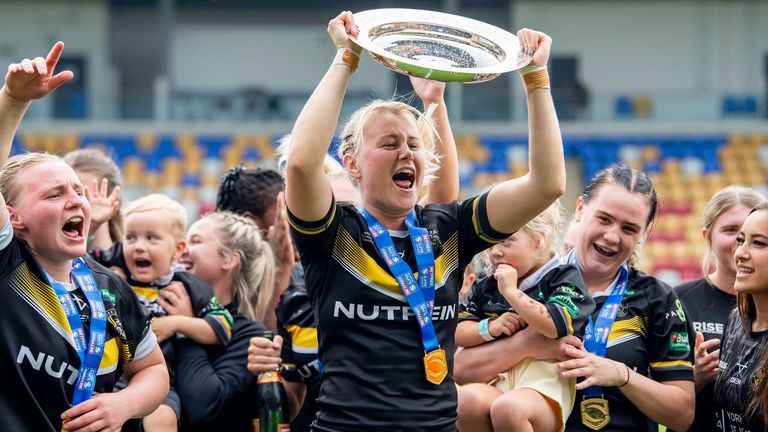 Sky Sports pundit Jon Wilkin believes the level of talent on show in the Betfred Women's Super League this season means an epic Grand Final could lie in wait.
A sparkling shortlist of six players was announced for the 2023 Woman of Steel award on Wednesday and Wilkin believes the gifted list of nominees demonstrate how a stunning season could be set for a thrilling climax.
Award candidates Emily Rudge, Jodie Cunningham, Keara Bennett, Shona Hoyle, Sinead Peach and Tara-Jane Stanley are all in action this Saturday as the Betfred Women's Super League Play-Offs take place live on Sky Sports ahead of the Grand Final on October 8.
Stanley, the reigning Woman of Steel who plays for League Leaders' Shield winners York Valkyrie, is nominated alongside club skipper Peach – and the pair will look to fell Wigan Warriors in the first of the semi-finals this weekend.
St Helens captain Cunningham has also been nominated for the award for a second time after her win in 2021, alongside team-mates Rudge and Hoyle, and they will face a Leeds Rhinos side boasting talented hooker Bennett in a rematch of the Challenge Cup Final earlier this season.
2023 Woman of Steel shortlist
| | |
| --- | --- |
| Emily Rudge | St Helens |
| Jodie Cunningham | St Helens |
| Shona Hoyle | St Helens |
| Keara Bennett | Leeds Rhinos |
| Sinead Peach | York Valkyrie |
| Tara-Jane Stanley | York Valkyrie |
For Wilkin, the level of talent on show in the women's game this year has been exceptional, and he's excited to see the very best in the game lock horns this weekend.
He's also buzzing about to see the tangible competitive edge building between Leeds and St Helens with every passing meeting.
"They're developing an amazing rivalry, those two clubs and if you look at the Woman of Steel shortlist, the nominees, obviously, St. Helens have got three on there and then obviously Keara Bennett's on there. I think these two clubs, along with York, have just set the standard and the benchmark for Women's Super League. It's an incredibly tight game.
"It's so tight and you know, you look at the names on that list," he continued. "Shona Hoyle has been exceptional, Jodie Cunningham. Emily Rudge, they've been really consistent, but maybe Keara Bennett and Leeds will be aggrieved that there's maybe not a few more Leeds Rhinos names on there.
"It's set now for what is going to be an incredible weekend of games covered on Sky Sports on Saturday, and it just builds in beautifully to what could be, I think – off the back of a Challenge Cup final at Wembley in an unbelievable season for the women's competition and the men's competition – it could set up what will be just a memorable Grand Final."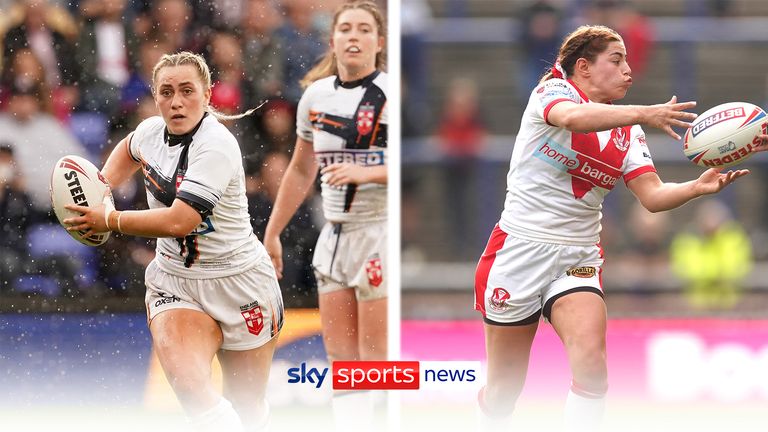 Tara Jane Stanley is one of the nominees for the 2023 Woman Of Steel and says York team-mate Sinead Peach fully deserves to make the shortlist as well.
Wilkin also reserved special praise for Valkyrie star Stanley, a player he insists livens up any clash she's involved in.
"She drifts around in an unstructured way and creates chaos," added Wilkin. "And then I think we've seen the evolution of Tara this year is she's fallen into some structure and some shape as well.
"For me, she's one of the most exciting players to watch. She's unpredictable. I think she's the best kicker of the ball in the women's game and whenever the ball is near her, things tend to happen and that's why she's rightly on a shortlist with some of the great names.
"For me, when I'm watching Women's Super League, Tara sets the benchmark and in terms of entertainments, variety of play, speed, athleticism – but then also can set other people up around her with space and opportunities. She's been an exceptional talent for a number of years, but this year has been as good as any."
Betfred Women's Super League Play-Offs
Group 1:
York Valkyrie (1st) vs Wigan Warriors (4th) from the LNER Community Stadium, on Saturday September 23, live on Sky Sports with kick-off at 3.30pm
St Helens (2nd) vs Leeds Rhinos (3rd) from the Totally Wicked Stadium, later that evening with a 6pm kick-off, also live on Sky Sports.
Group 2:
Barrow Raiders vs Bradford Bulls and Leigh Leopards vs Salford Red Devils (on weekend of September 23-24 – exact dates and venues TBC).
Betfred Women's Super League Grand Final:
Watch the showpiece live from 3pm and the Promotion Play-Off Final beforehand from 12pm, on October 8, live on Sky Sports.
Watch the conclusion of the 2023 Betfred Super League season, including the play-offs and Grand Final, live on Sky Sports. Also stream on NOW.