Max Verstappen: How Red Bull driver made history with unprecedented streak as he closes in on third world title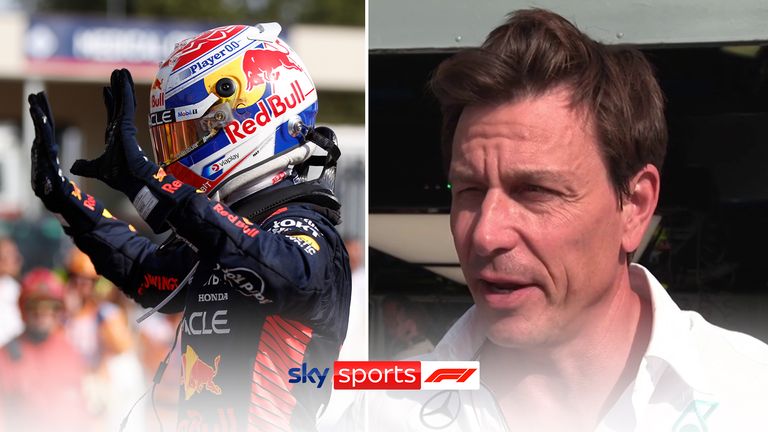 Mercedes team principal Toto Wolff questions whether Max Verstappen would hold any importance to setting a new record of ten consecutive Grand Prix wins

Mercedes team principal Toto Wolff questions whether Max Verstappen would hold any importance to setting a new record of ten consecutive Grand Prix wins
Max Verstappen moved into unchartered territory with victory at the Italian Grand Prix on Sunday as he became the first Formula 1 driver to win 10 consecutive races.
Verstappen has won every race since the Miami Grand Prix on May 7 and is set to join only Juan Manuel Fangio, Michael Schumacher, Sebastian Vettel and Lewis Hamilton as drivers who have won a hat-trick of championships.
The Dutchman surpassed Vettel's benchmark of nine straight victories set in 2013, also with Red Bull, and is looking simply unstoppable as F1 embarks on the flyaway events.
Miami Grand Prix: The streak begins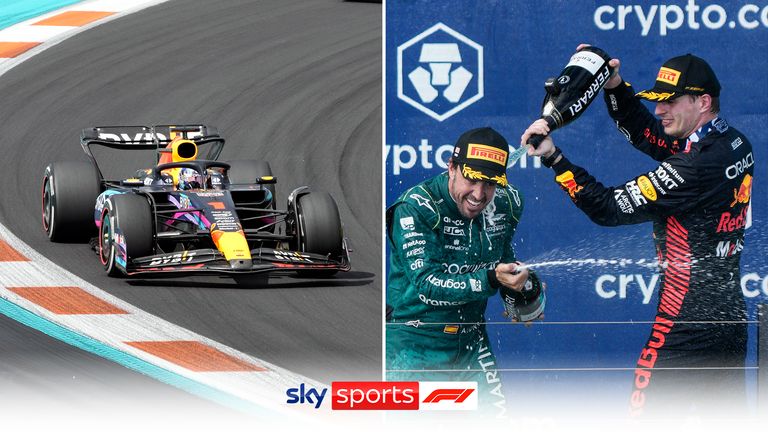 Watch all of Verstappen's overtakes at the Miami GP as he went from ninth to first place
Starting from ninth, with Sergio Perez starting on pole position and looking to make it back-to-back wins, Verstappen was not expected to be standing on the top step of the podium in Miami.
But Verstappen picked cars off one by one and stayed out of trouble, despite having to go off line to make some moves. He was in second place by Lap 16 and impressively matched Perez's lap times after the Mexican pitted for new rubber and Verstappen was on used tyres he started the race with.
Verstappen pitted at the end of Lap 45 and came out just a few seconds behind his Red Bull team-mate. Two laps later, he was in the lead at the exit of Turn 1 and claimed a brilliant win.
Perez thought he wouldn't see Verstappen in this race but, looking back, this was surely a mental blow for him and marked the start of an incredible streak…
Monaco Grand Prix: Bravery with the barriers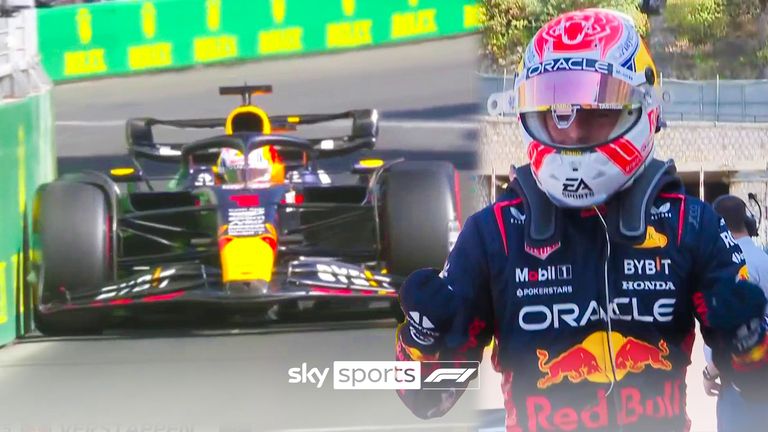 Verstappen steals pole position from Fernando Alonso with a stunning final sector in a thrilling final qualifying session at the Monaco Grand Prix
This was a race Verstappen could have lost and we have to first talk about Qualifying. Fernando Alonso was on provisional pole after his second Q3 effort and Verstappen found himself two tenths down on the Aston Martin driver after two sectors.
Knowing he had time to make up, Verstappen simply went for it and brushed the barriers at the Swimming Pool Chicane and the final corner to snatch pole by 0.084s.
In the race, it was looking like a simple win until rain came in the middle of the race. Several drivers went off and Verstappen had a moment himself when he nudged the wall at Portier but got away with it.
Alonso, in second, had an opportunity to take advantage of the wet weather if Aston Martin got their strategy spot on, but they lost their chance when pitting twice in two laps for new slicks and new intermediates.
Spanish Grand Prix: A perfect weekend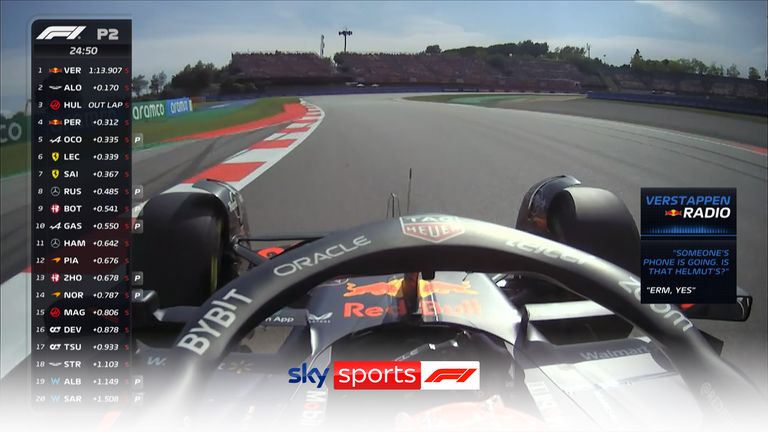 Red Bull's Verstappen joked with his engineer over team radio after hearing a phone ring during second practice!
Is their such a thing as perfection? Well, Verstappen notched up a rare Grand Slam with pole position, fastest lap of the race and led every lap on his way to victory at the Spanish Grand Prix.
He took pole by nearly half a second from Carlos Sainz and won the race by 24 seconds from Lewis Hamilton. To rub salt into the wounds, Verstappen was told to take no risks by not going for fastest lap, but he couldn't help himself and set a stunning lap with six laps to go.
Don't forget, earlier in the weekend, Verstappen recognised the phone of Helmut Marko when speaking to his race engineer from within the car.
Even though it was just a practice session, Christian Horner believes it showed the "added bandwidth" of the reigning world champion.
Canadian Grand Prix: Giving Red Bull their 100th win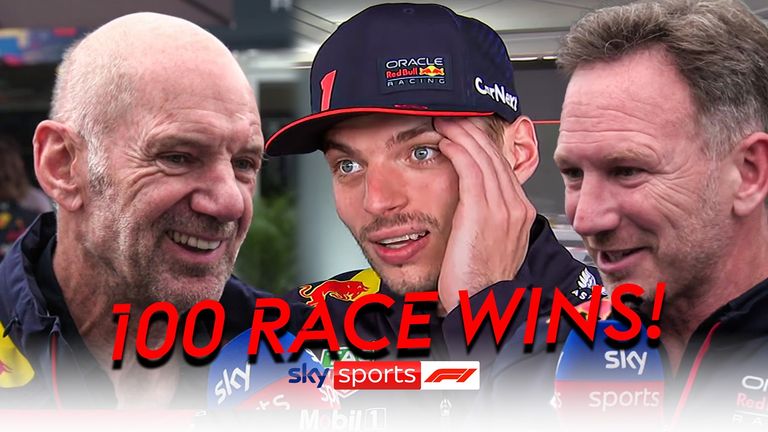 Verstappen, team principal Christian Horner and chief technical officer Adrian Newey all hailed Red Bull's 100th victory at the Canadian Grand Prix
Just like 2022, Verstappen was the class of the field in a wet Qualifying by taking pole by over a second with a stunning lap.
Come Sunday, although Red Bull were not as dominant compared to previous races, Verstappen held off anything Hamilton and Alonso had and gave Red Bull their 100th win in F1.
The stiffest challenge would once again be himself, with Verstappen saying he "nearly knocked himself out" with a rough ride over the kerbs with just five laps remaining. He also matched Ayrton Senna in 41 race wins – the joint-fifth most victories in the sport at the time.
"To win the 100th GP for the team is pretty incredible. It's amazing. I never expected to be on these kind of numbers myself as well. We keep enjoying it and keep working hard. Today has been a great day again," said Verstappen.
Austrian Grand Prix: Racing instincts kick in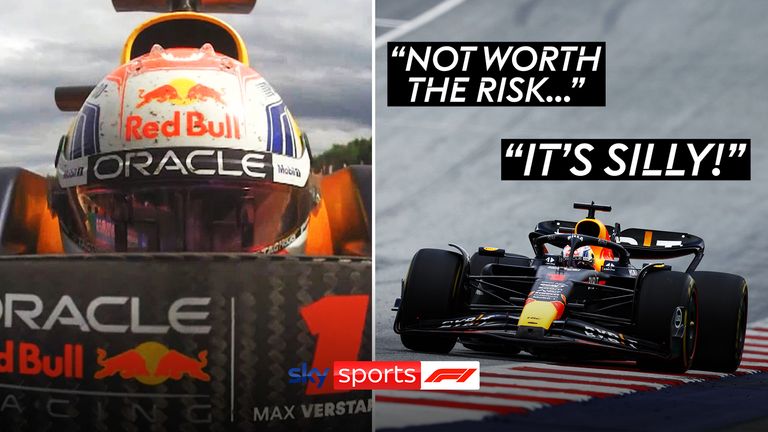 Verstappen was heard arguing on the team radio for a final pit stop to take the fastest lap at the Austrian Grand Prix
A sprint weekend masterclass on Red Bull's home turf saw Verstappen in a league of his own over three competitive days of action.
He won a mixed conditions Sprint Race by 21 seconds from Perez and led all but nine laps in Sunday's Grand Prix, only failing to lead due to his strategy, which gave him fresher tyres over Charles Leclerc.
After getting his tyres up to temperature, Verstappen eased into DRS range and provided subtle example of the elite form he was in by smartly holding back at Turn 3, before completing the move on Leclerc to ensure the Ferrari didn't gain DRS on the following straight.
When Verstappen lost the lead, it brought his streak of 249 consecutive laps at the front of the field to an end. Remarkably, Verstappen had the confidence to pit with two laps to go for fresh medium tyres to set the fastest lap of the race and claim the bonus point, just to rub salt into the wounds of his rivals.
British Grand Prix: Beating the Brits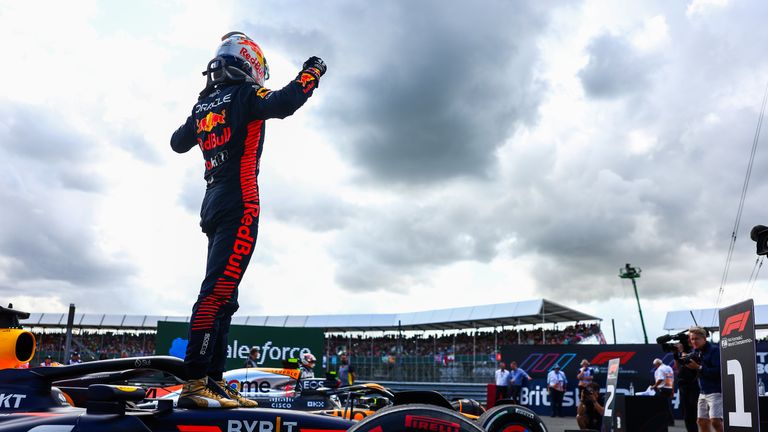 Verstappen's first ever win at Silverstone sees Red Bull claim their 11th consecutive win; a record shared with McLaren
Verstappen started on pole for the fifth consecutive race but was beaten off the line by Lando Norris. However, the McLaren driver could only hold onto the lead for four laps as Verstappen cruised by down the Wellington Straight.
From there, Verstappen steadily built an advantage while taking good care of his tyres, which ensured he was still out on track when a Safety Car interruption came.
He still had to contend with a rolling restart, but executed it perfectly to catch Norris off guard and open up a crucial two-second lead by the end of the lap to stay out of DRS threat.
Red Bull had also not won the British Grand Prix since 2012, so Verstappen ended the team's barren run at the event too.
Hungarian Grand Prix: Utter dominance after Hamilton overtake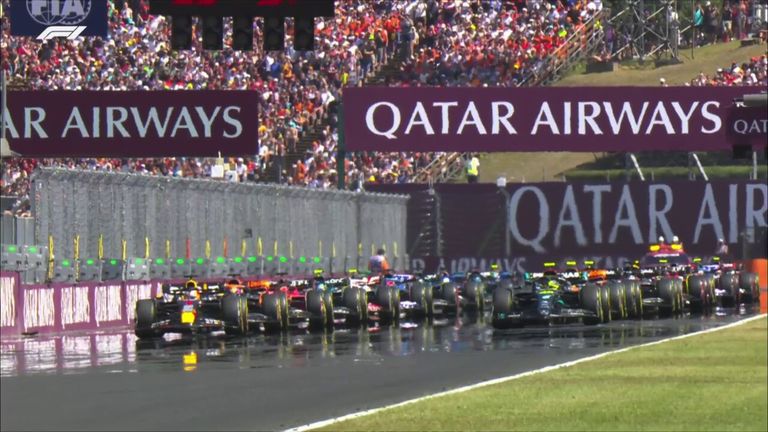 Lewis Hamilton ends up in fourth place after the first lap, with Verstappen in the lead and Oscar Piastri in second at the start of the Hungarian GP
Hamilton edged out Verstappen in a thrilling Qualifying battle by 0.003s but put things right 24 hours later. Despite starting on the dirty side of the grid, he got a great launch and claimed Turn 1 on the inside.
After that, it was arguably Verstappen's most comfortable win of the season as he won by a whopping 33 seconds from Norris and Perez.
The victory saw Red Bull move ahead of McLaren's 1988 record of 11 consecutive wins, set by Alain Prost and Ayrton Senna.
Verstappen also joined Sebastian Vettel, Alberto Ascari, Michael Schumacher and Nico Rosberg as the only drivers to claim seven consecutive wins. But more was to come…
Belgian Grand Prix: Rants can lead to success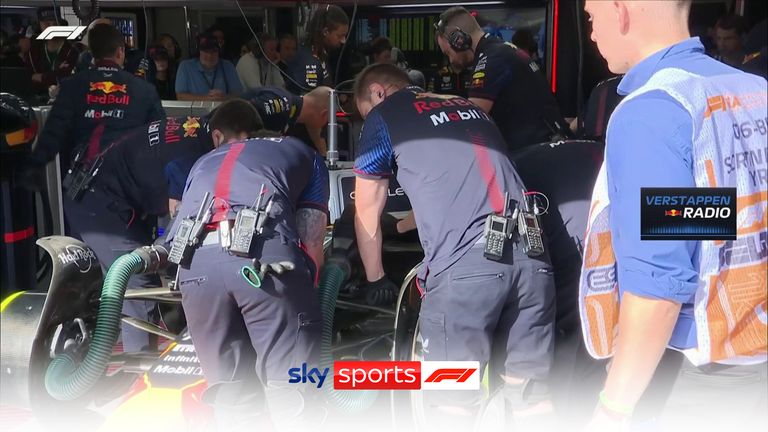 Verstappen has an argument with Red Bull race engineer Gianpiero Lambiase as the Dutchman is not happy about his run plan
Another Sprint sweep of pole position, Sprint Race pole, Sprint Race victory and winning the main Grand Prix from sixth after a five-grid place penalty for a new gearbox.
Verstappen avoided any incidents on the first lap and overtook Hamilton, then Charles Leclerc with ease. After the first round of pit stops, Verstappen caught Perez and breezed by as he went on to take another dominant victory before the summer break.
There were a few spicy moments though, including arguments with his engineer Gianpiero Lambiase. In qualifying, Verstappen apologised for an expletive-laden rant after only just scraping into Q3.
In the Grand Prix, Verstappen was repeatedly told over radio by Lambiase that he wasn't being sensible by pushing too hard on the final stint, but the Dutchman appeared hell-bent on opening a gap that would allow him to pit again for fresh tyres to get the fastest lap of the race, which he did not get in the end.
Dutch Grand Prix: What is pressure?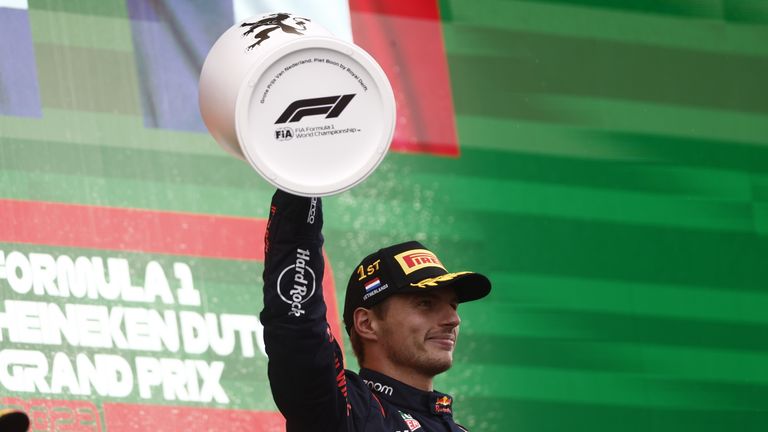 After a challenging Dutch GP, former F1 driver Giedo van der Garde believes Verstappen drove his strongest yet
This was the type of race where it easily could have gone so wrong for Verstappen, yet he emerged victorious for a record-equalling ninth time in a row.
He was over a dozen seconds behind Perez after pitting late to switch to the intermediates but reeled his Red Bull team-mate in as the other big teams failed to capitalise.
More rain later in the Grand Prix could have seen Verstappen slide off the road, but he kept his calm and didn't put a foot wrong before or after the red flag due to the wet weather and made it a hat-trick of Zandvoort wins.
Given nearly every fan at the venue was supporting him, Verstappen soaked up the pressure like a sponge – and has done since 2021.
Italian Grand Prix: Unchartered territory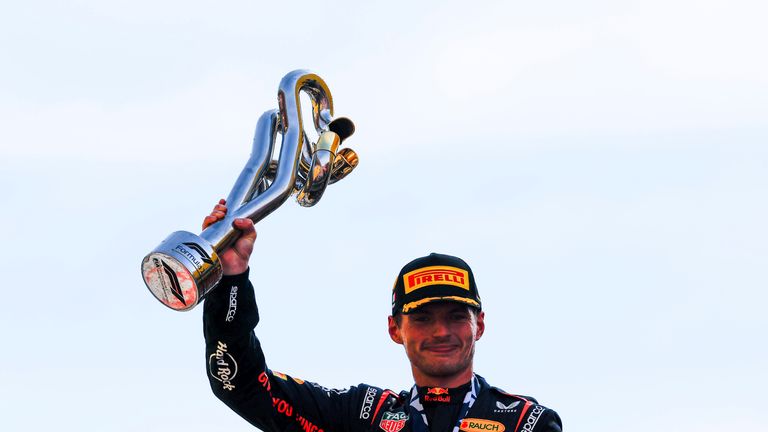 Verstappen claimed first place at the Italian Grand Prix to set a new record of 10 consecutive first-place finishes
Red Bull team boss Horner admitted Verstappen wasn't quite his usual self at Monza, perhaps knowing he had the chance to make history.
Ferrari turned up at their home event, ready to upset the Dutch party and Carlos Sainz took a brilliant pole position. Verstappen tucked in behind Sainz after the opening lap and saw the Ferrari driver was struggling with his tyres.
After a few attempts at an overtake, Verstappen forced Sainz into a mistake and got a strong run out of Turn 2 and got the move done into Turn 4.
Concerns about the car's temperature was the only risk for the rest of the race, but Verstappen came home to take an unprecedented 10th consecutive win. The question is, how long can this streak go on for?
Stream F1 on Sky Sports with NOW for just £26 a month for 12 months. Cancel anytime