Miami Dolphins score 70 points in record victory over Denver Broncos | NFL News
Tua Tagovailoa throws for 309 yards and four touchdowns while Raheem Mostert and De'Von Achane combine for 285 rushing yards and five touchdowns to steer the Miami Dolphins to a team-record 70-20 victory over the Denver Broncos
Last Updated: 24/09/23 11:34pm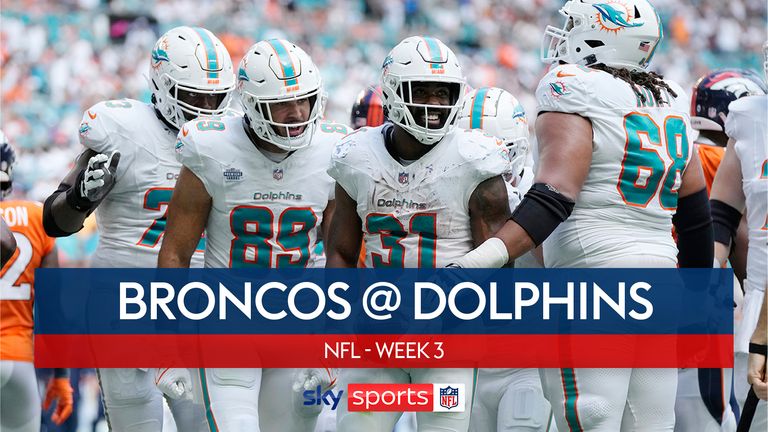 Highlights of the Denver Broncos against the Miami Dolphins in Week Three of the NFL

Highlights of the Denver Broncos against the Miami Dolphins in Week Three of the NFL
The Miami Dolphins posted over 700 yards of offense on their way to a franchise-record 70-20 victory over the Denver Broncos on Sunday. 
Mike McDaniel's side logged the most points in a game by an NFL team since 1966 and the fourth 70-point game in history, falling short of the regular-season record of 72 points set by Washington.
Tua Tagovailoa, who was 16 of 16 in the first half, completed 23 of 26 passes for 309 yards and four touchdowns, before backup Mike White threw for 67 yards and a score upon entering the game late. Rookie running back De'Von Achane meanwhile rushed for 203 yards and two scores in the company of Raheem Mostert's 82 yards for three touchdowns and Chris Brooks' 63 yards on the ground.
"Shame on us if you put a ceiling on what you're capable of," McDaniel told reporters. "If you just worry about the right things, you don't worry about anything but your technique and fundamentals and assignment within the team, don't worry about stats or credit, it's amazing what a group of people can do going in one direction.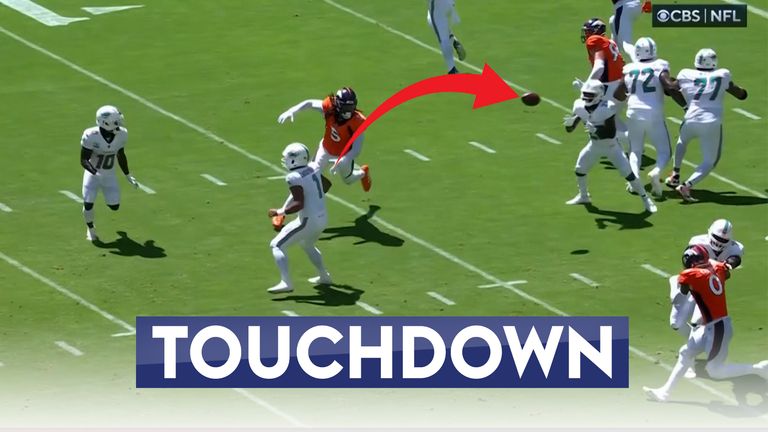 A clever Miami Dolphins play design executed perfectly by Tua Tagovailoa as he finds De'Von Achane with this clever no-look pass for the touchdown
"The points don't carry over but I do think this is a meaningful game for a lot of guys to understand to not let an opportunity on the field together slip through your fingers in any way, shape or form, because collectively we have all the right people to do some pretty cool stuff on the field.
"It's just incredible, it goes through my mind all the intentional work that goes into it.
"I was most proud of the unrelenting nature we had. I think it was the first outside of the Houston game last year where we had a lead of maybe three touchdowns or more going into the half and it ended up being pretty close at the end. So we want guys to learn from stuff. It's so key you don't let the ebbs and flows of the game interject with how you play football, that's the biggest thing the guys can learn from this game."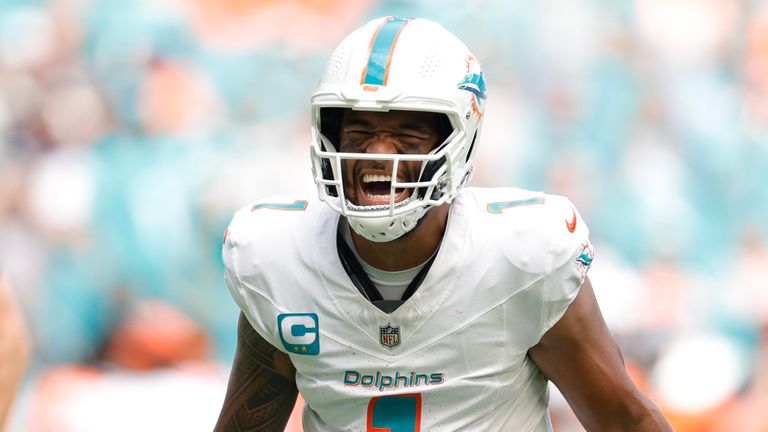 Miami had the chance to top Washington's all-time record when they moved into field goal range, but instead elected to take a knee to ice the win.
"It felt like chasing points, chasing a record is not what we came here to do," said McDaniel. "Ten times out of 10 you concede and kneel down. The message it would send wasn't really in line with how I view things."
Victory moved the Dolphins to 3-0 on the year and, for all of Denver's struggles, reinforced their Super Bowl credentials behind a red-hot Tagovailoa.
Miami's previous record had been 55 points set against St Louis on November 24, 1977, the Dolphins surpassing that mark on Achane's 10-yard touchdown pass in the fourth quarter and Jason Sanders' subsequent extra point.
The Dolphins are the first team to score five rushing touchdowns and five receiving touchdowns in the Super Bowl era, per ESPN stats. Their 726 total yards are meanwhile second only to the 1951 Rams' 735 against the Yanks.