Liverpool vow to 'explore the range of options available' after Luis Diaz goal against Spurs ruled out | Football News
Liverpool have vowed to "explore the range of options available" after claiming sporting integrity was undermined after Luis Diaz's goal was ruled out against Tottenham for what the PGMOL described as "significant human error".
Diaz's goal against Spurs was incorrectly disallowed for offside after the VAR mistakenly believed the on-field decision had been to award the goal.
A Liverpool statement issued on Sunday evening read: "Liverpool Football Club acknowledges PGMOL's admission of their failures last night. It is clear that the correct application of the laws of the game did not occur, resulting in sporting integrity being undermined.
"We fully accept the pressures that match officials work under but these pressures are supposed to be alleviated, not exacerbated, by the existence and implementation of VAR.
"It is therefore unsatisfactory that sufficient time was not afforded to allow the correct decision to be made and that there was no subsequent intervention.
"That such failings have already been categorised as "significant human error" is also unacceptable. Any and all outcomes should be established only by the review and with full transparency.
"This is vital for the reliability of future decision making as it applies to all clubs with learnings being used to make improvements to processes in order to ensure this kind of situation cannot occur again.
"In the meantime, we will explore the range of options available, given the clear need for escalation and resolution."
PGMOL: Significant human error occurred
The PGMOL admitted immediately after Tottenham's 2-1 win that "a significant human error occurred" when Diaz's strike was ruled out, adding: "This was a clear and obvious factual error and should have resulted in the goal being awarded through VAR intervention."
It was initially believed that VAR Darren England had failed to check whether a Tottenham defender had played Diaz onside by drawing the on-screen lines.
As the fallout continues from Luis Diaz's disallowed goal during Liverpool's loss at Tottenham, Sky Sports attempts to explain where the officials went wrong after PGMOL admitted its mistakes

But, in a remarkable twist, it later emerged the VAR incorrectly thought the on-field decision was that a goal had been awarded, when in fact it had not been.
This resulted in England, despite realising that Diaz was onside, relaying a message of 'check complete' and the goal being ruled out.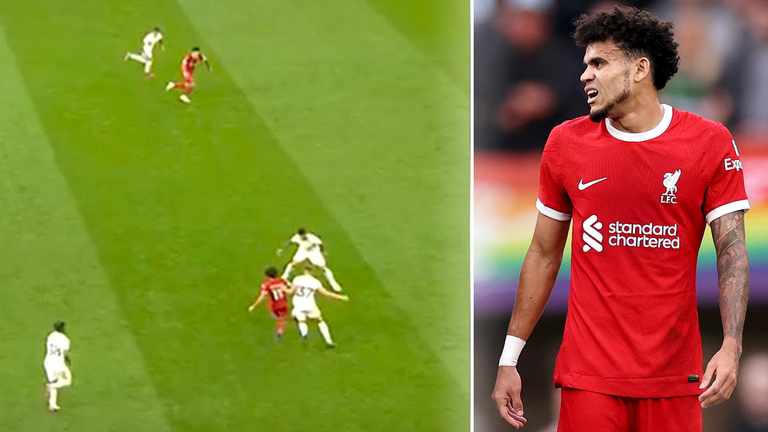 There was less than 40 seconds between Diaz's shot hitting the back of the net and play being restarted, while there was less than 10 seconds between TV viewers being shown a VAR review was taking place and the check being completed.
The score at the Tottenham Hotspur Stadium was 0-0 at the time, with Liverpool down to 10 players after Curtis Jones' red card.
To add insult to injury for Liverpool, Heung-Min Son scored Spurs' opener two minutes later, while a Joel Matip own goal in injury-time handed the hosts a 2-1 win.
PGMOL's VAR apologies listed
Tottenham 2-1 Liverpool, September 30 2023
Luis Diaz has a goal ruled out for Liverpool after being incorrectly ruled offside, with VAR Darren England failing to intervene.
Man Utd 1-0 Wolves, August 14 2023
Andre Onana recklessly challenged Sasa Kalajdzic inside the Manchester United box but VAR Jonathan Moss failed to instruct on-pitch referee Simon Hooper to check the pitchside monitor for a penalty.
Tottenham 2-1 Brighton, April 8 2023
Pierre-Emile Hojbjerg appeared to foul Kaoru Mitoma in the Tottenham box but referee Stuart Attwell declined to award a penalty and VAR Michael Salisbury supported the decision.
Everton 0-1 Man City, February 26 2023
Referee Paul Tierney and VAR Chris Kavanagh missed a handball from Manchester City midfielder Rodri, failing to award Everton a penalty.
Arsenal 1-1 Brentford, February 11 2023
Ivan Toney's offside equaliser was allowed to stand despite a VAR review overseen by Lee Mason, who failed to spot Christian Norgaard standing in an offside position.
Crystal Palace 1-1 Brighton, February 11 2023
VAR John Brooks drew an offside line in the wrong place, denying Brighton's Pervis Estupinan the opening goal at Selhurst Park as a legitimate goal was ruled out.
Brighton 2-1 Liverpool, January 29 2023
Liverpool's Fabinho escaped with only a yellow card after a studs-up challenge on Evan Ferguson.
Aston Villa 3-1 Man Utd, November 6 2022
Lucas Digne scored a free kick but a post-match review concluded the United wall was set too far back, giving the Villa full-back extra room for the set-piece.
Forest 2-2 Brentford, November 5 2022
Brentford were awarded a penalty despite replays showing Dean Henderson made minimal contact with Yoane Wissa.
Fulham 3-0 Aston Villa, October 20 2022
Douglas Luiz was sent off for Villa despite Aleksandar Mitrovic perpetrating a bust-up.
Man Utd 3-1 Arsenal, September 4 2022
Gabriel Martinelli's goal for Arsenal was disallowed by VAR after Martin Odegaard was incorrectly deemed to have fouled Christian Eriksen in the build-up.
Newcastle 0-0 Crystal Palace, September 3 2022
An own goal by Palace's Tyrick Mitchel was disallowed after Joe Willock was wrongly ruled to have impeded goalkeeper Vicente Guaita.
Chelsea 2-1 West Ham, September 3 2022
Jarrod Bowen was wrongly judged to have fouled Chelsea goalkeeper Edouard Mendy, ensuring West Ham's late equaliser was disallowed.
Crystal Palace 3-1 Aston Villa, August 20 2022
Andy Madley changed his mind on a Crystal Palace penalty after consulting the pitchside monitor, despite Lucas Digne handling the ball.
On Sunday morning, PGMOL confirmed both England and Dan Cook, the assistant VAR for the Tottenham vs Liverpool match, have been stood down from their next matches.
England was due to be part of the officiating team at the City Ground on Sunday for Nottingham Forest's game against Brentford but was replaced by Craig Pawson.
Cook was set to be involved for Fulham's home game against Chelsea on Monday – live on Sky Sports – but Eddie Smart has taken his place.
PGMOL facing questions over UAE trip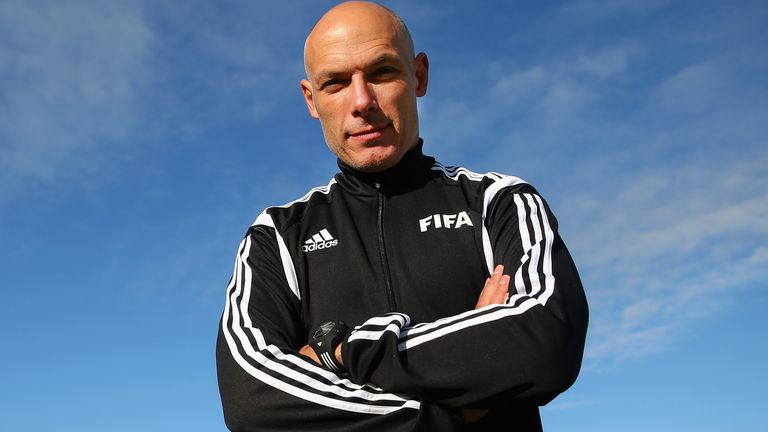 Sky Sports senior reporter Melissa Reddy:
Referee's body PGMOL is facing increasing questions over the wisdom of allowing England and Cook to have worked in the United Arab Emirates on Thursday.
England was the VAR and Cook was the second assistant referee for Al Ain's victory over Sharjah, which took place just 48 hours before the Tottenham vs Liverpool match.
Michael Oliver – who was the fourth official in north London – was the referee for the game in the UAE.
Sky Sports News has been told an approach was made to the FA for the use of the trio and it was subsequently approved, with it not affecting their availability to be selected for Premier League fixtures.
It is understood Howard Webb, the head of PGMOL, sanctioned the trip.
The officials arrived back in London on Friday to prepare for VAR and fourth official duties, which – according to PGMOL – is routine for those who have had international appointments in midweek.
However, there has been criticism over the officials' workload and questions over whether it could lead to fatigue, especially as England and Cook had a further game to work this weekend before being dropped over their error.
Sky Sports News was told the lines had been drawn on the image of the Diaz offside and the process followed.
However, in a "momentary lapse of concentration", England incorrectly thought the on-field decision was that a goal had been awarded.
Why didn't the VAR team then stop the game?
Jurgen Klopp is not appeased when he learns of the PGMOL statement admitting a 'significant human error' led to Luis Diaz's goal being incorrectly disallowed

It remains unknown when England and Cook first realised their mistake. Following England's message of 'check complete' to on-field referee Simon Hooper, the game restarted less than a minute after Diaz had scored his goal with a free-kick to Tottenham.
With the game 'live' again, it is thought that the VAR team felt unable to intervene.
The IFAB rules on VAR state play cannot be brought back in a case like this. Rule 10 says: "If play has stopped and been restarted, the referee may not undertake a 'review' except for a case of mistaken identity or for a potential sending-off offence relating to violent conduct, spitting, biting or extremely offensive, insulting and/or abusive action(s)."
"I'm pretty sure if you look at the ref's face they were thinking of taking the game back and say it was a goal," responded Sky Sports pundit Gary Neville on X.
"There is a moment where the ref looks sick! On the gantry (you can't see this at home) the VAR screen was locked on the offside decision whilst the game went on. They knew pretty much straight away but for some reason didn't go back or can't through rules go back!"
Fellow Sky Sports pundit Jamie Carragher added: "It's an horrendous mistake no matter how they did it. But if they knew just after the Spurs free-kick was taken that they'd made a huge mistake, it's nonsense they can't bring it back just because a free-kick has been taken."
'Incident creates a credibility crisis'
The Independent's Miguel Delaney and The Daily Mirror's Darren Lewis discuss VAR's 'credibility crisis'

Miguel Delaney, chief football writer at The Independent, speaking on Sky Sports News:
"It creates a credibility crisis. The entire premise of this system is about increasing accuracy but this just seems the complete opposite.
"What made it worse is the inevitable and understandable attempts at transparency since then have actually created more confusion. It feels like the only way to start navigating out of this crisis is to release the audio.
"What this boils down to is a lack of communication. They didn't know what they were checking for.
"Another potential issue is the ambiguity of the language – 'check complete'. Why not have it clear and say 'it's a goal', or 'no offside'?
"Ninety-nine per cent of the time, that's fine, but in a case like this it shows how there is scope for completely needless error."