Simone Biles becomes first woman to land a Yurchenko double pike vault at World Gymnastics Championships | News News
Simone Biles, who stepped away from gymnastics to focus on her mental health, having pulled out of the all-around competition at the Tokyo Olympics in 2021, lands a Yurchenko double pike vault at the World Gymnastics Championships
Last Updated: 01/10/23 10:37pm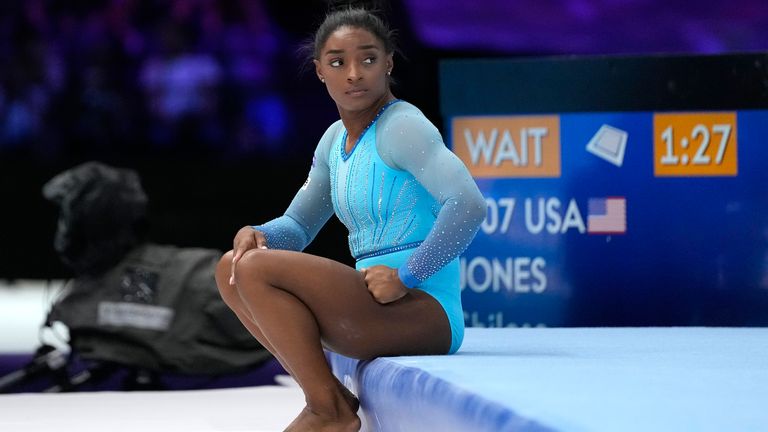 America's Simone Biles became the first woman to land a Yurchenko double pike
vault at the World Gymnastics Championships.
The 26-year-old moved into first place in all-around qualifying in Antwerp as she competed internationally for the first time since taking a two-year break.
Biles stepped away from the sport to focus on her mental health, having pulled out of the all-around competition at the Tokyo Olympics in 2021.
She explained she had been suffering from the 'twisties', losing her sense of space while in the air.
Biles scored 15.266 for landing the Yurchenko double pike and 58.865 in the all-around overall.
Meanwhile, Max Whitlock, Harry Hepworth, Jake Jarman, James Hall and Courtney Tulloch finished third in qualifying as Great Britain's men reached Tuesday's final.
Jessica Gadirova, Ondine Achampong, Alice Kinsella, Georgia-Mae Fenton and Ruby Evans sit second ahead of the finish of qualifying on Monday, with the women's final on Wednesday.