Issy Wong: England and Mumbai Indians seamer says WPL price tag was 'surreal' ahead of eliminator clash with UP Warriorz | Cricket News
England fast bowler Issy Wong says she was stunned to see her name attached to a £30,000 price tag at the inaugural Women's Premier League auction.
The hugely-talented 20-year-old's sale price for 23 days' work in India came just eight months on from making her England debut.
Wong and the Mumbai Indians are through to Friday's playoff eliminator in the WPL, where they will face UP Warriorz for the right to meet Delhi Capitals in Sunday's final of the competition.
Alice Capsey stars as she took 3-26 and hit 34 off 31 balls to help Delhi Capitals beat UP Warriorz and finish top of the table to qualify directly for the final.


Friday 24th March 1:50pm

"It was quite surreal," Wong told the PA news agency. "It was one of those where you never really back yourself.
"It's different I guess for the guys who are first name out in the draft, they know they are going to get picked up.
"But for a lot of us kind of sat underneath that it was very much unknown. Who knows what could happen? And it was kind of like that for a few months leading up to it.
"The men's competition of the IPL is something I've literally watched since I was [small], so to be part of the first edition [of the WPL], to get that experience of playing in a different culture, playing in India where cricket is a religion, and picking brains of people who have done a lot more of it than me, that's all you can ask for, really."
Highlights from the Women's Premier League clash between Mumbai Indians and Royal Challengers Bangalore.

After the WPL, Wong has a busy summer ahead. She is one of four players retained by Birmingham Phoenix for the third edition of the women's Hundred, which begins two weeks after England's women wrap up their multi-format Ashes series on July 18.
Though the opening Test at Trent Bridge is still three months away, the 2023 Ashes has already broken records, with over 15,500 tickets already sold for the first T20 international at Edgbaston, surpassing the record 15,187 set last year at Lord's for a women's game in England (excluding world events).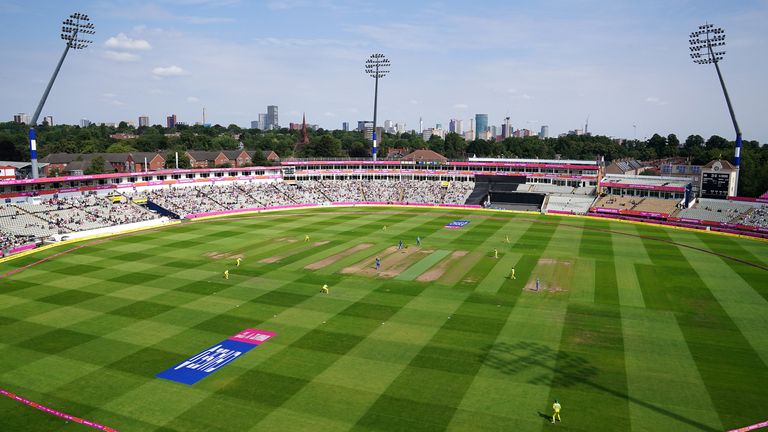 Somerset, meanwhile, have announced the July 18 ODI at Taunton's County Ground has already sold out, becoming the first ever women's international to completely fill the venue.
Wong has also taken on a new role alongside Harry Brook as an ambassador for Major League Baseball, which returns to England for the first time since 2019 with another two-game London Series from June 24-25.
The bowler is especially keen to capitalise on the 'Moneyball' sport's obsession with research and statistics by chatting to pitchers about their deliveries, with most in MLB storing several finely-tuned variations in their arsenals.
Wong said: "I'm a very difficult person to inspire if it's not something that I'm interested in [but] I've found something I'm really interested in and excited and passionate about.
"Quite selfishly it's like, how am I going to make myself a better cricketer? And this just seems like a really obvious and exciting way to do it, and it's a bit of fun at the end of the day.
"I want to learn about some of the variations, like a slower ball and, at the moment, there's very little coaching behind it. Whereas actually to speak to some pitchers and ask how they hold it, just to speak to somebody about how they go about it.
"There's probably a lot more experience with that sort of variation than there is in cricket, and potentially a bit more research into it as well.
"I think anywhere there's a crossover like that, and you can tap into the hard academic work that other people have done and then use it for your own benefit, I don't see a downside to that."
Watch the WPL Eliminator between Mumbai Indians and UP Warriorz on Friday, live on Sky Sports Cricket from 2pm. The final between the winner of that game and Delhi Capitals will be live on Sky Sports Cricket and Main Event from 3pm on Sunday.